Sexy Hung Young Lucas Entertainment Gay Porn Star, Damon Heart
Years Active: 2015 – 2016
TWITTER @Damon_Heart_A
LUCAS ENTERTAINMENT INFO:
Height: 6′
Weight: 170 lbs
Dick Size: 7.5″
Position: Versatile
Damon Heart has been interested in the gay porn industry ever since he was a teenager, but it's taken a few years for him to decide to make the leap from admirer to participant. Damon manages a night club, so his move into gay porn is a smooth one. He's versatile in bed, too: with big guys he likes getting fucked, but if he's with guys his size or smaller he's up for throwing them around. When we asked him his dream fuck he said: "I don't do fantasy. I do real."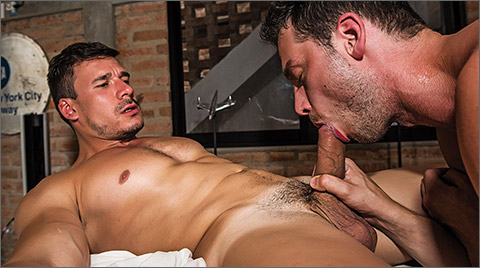 GREEDY HOLES: Damon Heart Bottoms For Roman Berman
Roman Berman is an impatient guest when he stays at hotels — he has a bad reputation for mistreating the help. Roman has two things in mind when he demands turndown service from Damon Heart. He wants to shake Damon up a bit and make him think he's going to loose his job. And once that's done, he's going to take advantage of the situation. Do you think Roman Berman takes it easy on the guys he fucks' No, he certainly doesn't. Roman is a total top and he treats his bottoms as such. Rest assured: Damon Heart's throat and ass will be thoroughly used by Roman's raw cock!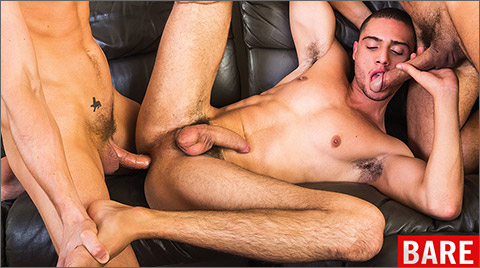 LUCAS MEN 2.0: Damon Heart Bottoms For Rafael Carreras And Javi Velaro
Damon Heart deserves credit: not only is he excited to take on the huge endowment of Rafael Carreras, but he also tests his bottoming skills with Javi Velaro at the same time. Some might shrink from the challenge (figuratively and literally) but Damon goes after them both. But there's only so much dick anyone can take, so Javi jumps in to save the day; he offers himself up as a bottom for Rafael and Damon alike.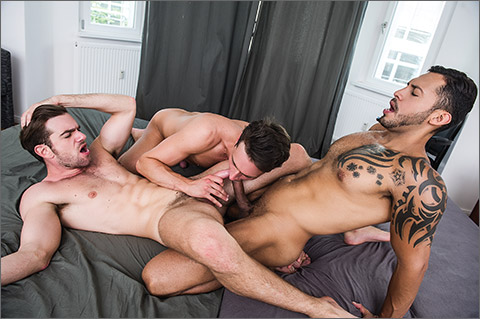 ZANDER CRAZE SHARES HIS MEAT WITH DAMON HEART AND VIKTOR ROM
Craze is a great last name for Zander, because this guy is wild and crazy in the sack: he loves having sex, and he loves showing it off. He and the dominant stud Viktor Rom take turns passing around Damon Heart, a new Lucas Entertainment exclusive model. Damon is challenged from the onset, but it's one he excitedly accepts: Zander breaks in his ass with his uncut elephant trunk of a penis, and then passes his hole over to Viktor for some breeding. To give Damon a rest the truly versatile Zander Craze gives it up for both Damon Heart and Viktor Rom.
CLICK HERE TO GO TO HIS LUCAS ENTERTAINMENT DETAILS
>