Hunky Latino Stripper American Gay Porn Star GoGo Boy, Ty Royal
Known Aliases:
Years Active: 2015 – 2016
COLLEGE DUDES INFO:
Age: 23
Height: 5.7 (170cm)
Weight: 150 (68 kg)
Shoe: 8 US (41 EU)
Cock: 8.0 (20cm) Cut
In his own words: I am the ultimate athlete and a perfect model citizen. I love just about any type of sport and enjoy traveling.
Our comments: Just sit down with Ty for a few minutes and you cant help but to stop and listen to everything he has to say…
CITIBOYZ INFO:
When we first ran into 20 year old 131879, it was in a strip club in St. Louis where we were hosting a party. Ty came up, introduced himself, stripped of his shirt and jeans and, well, we were hooked. He got a job offer that very night. This hunky young man stands just 5'7″ tall, weighs in at about 135 lbs. of solid muscle, and is endowed with an 8.5″ cock that is very much in demand around his hometown. "Yeah, well it's too bad for most of the sluts who want my dick", he explained. "I only fuck the best. Which is why I'm working for you guys at Citiboyz, because you're hooking me up with top of the line boys to fuck!". And he's right. We're really impressed with Ty and hope he'll be with us for a long time, so we're definitely giving him the top boys in the stable. Of course, Ty's not doing this as a career. He's in college studying Physiology, and plans to work in the medical field upon graduation. But in the meantime, he's adding to his income by showing the world that hot, hot body. "I work out. I run. I eat right. I'm really hoping to work with you guys as long as I stay fit", he told us. Sounds good to us, too 🙂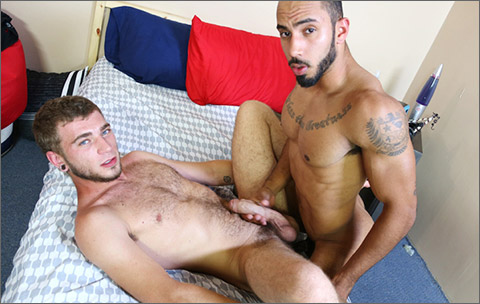 TY ROYAL & ALEX GREENE FLIP-FUCK
Alexander Greene and Ty Royal kiss while they explore each other, running their hands all over as Alexander's hand finds its way to Ty's cock, standing upright as Alexander grabs it and pushes it into his mouth. Ty watches as he get head from Alexander and then gives some well-deserved oral in return, trying to take as much of Alexander's huge cock into his mouth as he can.
   Ty deepthroats that big cock and Alexander deepthroats Ty and then bends him over and gets his mouth on that delicious ass, rimming Ty's tight hole to get him ready for what's coming. When Ty's entrance is nice and wet, Alexander slowly slides his huge shaft inside of Ty, barely giving him time to warm up to that fat cock before Alexander starts fucking him hard. They break for a little more oral and then flip, with Alexander getting fucked by Ty now, riding that hard prick as Ty moans. Alexander gets on his back and takes Ty's cock from that angle while he strokes his own member, jerking it hard until he comes and then letting Ty come all over him next!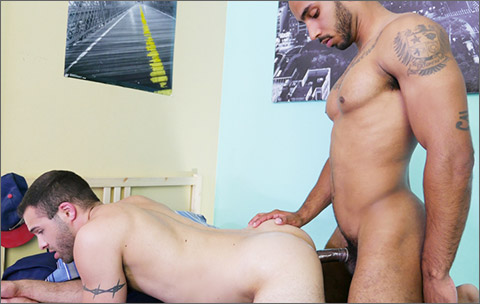 TY ROYAL FUCKS BRAXTON SMITH
Ty Royal and Braxton Smith jump right into the fun stuff, bypassing the long make out session in favor of some wet hot oral as Braxton slides Ty's cock in and out of his mouth, making that hard cock throb in anticipation. They kiss a little then 69 as Braxton gets on top of Ty and drops his dick in Ty's face…which Ty is more than happy to suck on while Braxton gives Ty's prick some attention.
   Ty rims Braxton's hole just enough to tease him before they get off the bed and Braxton balances himself on the desk, ready to get fucked! Ty eagerly slips his dick between Braxton's wide open legs, earning a shocked moan from Braxton as that huge cock spreads his ass wide open as it goes deeper inside of him. Once Ty is all the way in, he starts pounding his willing victim, fucking him hard and fast in long, even strokes, making sure Braxton can feel every pump of Ty's fat cock.
   They head back over to the bed where Braxton's ass gets destroyed even more as Ty rams him from every angle imaginable, enjoying every second of that tight ass around his dick. When Braxton can't take anymore, he shoots his load then lets Ty cum between his ass!
COLLEGE DUDES
CITIBOYZ
NAKEDSWORD
CLICK HERE TO GO TO HIS COLLEGE DUDES DETAILS