Scruffy American Gay Porn Star Wannabe, Tim Hanes
Known Aliases:
Years Active: 2016
GIO CARUSO'S BAIT BUDDIES INFO:
Height: 6′ 3″
Weight: 170
Hair: Brown
Eyes: Brown
Cock: 7″ uncut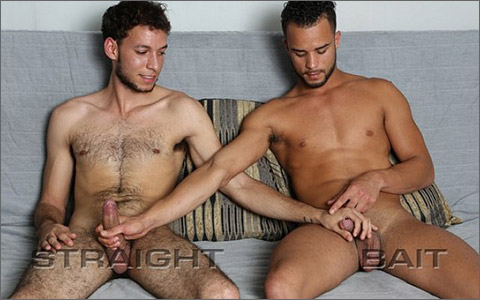 JAVIER CRUZ & TIM HANES
The hot and talented Javier Cruz came back to the studio in search of straight cock. Javier is young and horny and getting paid to have sex with straight men is the perfect match for him!
   Caruso brings back a straight guy from several weeks ago named Tim Hanes. Tim is really tall and really shy! He stands around 6'3", weighs 170 pounds, and has a delicious uncut 7 inch cock!
   Both guys already know what's going to happen today. Tim has already been here but the last time he was here, he didn't do much. The thoughts of messing around with another guy got the best of him. Now, with a little more sweet talk, and the wonderful talent of Javier, we were able to talk Tim into fucking a dude for the very first time! Sit back, relax, and watch Tim fuck a guy for the first time ever!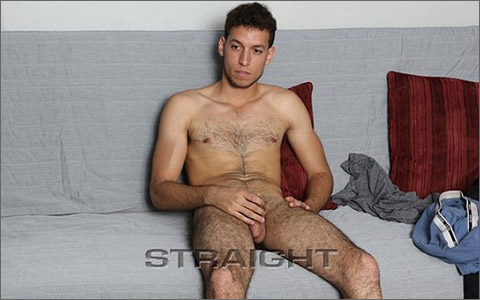 TIM HANES SOLO
This week's straight guy is one sexy Latino! Tim Hanes was born in Cuba but moved to Miami to pursue the American dream. At 6'3", 170lbs, smooth brown skin, lots of body hair, and a beautiful uncut 7 inch cock! He's the total package!
   At the last minute our bait guy couldn't make it but we weren't going to let this guy get away. Caruso breaks the bad news that the girl can't make it but everyone still needs to make some money. So with a little sweet talk Tim decided to stay and give everyone a show.
   Tim was nervous but horny so he needed to get off. After jacking off for a while, Caruso came up with an idea… He asks Tim if he would be willing to let Caruso's assistant jack him off. At first he was hesitant but in need of money he caved in. Watch as Caruso's assistant strokes his hard cock before he takes back over and shoots his big hot load!!!
GIO CARUSO'S BAIT BUDDIES
BROKE STRAIGHT BOYS
CLICK HERE TO GO TO HIS GIO CARUSO'S BAIT BUDDIES DETAILS