Slender Blond BelAmi Czech Gay Porn Star, Sven Basquiat
Known Aliases / aka:
Years Active: 2017 – 2019
BEL AMI INFO:
Sven is one of the new and upcoming stars on Freshmen who recently made his debut on BelAmiOnline in a scene with Nate Donaghy. Sven leads a very healthy life and runs at least 10km every morning before work. His charming and industrious personality impressed us so much that George offered him a job in our production team.
   He is a central character in our Viva Colombia series and also has scenes coming up in 'Jambo Africa' here on BelAmi.
Age: 24
Ethnicity: Other
Cock: 15cm (6in) Uncut
Eye Color: Blue
Height: 169cm (5ft 7in)
Hair Color: Blonde
Body Type: Athletic
Birthday: September 22nd
Weight: 58kg (128lbs)
Body Mods: Tattoo(s)
Sign: Virgo

DOUBLE DIPPING: JUSTIN SARADON & SVEN BASQUIAT & KIRK GAUGUIN
This is a scene that we have been trying to get finished for you all for quite a while, but it was always a case of Kirk being available and Justin busy… or most often, our globetrotting little Sven being off and about jogging his way around the world. Luckily we were able to get all 3 boys together last month to film this 2 day special for you. Today we have Justin trying to convince a surprisingly conservative Kirk into a 3some with Sven. From the looks of things, he is going to have to work very hard to win his concession, and if we know Justin, it is just the sort of challenge he likes.
   Justin proves that he knows Kirk a little bit too well, and had anticipated getting his boyfriends approval for the 3way long before it was actually earned. The boys have not even finished showering after round 1 when horny young Sven turns up for the promised tryst. We thought it was going to be hard to have a better scene in part 2 than we did in part 1, but our 3 oversexed heroes certainly do their best. Even though this 3way was carefully planned by Justin, there is still room for some surprise when both Kirk and Just penetrate Sven's eager hole at the same time. Judging by the volume of cum that shoots our of Sven, this has to be one of the best fucks he's ever had.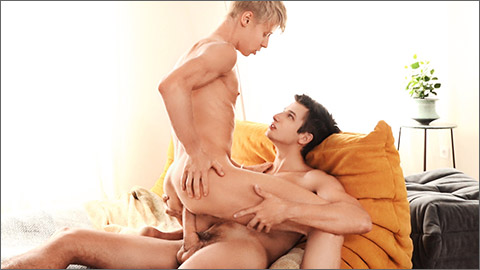 NATE DONAGHY & SVEN BASQUIAT
It seems that for Sven, sex is a magical gift that has to be accepted anytime it is offered…. even when you don't have so much time. Today's scene is Sven's first proper outing here on BelAmiOnline and we are happy that it is such a firecracker of a scene. Director Lukas Ridgeston has tried hard to give us a break from our normal format here, so you should be prepared for something a little less traditional.
   His partner today is Nate Donaghy, and the chemistry between the 2 literally jumps off the screen.
   Sven is one of the central characters in our 'Viva Colombia' series starting on Freshmen.net December 19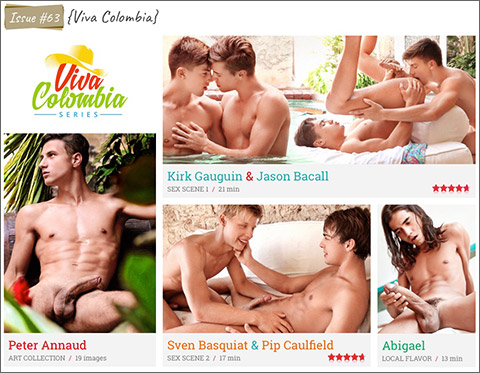 FRESHMEN ISSUE 63 – VIVA COLOMBIA: Sven Basquiat & Pip Caulfield
This is Kevin's first scene from Colombia! Luke had arrived in Columbia very ill so stayed in bed the first few days leaving Kevin to take over his role. We hope you like it as much as we do.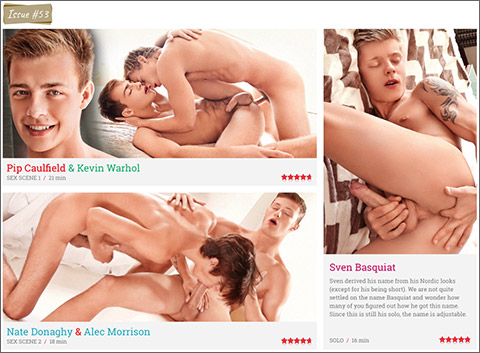 FRESHMEN ISSUE 53 SOLO: Sven Basquiat
CLICK HERE TO GO TO HIS BEL AMI DETAILS
Sven Basquiat @ FLIRT4FREE
BEL AMI LIVE AT FLIRT4FREE