Tattooed American Gay Porn Star, Sean Duran
Years Active: 2012 – 2019
TWITTER @SeanDuranXXX
FABSCOUT STATS / INFO:
Age: 24
Height: 5'10"
Weight: 175 lbs
Dick: 7" Cut
Orientation: Gay
Position: Bottom/Versatile

RAW WORKLOADS: Sean Duran fucks Blaze Austin
Sean Duran is looking for a hidden flash drive full of incriminating dirty content of himself when Blaze Austin enters the storage room. Blaze has the goods on Sean and the only way to get the drive back is to give Blaze a recreation of what's on the drive. Blaze gets right to his knees and works Sean's massive cock with his mouth, getting Sean hard and ready for more. Blaze knows what Sean wants and bends over to offer up his hairy hole for licking. Sean can't resist shoving his face into Blaze's crack and tongue-fucks the stud until he can no longer hold off sticking his bare dick deep into Blaze. Sean stands up and pumps the young stud hard and raw as Blaze tells Sean what to do: 'Fucking pound me! Use my ass! Fucking tear it up!' Sean takes each command seriously and fucks Blaze even harder, eventually getting Blaze on his back. Sean pumps relentlessly as Blaze squeezes his asshole and shoots a load all over his face. Blaze's tight ass brings Sean to brink and he pulls out to blow his load all over Blaze's dingy jockstrap and plump, spent balls. A dirty pig, Blaze gets between Sean's legs to go ass to mouth and clean up Sean's sticky dick with his tongue.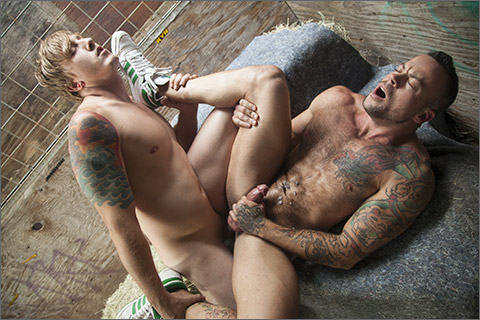 MXXX THE HARDEST RIDE: Tom Faulk fucks Sean Duran
There's nothing better than Texas BBQ, especially when it's served up by the motocross hunks out at Tom Faulk's place. Sean Duran arrives with his stripper girlfriend Ahslee (Axle Rose) and things start to go a little crazy. Shots of tequila lead to burnouts on the patio and an impromptu strip show that gives Tom an idea. He bets Sean he can fuck his girlfriend harder than he can and all three head to the moto-barn. Sean is all in for a tag-team but Ashlee flips the script… she wants to watch them get it on. Tom and Sean jokingly accept the challenge but it's clear a little peck on the lips isn't what Ashlee has in mind. Reluctantly they start to make out and jerk each other off. Horned up, Sean fucks Tom's face then gets on his knees to suck his buddy's dick. With his cock wet and hard Tom decides to give Ashlee what she really wants and slams his rock hard meat deep in Sean's muscular ass. They fuck hard until both guys blow their loads, leaving them both drained and a bit confused. What the fuck just happened?!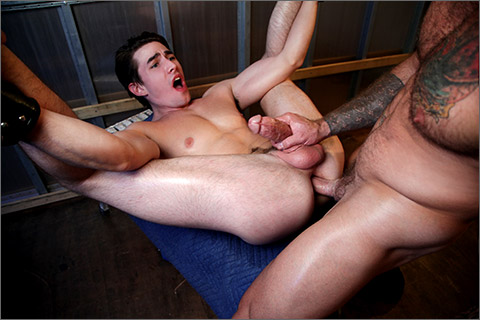 ULTRA FAN: Sean Duran fucks Jack Hunter
After years of being stuck in a webcam rut, adult mega-star Brent Corrigan has promised something completely different to his fans, his beloved 'LoverBees.' Little does he know that a twisted Ultra Fan has incriminating evidence and will use it to hijack his live show. A series of orchestrated events go from mild to wild to downright dangerous, all in an attempt to bring Brent back into the business. Who is behind this master plan and how far will they go? The real question is how far will Brent go to save someone he loves? Find out in Ultra Fan!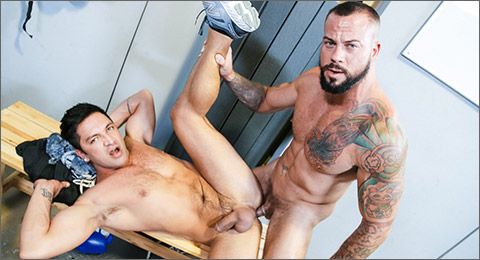 TRAINING HARD – PART 2
Jace Chambers is cleaning up the workout area and Dominic is coming in to get ready for his client. Based on Jace's quick answers to his questions, Dominic suspects that something might have happened earlier. Jace leaves and as Dominic is getting things ready, Sean Duran shows up for his session. Dominic helps him put on his boxing gloves and the two hit the bag with Sean hitting it hard. After a little while, Sean asks Dominic where his boyfriend is and Dominic tells him that he went home. Sean asks if they are open with each other and makes a move on Dominic. Dominic does not resist and soon Sean has Dominic's pants down and he is rimming his ass up against the punching bag. Sean has his face buried deep in Dominic's ass slurping and licking that sexy round ass. After rimming Dominic for a few minutes he then starts to fuck him up against the punching bag. Dominic has his arms wrapped around the bag as Sean plows deep and hard into his tight ass. Sean can't get enough of that ass so he pulls his hard dick out and gets back on his knees to rim that sexy ass once again. He spreads it wide so his tongue can get that hole even wetter. Sean then begins to suck on Dominic's thick hard cock taking it deep into his mouth. Dominic then rides Sean's throbbing cock on the bench sliding up and down his hard shaft while stroking his own hard dick. Balls deep in that tight ass Sean flips him onto his back and fucks him until he pulls out and shoots his warm cum on Dominic's cock and balls. Sean then sucks Dominic until he cannot hold back and he shoots a big load all over Sean's face and mouth.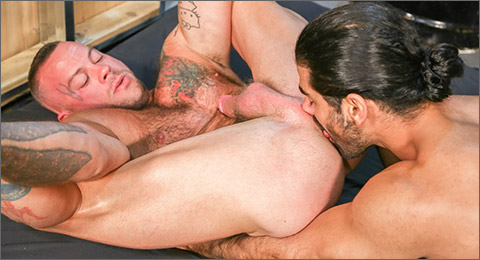 MUCH NEEDED FUCK
Sean has a play room where he's been bringing a few selected men to have fun with. Once he's done with the men he gives an amazing recount in an exclusive interview on how it all went. You can hear Sean's sexy voice dispersed throughout the scene in key moments on what he was thinking at that very moment. Sean loved the time he spent with Ali. He couldn't wait to bury his face in Ali's firm hairy ass. Sean rimmed him till he couldn't take it no more and then he had to rim Sean. These two sexy men go from hot and passionate kissing into cock hungry animals. Ali can't get enough of Sean's tight hole as he fucks him and pulls out to eat his ass over and over again. Sean has never experienced this time of fucking before and he can barely keep his built up load in. Ali pounds away on Sean's eager hole as they kiss and fondle every inch of each other. Luckily they didn't pop to soon but Sean eventually explodes as Ali is deep inside of him. Once that load oozes out Ali strokes his warm jizz out all over Sean's face. The two embrace in a cum filled kiss making sure every last drop isn't wasted.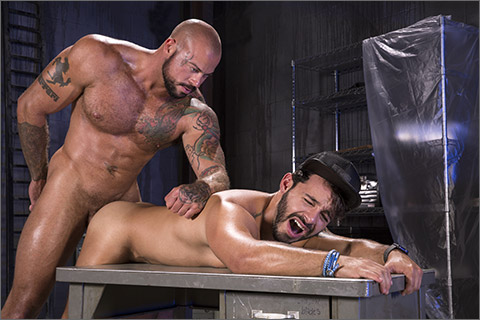 WASTELAND: Sean Duran fucks Rafael Lords
After stumbling into a post-apocalyptic dungeon full of dangerous men, Rafael Lords is trying to escape when Sean Duran stops him. "Why don't you turn around… Show me what I won today!" says Sean. "Pretty nice ass," he adds. "Think you can handle more dick in there?" Bending Rafael over a table, Sean spreads Rafael's cheeks open and shoves his tongue down Rafael's hole. Submitting to the will of his captor, Rafael gets down on his knees and services Sean's massive cock. Sean grabs his nipples to enhance his pleasure as Rafael continues to slobber on his thick rod. Ready to take his ultimate prize, Sean picks Rafael up, lays him flat on a desk, and thrusts himself inside. Feeling Sean's meat filling up his hole makes Rafael grab his own hard cock. Sweat covers their bodies as the action gets more and more intense. Rafael flips over to take Sean's cock doggy style, and he gasps and moans as Sean's pounding picks up speed. With Sean still inside him, Rafael loses control and shoots his load, which pisses Sean off. "Who the fuck said you could cum?" he bellows. Jerking his own cock, Sean blasts Rafael's hole with thick, white cum. "What am I going to do with you now?" questions Sean.

STATE OF AROUSAL: Sean Duran fucks Tyson Glover
When Tyson Glover sees Sean Duran, their mutual erotic chemistry propels them both into a heightened 'State of Arousal.' Sean, tattooed from head to toe, sits upright as Tyson services his cock. Tyson – lean, tanned, and with both nipples pierced – feeds off Sean's dominant energy, putting himself fully at Sean's service. As Tyson uses his tongue to slather Sean's cock with spit, Sean reaches for Tyson's ass and probes with his finger. Eager to get a taste, Sean lays flat so that Tyson can sit on his face. As he eats Tyson's ass, Sean's cock throbs with uncontrollable erotic spasms. With their senses heightened by their intense connection, Tyson and Sean take things to the next level. Pointing his cock straight up, Sean invites Tyson to sit down and go for a ride. As he lowers down on Sean's thick rod, Tyson's ass stretches wide. Sweat glistens on their toned bodies as they alternate between Sean thrusting up from below and Tyson raising and lowering himself from above. Getting on his back, Tyson spreads his legs wide and invites Sean to plow the depths of his hole. With his muscles bulging, Sean ramps up the speed of his thrusting, bringing them both to the brink of orgasm. Sinking to his knees, Tyson sucks Sean's cock, then opens his mouth as Sean's thick, hot load explodes over his face. Jerking his cock, Tyson unleashes his own gushing cum shot which erupts like a geyser all over the floor. Rising to his feet, Tyson presses his lips to Sean's in a final, passionate kiss.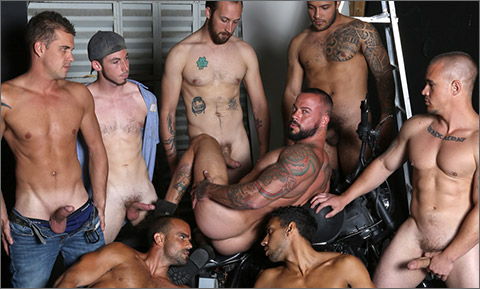 HOG WILD: SEAN DURAN GANG BANG
One insatiable cock fiend, starved for dick, pounded senseless and left covered in loads of hot jizz. Thick cocks are blown greedily and shoved into Duran's eager hairy hole!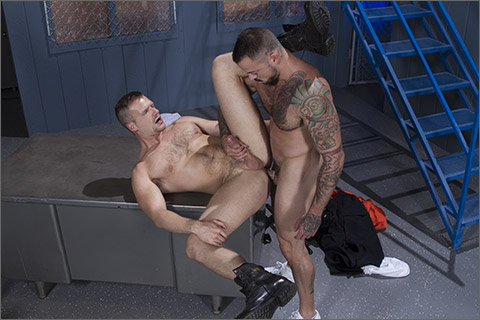 STIFF SENTENCE: Sean Duran fucks Brian Bonds
It's been reported to sexy Officer Brian Bonds that unruly inmate Sean Duran got into a fight and needs to be disciplined. When inmate Duran in brought in for questioning, he accuses Officer Bonds of staring at his cock in the shower. Bonds denies the accusations until inmate Duran pulls out his throbbing hard-on. Officer Bonds stares at it plenty and then swallows Sean's massive member balls deep. After choking on Inmate Duran's cock, Officer Bonds bends over and spreads his cheeks while Duran dives face first into his eager ass. After teasing Brian's hole, Inmate Duran asks 'you want something bigger than my finger in there?' Office Bonds agrees and takes Duran's cock deep – in several, hole-stretching positions. After switching from doggie, Officer Bonds lies on his back and oozes his load onto his furry abs as Inmate Duran feeds his load into Officer Bonds' mouth.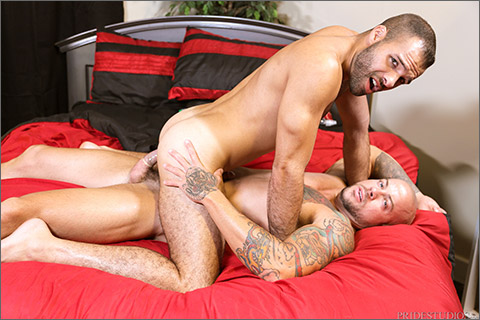 POOL PARTY PASS-AROUNDS – PART 4
This pool party is going to conclude with everyone getting fucked at least twice and Braxton didn't want to pass up this opportunity with Sean. Sean's been hearing how great of an ass Braxton has and he had to feel it for himself. He understands what everyone has been talking about and wastes no time in opening up that hole and cleaning it out with his tongue. Spitting deep into the hole of Braxton Sean is getting ready to fuck him hard and deep before the pool party ends. Braxton is going to show Sean just how well his ass can grind that cock of his until he cums all over the place. Sean throws him around like a door parting his legs wide open and mounting him with force as he gives Braxton the deep hard pounding he wants. The two end covered in ooze and headed back into the pool to wash it all off.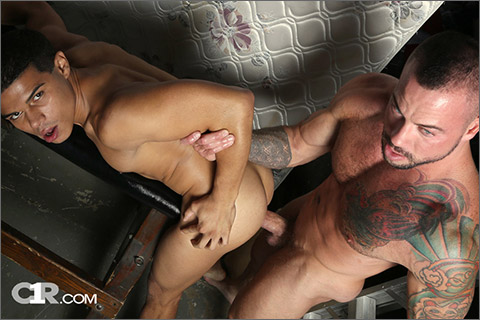 THE CUM GUZZLER CLUB: Sean Duran fucks Roman Chase
Roman Chase is desperate to become a member of the Cum Guzzler Club, but the only way to get into this party is to prove his worth to the new owner of the club, Sean Duran. Muscle daddy Sean Duran knows exactly how to initiate this cock hungry boy into his Cum Guzzler Club. Roman gets his wish after the fucking of his life, but what he doesn't know is what awaits him in the back room.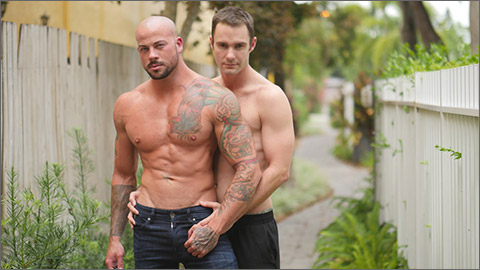 FIRE ISLAND – HOUSE BOY: Cameron Kincade fucks Sean Duran
Our Fire Island: House Boy series continues this week with a hot update featuring Sean Duran and Cameron Kincade. Sean is the next boy looking for a houseboy position from Hans Berlin. Sean isn't on Fire Island, so he applies for the position by giving Cameron a rub down. The rub down quickly turns into Cameron giving Sean the pounding of his life!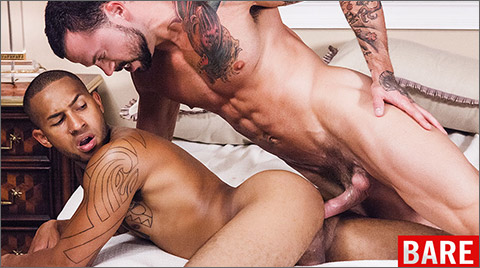 RAW LATIN HEAT: Xavier Saldana Gives Up His Ass To Sean Duran
These little Latin boys sure are size queens. Armond Rizzo is back, and he puts us all to shame with his skills wrangling ridiculously large penises. Whose ridiculously large penis is in the running this time, you might be wondering' It's Mario Costa, who is new to the set of Lucas Entertainment, and with any luck he will be making a return appearance in future films… with endowment like that, it would be a shame not to. And judging by 16:25, I think Armond Rizzo is in agreement. Clearly, Mario Costa is a skilled top — it must all be in the Cuban breeding.
NAKEDSWORD
PRIDE STUDIOS
MEN.COM
BROMO
DOMINIC FORD
GIO CARUSO'S BAIT BUDDIES
GAY ROOM
KINK MEN
CHANNEL 1 / RASCAL
ALL WORLDS VIDEO
RAGING STALLION
HOT HOUSE ENTERTAINMENT
LUCAS ENTERTAINMENT
VIDEO ON-DEMAND: Sean Duran @ AEBN SMUTJUNKIES THEATER
DVDs & ON-DEMAND: Sean Duran @ TLA VIDEO