Handsome ChaosMen Amateur Gay Porn Guy, Santino
Years Active: 2016
BRIAN OCKERT / CHAOS MEN INFO:
Start Age: 23
Debuted: February 1, 2016
Height: 5'8″
Weight: 150 lbs
Cock: 7.5″ Cut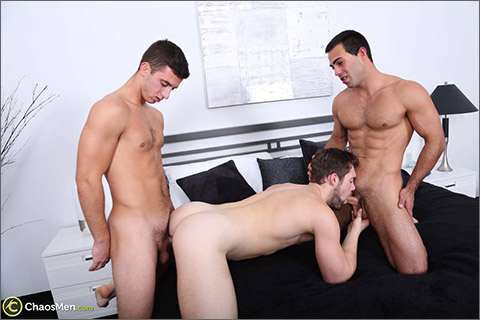 TAGTEAM RAW: GRIFFIN & SANTINO & ULYSSES
After watching Ulysses great energy I knew I had to put him with Griffin. As the holidays approached, I tried to get as many guys in as possible, and I thought Santino would be great to toss in there and see if working with two guys with amazing energy would amp him up a bit.
   Griffin and Ulysses do bring their 'A' game and drive this video, while Santino is pushing his limits. Everyone gets fucked in this video, so no hole is left un-touched. I think Santino is a better Top than a Bottom, but it's so hot seeing him sit on a cock while sucking on Ulysses uncut dick.
   Griffin starts by sucking both guys, showing off his great deep throat skills. Ulysses helps suck on Santino's cock too. Griffin and Ulysses make-out while working on Santino's knob. Ulysses then puts his cock next to Santino's and Griffin gets both cocks in his mouth!
   Ulysses eventually feeds his dick to Santino who does his best to suck his cock while lying on his back. Griffin joins him, and we get to see Santino try to handle both guys at the same time as they continue to make-out.
   Ulysses is up first to get fucked, with Griffin sucking his cock at the same time. It's super-hot seeing Santino pound his ass, balls flying, while Ulysses cock goes down Griffin's throat. Ulysses has a new appreciation for getting fucked, and I think he will be down for whatever in the future.
   After that, Griffin is the bottom boy. Santino and Ulysses take turns fucking his hole and his mouth.
   I wanted to make sure everyone got fucked, but Santino was nervous again about taking a cock. He suggested sitting on it this time out, and you can tell it is still a challenge for him to handle a cock in ass. But he manages to suck on Ulysses as he grinds around on Griffin's cock.
   Santino and Ulysses fill Griffin's hole with their loads, while Griffin nuts almost instantly after Ulysses adds the second load!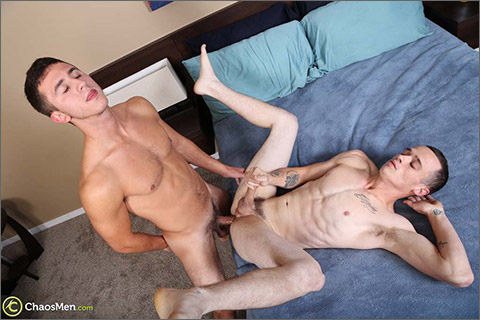 RAW: FRANCO & SANTINO
Another 'First Time' video, this time with Santino taking a cock in his virgin ass.
   Franco and Santino are still in the amateur stage, though Franco has conquered cock-sucking and getting fucked, we are still working on intimacy. I give both guys a 'pass' on things like kissing and rimming for a couple videos, but eventually I will try to push their limits. For now, they are pretty straight forward.
   Santino always has lots of questions. They are thoughtful, appropriate, and he remembers the answers! So he had asked a lot of questions about what it feels like to get fucked. What happens if he can't take it? What happens if he cums too soon? How does he prepare?
   He did have his girl play with his ass the night before. He said she got a couple fingers in, and it was fine when it was in, but she pulled out and he had fight the urge to run for the bathroom. So he was a little dubious of his own performance.
   Both guys have nice long cocks, and I started them with a simple side-by-side jerk-off. They stroke each other, and then take turns sucking cock.
   Again, you can tell I am not fibbing about their level of experience. These guys aren't professionals, but then again, it's always hot watching these guys push their limits and increase their skills.
   I wanted Santino to get fucked first, just so he would stop stressing about it, and then he would be good to go for the rest of the video to top Franco.
   Franco does his best to slowly insert, letting Santino's ass adjust to his thick cock. Santino is telling him to slow down, and not go so deep. There should not be any doubt that this was Santino's first time. Head down while just trying to take it! Though, I found it promising he kept stroking his cock, and stayed hard while getting fucked.
   Then it was Franco's turn, and I did worry that Santino would not be hard enough to fuck after having his ass violated. Turns out he is a pretty good top, and Franco really seems to excel at both top and bottom.
   Santino seems surprised that Franco can take a cock better than he did. They both bonded before the video, with Franco talking about his last video where he first got fucked, and how it could quickly start to feel good.
   Franco is definitely going to be a fully versatile performer. He fucks a guy really well, takes a cock like a pro, and his verbal skills in both positions will bring him into the pro-amateur league quickly.
   Santino fucks Franco with his balls slapping his ass. Franco starts grinding on his own cock while Santino fucks a load out of him.
   Santino scoops up the jizz, and uses it to stroke his cock.
   He squirts once on his hole, and then plunges his cock in. You see his cock spasm and write around as he empties his balls inside Franco! Nailing his first creampie perfectly!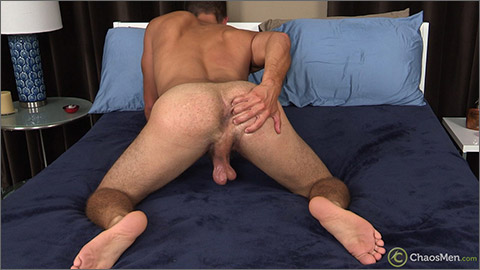 SOLO: SANTINO
Santino has some low hangers! Fans of big swinging balls rejoice!
   He is 23, but most think he is 19. Santino is Italian and Lebanese, not sure which side he got his cock and balls from. At about 5'8″ his 7.5″ cock looks mighty big!
   Santino was very nervous about getting on a plane and flying to another state. He was very inquisitive, and I enjoyed his questions and conversation. It's a good thing we do photos first, because he finally got relaxed and confident.
   He is definitely into the girls with big asses. He has swapped oral with guys on special occasions. He might have topped too. He knows the phrase "gay for pay" so that is how he defined himself.
   Santino is just adorable. He has a hot cock, a nice ass, and again, those balls!
   His cum shot is awesome! His load is super white on his tan skin!
CLICK HERE TO GO TO HIS CHAOSMEN BIO PAGE