Handsome British Gay Porn Star, Ross Hurston
Known Aliases: Ross Hurstone
Years Active: 2006 – 2010
TWITTER @HurstonRoss
BIG MUSCLE INFO:
Age (2008): 35 years old
Height: 5 ' 9 "/175.3 cm
Weight: 174 lbs/78.926 kg
Waist: 30 inches/76.2 cm
Chest: 44.0/111.76 cm
Arms: 16.0 inches/40.64 cm
Gym: GOLDS/ FITNESS FIRST
MEN AT PLAY INFO:
Age: 32
Height: 6′
Weight: 175 pounds
Cock: 9″ inches, uncut
The British put in the longest hours in Europe, yet get less done. And if Ross's antics are anything to go by we can see why that's the case. Staying late at the office doesn't mean you're hard at work and certainly doesn't mean you can't have fun once the Janitor has done his rounds. In the dim light of the late evening, he knows a great machine to light up at least some of his best angles – and the results make great birthday cards for the typing pool.
   The great thing about working with such sexy guys at MAP, is that they often have even sexier friends. This is what happened with Ross who was coaxed into coming to meet MAP by their very own Korben. And even though referrals can sometimes be hit and miss, as soon as they laid eyes on Ross they knew he would be a big hit. Every bit the perfect MAP man from head to toe, especially when you see his white shirt open up to expose his perfectly chiseled, hairy torso. Thank you Korben!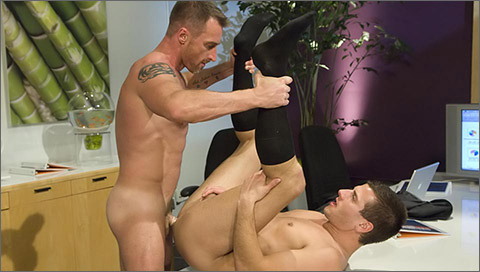 HEAD HUNTERS TWO: ROSS HURSTON FUCKS DERREK DIAMOND
Project Manager Ross Hurston tells Derrek Diamond that he's been worried about meeting their deadline on the current job. When Diamond tells him he's completed the job and everything is okay Hurston rewards him by whipping out his fat cock. Diamond gets to work on the helmet-head, giving his boss an intense blow job. Hurston strips his young employee and sucks his cock before flipping him over to eat his ass. Once Diamond's hole is wet and ready, Hurston really shows him who's boss, fucking him long and deep on the conference table.
HOT HOUSE
HOT HOUSE CLUB INFERNO
UK NAKED MEN
BUTCH DIXON
MEN AT PLAY
ALPHAMALES
CLICK HERE TO GO TO HIS HOT HOUSE DETAILS