Sexy Blond Gay Porn Icon, Rex Chandler
Known Aliases / aka: Paul Faux (Playgirl)
Years Active: 1989 – 1996
FALCON STUDIOS INFO:
Nationality: U.S.A.
Born: 1964
Hair: Light Brown
Eyes: Hazel
Height: 6'3"
Position: Top
Build: Body Builder
Body Hair: Smooth
Endowment: 9″ cut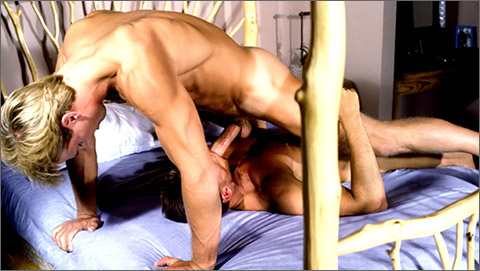 DEEP IN HOT WATER: Rex Chandler fucks Brad Phillips
Brad Phillips returns early from his business trip surprising his naughty boyfriend Rex Chandler and the two men work to rekindle the passion in their relationship. Brad's been missing Rex's attention and his big thick cock so he hunkers down and opens wide for a good long session of deepthroat action. Rex can't wait to fuck his man's ass and Brad is just as eager to feel that thick stick buried deep inside him so the two lovers really get down'n'dirty. Rex pounds Brad's ass in a variety of positions until both men unleash thick ropes of hot cum.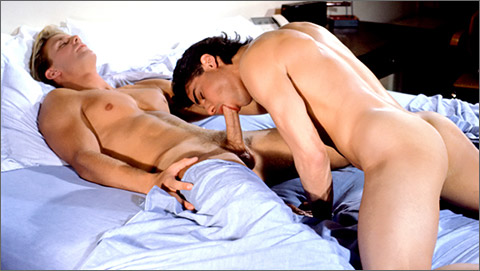 MANRAMMER – A BATTLE OF SIZE: Rex Chandler fucks Domino
Rex Chandler picks up dark-haired Domino "somewhere in Oregon." The blond muscle man loves being rimmed by Domino, and eagerly fucks the sexy Latin man's bubble butt. But deceitful Domino makes Rex lose his job and robs his house, so hapless Rex makes his way home to San Francisco for a fresh start.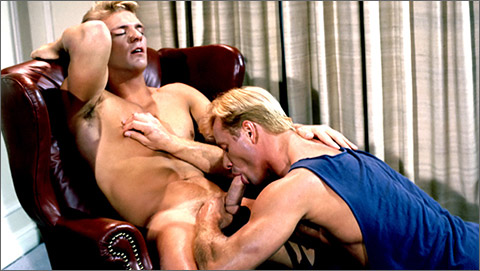 MADE FOR YOU (FVP-063): Rex Chandler fucks Butch Taylor
Butch Taylor enjoys his breakfast while pilot roommate Joe Cade (non-sexual role) leaves for work. Butch goes for walk in the park and runs into blond beefy stud Rex Chandler. Butch brings Rex home for a workout. Rex trips from his jock and shorts, then starts working on Butch, massaging and soothing his tight muscled form. Aroused, Butch kneels between Rex's solid muscular thighs, engulfing his enormous mouthwatering cock from tip to base. Eagerly sucking up and down, Rex forces steve to take it deeper and deeper. Moving out to fht echair and onto the bed, Rex fucks the hell out of Butch's ass. Butch begs for more as Rex's muscular pelvis slams up against his irresistible bubble butt. Rex and Butch exchinge moans of pleasure with each stroke, bringing Butch ever closer to the edge, finally creaming his biggest load all over the sheets. Rex continues grinding and pumping his sizzling meat and with one last mighty plunge, he withdraws — soaking Butch with his load.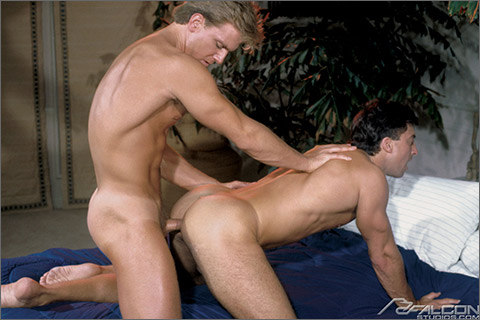 MADE FOR YOU (FVP-063): Rex Chandler fucks Joe Cade
Joe Cade anxiously waits for his blind date – Rex Chandler – to arrive. The table is set…the fire crackles…and finally the doorbell announces Rex's arrival. The two hungry men enjoy a romantic meal, warming to each other as they converse and relax. Hungry for another sort of meal, they snuff the candles and begin to work on each other. Hands and hot mouths roam across flat ridged abs, up to powerful pecs, tonguing rigid nipples and down to superbly shaped inner thighs. Ultimately, Joe engulfs Rex's hot balls and hungrily sucks his cock. Moving down, Joe spreads Rex's cheeks…exploring the big stud's hole…he fingers it…he licks it…he kisses it. Rex is now so hot he grabs Joe and flips him over for a good hard fuck. He punds and thrusts onward, ramming Joe full tilt. Rex shoon shoots shuddering streams of hot cum. Fully satisfied, Joe erupts in blast after blast of ultimate pleasure. Joe collapses in Rex's arms, confident that Rex was made just for him!