Broke Straight Boy American Gay Porn Star, Paul Canon
Years Active: 2012 – 2016
TWITTER @PAULTHECANONXXX
CYBERSOCKET 2014 BEST PORN STAR NOMINEE
MEN.COM INFO:
Hair Color: Brown
Sign: Taurus
Eye Color: Brown
Dick Size: 7 cut
Height: 5'10"
Weight: 160
Sexual Positions: Versatile Top
Favorite Foods: Popcorn,pineapple,pasta, pizza
Favorite Movie: Marley & Me
Favorite City: South Beach
Hobbies: Masturbating
What I like The Most: The beach
What I Don't Like: Disrespectful people and heroin
Best Thing About Me: My hair
Worst Thing About Me: I don't know when to shut up
How To Make Me Happy: Do as I say
Favorite Quote: Live now, not yesterday and the future will be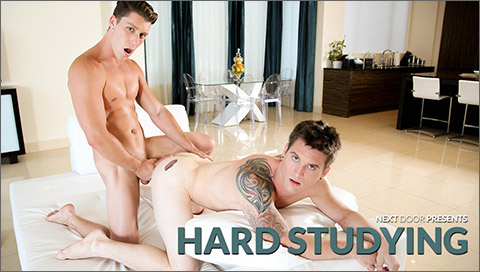 HARD STUDYING
Allen Lucas is such a studious guy. He's spending his Saturday afternoon studying for Monday's test. He knows all the hard work will pay off, but his buddy Paul Canon can't wait to hook up!
   As Allen takes a little nap break, Paul sneaks into Allen's house. He carefully approaches and gets close to snoozing Allen. When he knows the time is right, he licks on Allen's bulge, popping out from underneath his undies. Allen rouses a bit confused. But when he realizes it's his sexy friend Paul, Allen kisses Paul passionately and Paul takes it as a green light to pull out Allen's hardening cock.
   Wow, what a fat boner! It looks so good being sucked by Paul's caring mouth. Yes, this is exactly the type of distraction Allen needed from his books. After getting some of Allen's delicious dick, Paul decides to flip him over and lick that sweet hole. Allen spreads his cheeks apart to allow Paul to get the total experience.
   And once Paul feels Allen's ass is perfectly ready, he slides his stiff cock inside and works up a good pace. Allen knows that Paul likes to fuck hard, so after being pounded from behind for a while, Allen goes to his back so Paul can really dole out a hard pounding.
   Join these guys and find out why it's important to take occasional study breaks to blow off some steam!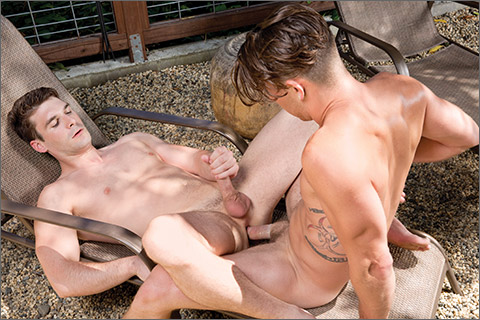 WILD WEEKEND: Paul Cannon fucks Dustin Holloway
Dustin Holloway and Paul Cannon have been making eyes at each other all weekend, but so far they haven't acted on it. As they strip down to their white briefs and step into the hot tub, they trade a knowing glance. Their feet touch at the bottom of the spa, and their cocks swell in their wet briefs. Paul, with his dirty-blond hair slicked back, leans in and locks lips with dark-haired Dustin. Pulling down Paul's briefs, Dustin unleashes Paul's rock-hard cock and deepthroats the entire shaft. Relaxing into the depths of the hot tub, Paul enjoys an underwater blowjob as Dustin relentlessly services Paul's throbbing meat. Dustin, emerging from the water, spreads his ass for a thorough rimming. Rising up, Paul rubs his cock in the groove of Dustin's perfect ass, and Dustin is eager to take things to the next level. Exiting the tub, Paul lies down on an outdoor lounge chair and Dustin straddles him. Lowering himself down, Dustin sits on Paul's cock and goes for a wild ride. Paul's huge balls, hanging low in the summer heat, rise and fall as his body throbs with sexual excitement. Flipping to missionary position, Paul grabs Dustin's cock while simultaneously fucking his hole, and the sensation brings Dustin to climax, drenching his stomach in puddles of semen. Paul then fires off rope after rope of cum, shooting all the way up to Dustin's shoulders in a spectacular orgasm.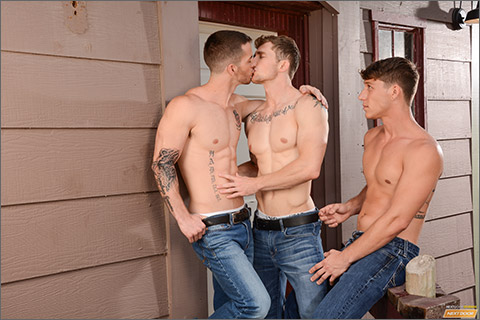 THE REUNION – EPISODE 1: PLAYFUL BOYFRIENDS
When Markie More and boyfriend Quentin return home for a reunion with their childhood mates, they do so with a big secret. Years removed from the group, Markie and Quentin have become exclusive, and it is Quentin's hope that this will be the weekend they tell the rest of the gang. They discuss this as they walk hidden paths and trails, which leads them to an old church. Quentin is all for exploring but Markie has reservations, so Quentin decides to loosen Markie up a bit with a little fun, and he presses Markie up against the building and they begin to make out.
   Fresh out of the shower after 3 days of driving, Paul Canon is ready to mingle, so he goes out after the guys in hopes of maybe catching up with them on their hike. Needless to say, when he stumbles upon them at the church, naked as jaybirds as Quentin sucks Markie off, Paul is surprised. Not only did he not know the guys were together… he didn't even know either one of them was gay. Paul hides around a corner and watches, getting hot and bothered in the process, so he takes out his wang and begins to stroke it.
   Unbeknownst to Paul, Markie and Quentin can hear him, and Markie catches him wacking it, so he takes Paul by the hand the three of them finish together, stroking, sucking each other off, and then running a train on each other as the rest of the guys begin to show up. Going to be one hell of a weekend, if this is how it starts.
FALCON STUDIOS
MEN.COM
NEXT DOOR STUDIOS
BROKE STRAIGHT BOYS
BEAR WEEKEND – PART 4
BEAR WEEKEND – PART 2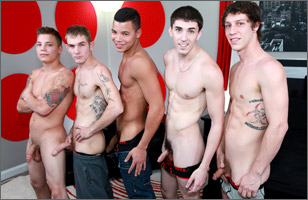 BAREBACK ORGY ACTION 1000TH EPISODE
PAUL CANON FUCKS JAXON RYDER
ZENO KOSTAS FUCKS PAUL CANON RAW
PAUL CANON FUCKS TRISTAN STILES
PAUL CANON & DAKOTA FORD FLIP FUCK RAW
PAUL CANON SUCKS VADIM BLACK
PAUL CANON FUCKS JOHNNY FORZA