Titan Men American Gay Porn Performer, Nick Prescott
Years Active: 2013 – 2016
TWITTER @nickprescottxxx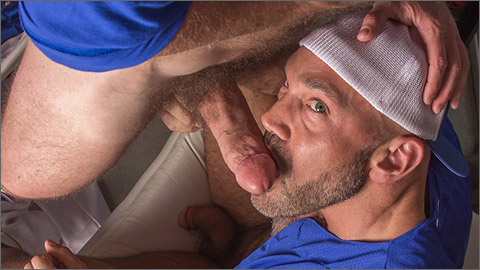 OUT! – COACH JESSE JACKMAN DECIDES TO COME OUT:
Nick Prescott fucks Jesse Jackman
San Francisco Titans coach and baseball legend A.J. Benson (Jesse Jackman) is facing pressure from the media to come out of the closet—his constant appearances with pitching coach Dave Decker (Nick Prescott) raising eyebrows. A.J. decides to come out in an interview—but not before he cums with Dave, who feasts on the jock's cock. They deep throat each other back and forth, sharing a kiss as they gnaw on a jockstrap together. Dave eats and fucks A.J. from behind, the top's furry balls tickling his ass. They switch positions before Dave tops again, plowing a rock-hard A.J.—who he strokes as he pounds, literally fucking the cum out of the sweaty slugger.
CAUKE FOR PRESIDENT: Nick Prescott fucks Mike Cauke (Matthew Bosch)
Conservative presidential candidate Mike Cauke (Matthew Bosch) cruises Manhunt…then sneaks into the bedroom of a stroking Nick Prescott, who soon guides the conservative down. Nick whips his dick on the sucker's face, cupping his sac for the senator to suck. Nick sucks Bosch's big uncut cock back, the two soon 69ing in bed before Nick buries his beard in the politician's hairy ass. While fucking the bottom from behind ("Gimmie that dick!"), the top realizes who he's screwing—then turns on his camera to get dirt on the unsuspecting senator. Nick gets the bottom on his back, holding his hairy legs in the air as he pounds away—the two soon squirting. Nick then shares the sex tape with his buddy, investigative political reporter Tex Davidson.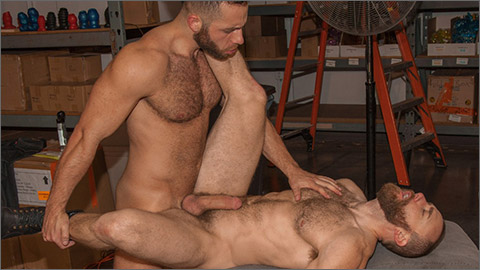 BLUE COLLAR BALLERS: EDDY CEETEE FUCKS NICK PRESCOTT
Taking a break in the warehouse, Nick Prescott and Eddy Ceetee brush their beards together as they kiss—their hands roaming each other's bodies. Nick licks Eddy's stomach, teasing the stud's cock out of his jockstrap. He sucks him before they switch, Eddy gulping up Nick's massive boner. Nick grips Eddy's head and face fucks him, whipping his dick on the sucker's mouth as spit falls to the floor. Muscles clench all over Nick's chiseled body, a long shot capturing it in all its glory. He spits in Eddy's mouth, soon sucking his big cock again. Nick deep throats him, the sucker's steel shaft throbbing. He forcefully spits on Eddy's rod repeatedly, then offers his ass. Eddy gets the hairy hole wet, Nick's dick then bouncing as he gets rammed from behind—his muscles tight as he grips a barrel for support. Nick gets pinned to the floor, Eddy fucking him hands free in a hot sequence before turning the bottom over—Nick's hairy groin soon soaked.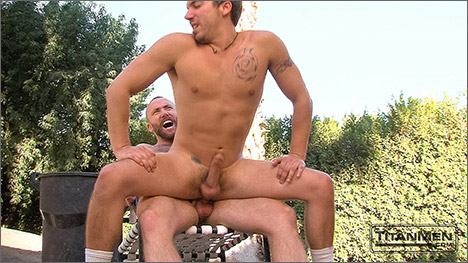 OPPORTUNITY KNOCKS
SCENE 3 – THE LANDSCAPERS: Nick Prescott & Layne Nixon
Nick Prescott quickly learns what the hanky in Layne Nixon's right rear pocket means as the two take a break outside. "Take your pants down," says Layne. "Take it out." Nick releases his huge boner, his hot balls resting over his tight jockstrap. The two stroke each other, Nick wanting more: "Do you want me to suck your dick?" he asks, his talented mouth quickly on Layne's shaft. Nick deep throats him repeatedly, hot suck sounds filling the air as his voracious libido raises the temperature each passing second. "You wanna suck this?" asks Nick, showing off his cock. "Suck it then, cocksucker!" Layne opens wide and takes it deep, his nose planted in Nick's big bush. "Yeah, pig!" growls Nick, getting more verbal and turned on. "Look at that fucking cock! You like it? Fucking suck it!" Nick eats and fingers Layne before ramming his hole from behind. ("Nice and deep!" moans the bottom.) Layne then sits on Nick, arching back for a kiss. They squirt, the top's thick load clinging to his own big sac and falling to the ground."
CLICK HERE TO GO TO HIS TITAN MEN DETAILS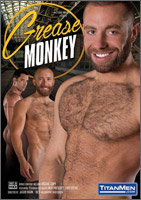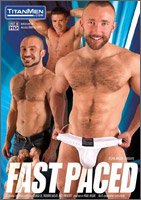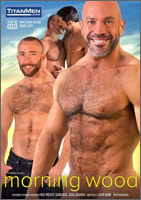 GREASE MONKEY
HARD AT WORK
IN THE SHADOWS
OPPORTUNITY KNOCKS
BAD COP
FAST PACED
IN THE SHADOWS
MORNING WOOD
WET
SHAG
WIDE AWAKE
FOUL PLAY
ASS ATTACK
SOAKED