Hot House Exclusive British Gay Porn Star Stripper, Mark Anthony
Known Aliases: Marc Anthony
Years Active: 1994 – 2002
KRISTEN BJORN INFO:
Nationality: United Kingdom
Height: 5'9
Weight: 160 lbs
Dick: 8″ (20.32 cms) uncut
Position: Versatile
Kristen says:
Mark was a well known stripper in London clubs when I met him. He had such an aggressive and charismatic presence on stage that I was suprised to discover how shy he really is.
originally posted at Atkol Forums by John W.:
He was born in Wales on March 24th 1967. He admits to having been a "juvenile delinquent" (his words) and spent time (between the ages of 13 and 17) in detention centers.
   Mark later moved to London and settled in a place you'll be familiar with, Blaster, Earls Court. Not a bad place for a young gay boy. During his early years, he was a dancer/stripper on the London Club scene and was featured in a fitness/workout programme on TV. After that, he got into trouble again and spent time behind bars. Despite being gay, he really didn't acknowledge it, claiming that his first experience with another man wasn't until he was in his mid twenties. In an interview on the KB web site, he was asked: "What was your first your first experience like?" To which he answered: "That happened when I was in prison at 25 years old, with a 46 year old guy who was doing life for armed robbery! But he was a great guy all the same!"
   Mark did some escort work for a time, but something went wrong (he won't talk about it in detail) and soon gave it up. In 1994, Mark was one of a number of models featured in a soft-core video produced in London, called 'INSTINCTS: EROTIC CHOICES.' This was an instructional video illustrating that gay sex can be safer, yet erotic. A year later, Volume 2 was released also featuring Mark, and (interestingly) Dean Spencer! These were later repackaged and retitled 'BETTER SAFE SEX' and 'EVEN BETTER SAFE SEX.'
   Whilst a dancer/stripper, his manager urged him to contact Kristen Bjorn, which he did. Mark made three movies for KB – the other two being A WORLD OF MEN and THE ISLE OF MEN. Both, like Anchor, are in the 'must see' category.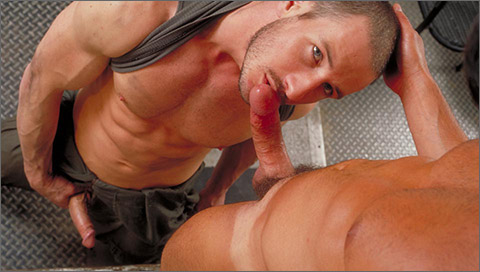 SURE THING: James West fucks Mark Anthony
James West is pissed when he's told to wait for his car to be detailed by Serviceman Mark Anthony. West watches the muscled mechanic work on his car and begins working on his own huge tool. Anthony joins West in the waiting room and gets his face fucked, hungrily inhaling West's massive cock. Stroking his uncut cock, Anthony offers his chiseled ass up to West, who fucks him with jackhammer speed, all over the garage. Anthony blows his load while West is deep in his ass, then West finally pulls out and shoots his own hot white cum all over Anthony's gym-toned torso.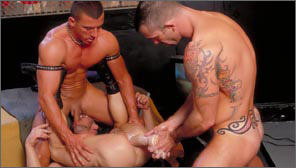 MO' BIGGA' BUTT: Cory Jay & Patrick O'Rourke dildo-fuck Mark Anthony
Hot and lean cover boy Mark Anthony tugs at Cory Jay's ball sack and sucks his pierced cock. He dives at O' Rourke's nipple, alternately biting at the muscleman's pecs and choking on Cory Jay's dick. Jay and O' Rourke rip off Anthony's clothes and spread his cheeks for a record-breaking session of ass-eating. O' Rourke takes charge, pushing Jay and Anthony into a sixty-nine of rimming, occasionally dipping his dick into Anthony's greed mouth. Primed and ready, Anthony opens his ass for some more aggressive play. Jay's on hand with a flesh-colored super dildo and drills it in and out of Anthony's butt hole until it spews forth some juicy ass grease. But Jay can never keep his ass out of the action for long. After Anthony's bout on his back, Cory is on his knees, his overheated hole swallowing more shockingly long, thick dildos. O'Rourke and Anthony take turns stuffing Jay's gaping hole. Soon both Jay and Anthony are having their assholes stretched open at the same time by the sadistic, well-hung O'Rourke.
HOT HOUSE
HOT HOUSE CLUB INFERNO
KRISTEN BJORN PRODUCTIONS
UK NAKED MEN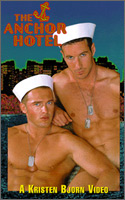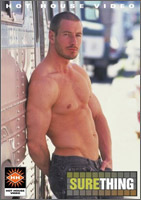 THE ISLE OF MEN
THE ANCHOR HOTEL
A WORLD OF MEN
SURE THING
MO' BIGGA' BUTT
INSTINCTS / PLEASURE ZONE
BETTER GAY SEX (EROTIC CHOICES)
MEN  May 2000
HONCHO  December 1997, January 1998
TORSO  November 1998
ALL MAN  September 1996, March 1997, March 1998
HOMENS  #45
SAVAGE MALE  Oct 1996  #27
UNCUT MEN ANNUAL  v01 n01
EUROS  #048
MEN OF THE WORLD
NOWY MEN FOTO: THE ISLE OF MEN
BRUNO GMUNDER: ICONS – HOT HOUSE 2012 CALENDAR
BRUNO GMUNDER: HOT – THE MEN OF HOT HOUSE
ADAM GAY VIDEO: THE COMPLETE KRISTEN BJORN COLLECTION
THE DIRTY DOZEN – 12 YEARS OF HOT HOUSE VIDEO