Spanish Kink BDSM Gay Porn Performer, Macanao Torres
Known Aliases: Macanao, Macano
Years Active: 2006 – 2016
TWITTER
International spanish pornstar trigafilms, jalistudio, hardkinks, cazzofilm, uknaked, butchdixon, worldofmen, kristenbjorn and more
JALIF STUDIOS INFO:
Age: 27
Dick Size: 7.5
Sexual orientation: Gay
You know how for some men it's more about the attitude than the body or dick size? Well, that's the case with Macanao Torres. The fact that he's got a tight, hairy body with a juicy dick and tasty ass only adds to the cocky sexual arrogance that oozes out of his pores. This is one that will make you weak in the knees and want to open up to his penetrating cock and piercing gaze. Nastiness with the face of an innocent.
HARDKINKS INFO:
Macanao Torres started thinking about making porn after doing a casting at HeatGay festival in 2006, but his rise to fame came after shooting his first film "Kings of Piss" with JalifStudio in 2006. Since then, this sex machine has not stopped making films for both national and international production companies. This time, the 27-year macho shows everyone his alpha male side on our first scene. Could we have a better start?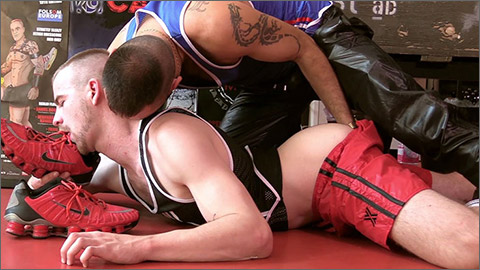 MACANAO TORRES TRAINS DANE DOWN UNDER
The pig in the training Dane Down Under finds one hell of a master in Macanao Torres. The Spanish macho is in Boxer Berlin in search of new Fetish gear as Dane's feet run by him. Young, short hair, red sneakers and tight red rubber shorts in which his ass looks perfect. Macanao can withstand the sight for not one second and moves to push his tongue in Dane's mouth. Now his fat cock wants to be satisfied.
   Willingly Dane gets on his knees and inhales Macanao's Nike until the lust overwhelms him. Like a mangy dog he throws himself to the ground, he licks the white of sportsocks and the brute holds out his white hairless ass. Macanao rubs him the sneakers between Dane's jaws and his pink hole with the rough leather.
   Macanao spits in Dane's mouth. The Spanish fuck star then pushes him his slimy cock down his throat until the kid gets tears in his eyes. He hammers him so deep into the mouth that his face is almost bursting with cock. Macanao finally makes it to the ass and gets sweaty from fucking. Just when you thought it couldn't get better a customer is the third pig in the round! The small pig is in a lust frenzy of ecstasy. From the front and rear, the greedy men are stuffing him until he nothing more can be filled. Dane's innocence is now different.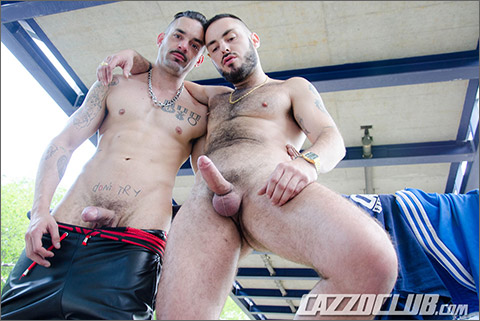 MACANAO TORRES & RICK LOUS
Horny Macanao Torres is waiting for the subway when Rick Lous runs into him. Rick is a pig exactly to his liking. He drags him down into the subway station the stairs, getting him on all fours and presenting his sneakers for sniffing by his bearded face. Rick can not get enough of the smell of sweaty leather. With every breath Rick's desire to submit to Macanao increases. Watching the horny pig is too much for the Spanish macho. Now he must be fucked on the tracks where everyone can see the naughty goings-on. Macanao juices up Rick asshole widening up for the smacking that is to follow. For a few short hard blast, he hammers the whimpering guy until a passer-by threatens to call the police and the two pigs must flee. Macanao finally delivers his sauce in the face of Rick in the forest.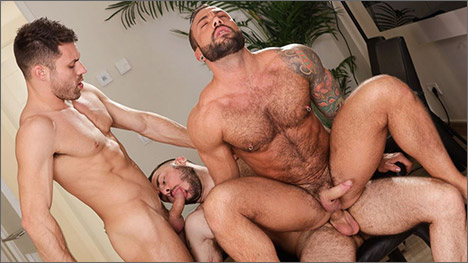 RAW ADVENTURES #14 – JET SEX: JAMES CASTLE, SERGI RODRIGUEZ, MARIO TORRES
Macanao meets up with his old friend James and invites him back to his place. When they arrive Macanao's lover Sergi is excited to see that he has brought home a sexy friend. The three men begin disrobing each other and explore each other's sexy bodies with sensation of touch. Sergi frees Macanao's cock and devours the full length of his long shaft. Sergi then turns his attention to James' fat cock and worships it with his succulent lips as it so richly deserves. Macanao takes Sergi's cock into his mouth as Sergi continues to swallow James' fat cock. The guys switch up the cock sucking before James bends Sergi over and fucks his hairy hole with his tongue as Macanao fucks his mouth with his cock. James stands up and plants his throbbing cock deep inside of Sergi's tight ass. Sergi loves being fucked from both ends and especially when the guys begin to tag team his ass and mouth. As one pulls out of his ass and the other enters, Sergi lubes up the other with his mouth and tastes the sweet juices from his own ass. Macanao takes a seat as Sergi sits down on his raw cock and James feeds him his hot cock. Both Sergi and James fuck Macanao, one with his ass one with his cock. James loves the view of the hot fucking that he loses control and feeds his thick load to Macanao. At that same moment Sergi has fucked himself into a frenzy and blows his huge load as Macanao continues fucking him hard. With all the attention and cum that Macanao has received he is unable to hold his thick, creamy load any longer and sprays Sergi's hairy thighs with his cum.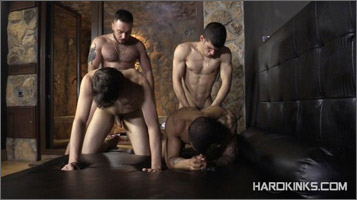 BULLFIGHT EDITION vol 3
3 years ago we've released our first movie, so we're going to celebrate leaving three slaves in a dungeon for the amusement of Masters Macanao Torres & Sergio Mutty. Prepare yourself for pure Hardkinks action.
This movie contains: Anal Sex, Armpits, Bad Language, Blowjobs, Bondage, Boots, Dog Training, Extreme, Feet, Humiliation, Leather, Orgy, Piss, Servant, Sneakers, Spank, Spitting, Torture, Trackies, Whip, Young Masters
HARDKINKS
JALIF STUDIO
DARK ALLEY DARKROOM
BUTCH DIXON
CAZZO FILM BERLIN
CLICK HERE TO GO TO HIS HARDKINKS DETAILS
THE OBEDIENT FUCK SLUT
AITOR CRASH, RICKY RAMOS, ARMANDO & MACANAO TORRES
MACANAO TORRES, MARTIN MAZZA & FABIO COSTA
MACANAO TORRES & ALEJANDRO FERRER
MACANAO TORRES – PART 2
MACANAO TORRES
THE MAKING OF BONDAGE AND BOOTS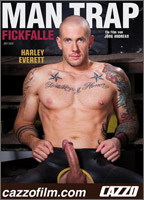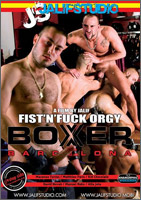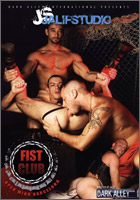 MAN TRAP
MADRID
FIST 'N' FUCK ORGY BOXER BARCELONA
BOOTS AND BONDAGE (BOTAS Y BONDAGE)
FIST SESSION: OPEN MIND
DIRTY FUCKERS IN BARCELONA – VOL.4
MASSIVE COCKS AT BOYBERRY
FIST CLUB: OPEN MIND BARCELONA
SNEAKERS AND COCKS (ZAPAS Y POLLAS)
STREET DOGS
KINGS OF PISS