Next Door Studios Uncut American Gay Porn Star, Johnny Riley
Years Active: 2015 – 2016
TWITTER @JohnnyRileyxxx
REKINDLING COCKS
Johnny and JJ Knight were high school buddies. It's finally reunion time and JJ is late. As he's just about to enter the reception hall, Johnny is walking out. They're excited to see each other, so they go back to JJ's place to have a couple beers and catch up. When JJ asks Johnny about old flames back in school, he's surprised to learn that Johnny always had a crush on HIM!
   JJ decides to go with it, so the two engage in some passionate kissing. Soon, Johnny is on his knees servicing JJ's big, swollen cock. High school was never this much fun!
   After more smooching, JJ returns the favor by sensuously sucking Johnny's super-hard erection. Then, JJ takes things further by licking Johnny's tasty and tight asshole. Johnny didn't think he'd like it, but he can't believe how good it feels!
   Once Johnny's hole is good and ready, JJ bends Johnny over the counter and inserts his rock-solid, completely bare cock! Johnny can't believe he's finally getting fucked by his old high school crush. This is a reunion that couldn't have yielded a hotter fantasy. Join them as Johnny lets JJ put him into some very interesting positions, and watch both guys end this sexual encounter of a lifetime by shooting big, meaty loads for each other.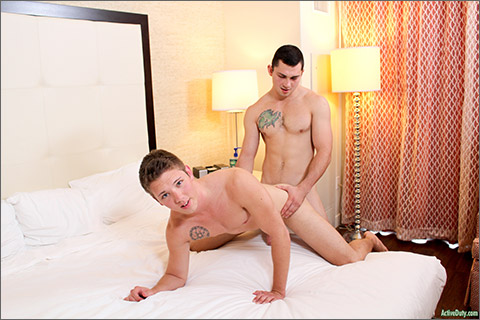 JOHNNY RILEY & JOHNNY THOMPSON FLIP-FUCK
These boys together is a sight too sweet for words. Our resident firecracker, Johnny Riley is here with new recruit, Johnny Thompson. Yes, it's Johnny and Johnny, and it's the first time we're seeing handsome and willing Thompson experiments on camera! Who better than Riley to make him feel welcome and comfortable, and also to show him how to loosen up!
   Once Claude gives them the go-ahead, the Johnny's start things off by getting their hands dirty. Their big, hard dicks come out and the boys begin by slowly jerking each other with nice, tight grips.
   It isn't too long before Riley is giving Thompson the lip service of his life. I think this was when Thompson really gave in to the sheer ecstasy of the experience and lost himself in the pleasure. They move into a 69 position and continue heating with intensity. Gosh, these recruits are the perfect size for each other!
   From there, Mr. Riley climbs atop Thompson and takes that freshly inducted AD cock for a test spin. Boy, does it turn out to have some incredible potential! Thompson does an excellent job of giving Riley the good time he was hoping for, and surely makes him proud as a mentor.
   Thompson goes to his back and lets Riley continue the session. 'Oh yeah, you feel great,' Riley tells Thompson, and Thompson seems to rest his head back on the bed, in relief. I can't blame him. His nerves must still be pretty wound, hoping that his mentor is enjoying his hole. When Riley tells him earnestly that his ass does feel great, I can imagine that satisfaction.
   Claude gets some wonderful shots of Thompson's hard dick as Riley pummels his hot pocket, just before Thompson gets back in the driver's seat. By this point, Johnny T has loosened up and is really having a blast! 'You like a cock up your ass!' Claude says as we watch Riley get drilled. Wow, Riley has learned how to tolerate a no-punches-pulled fucking very nicely!
   Finally, we have Riley back on top, taking more stiff cock in his ass as he jerks the warm load out of his own throbbing dick. I'm so pleased with how this one turned out, and how well both Johnny's did! From Johnny Thompson, I can easily imagine a long, fruitful tour of Active Duty. As for Johnny Riley, I don't need to tell you how much amazing action we have in store from this robust cadet. I think it's clear that with these two on the squad, we can count on a fun ride ahead!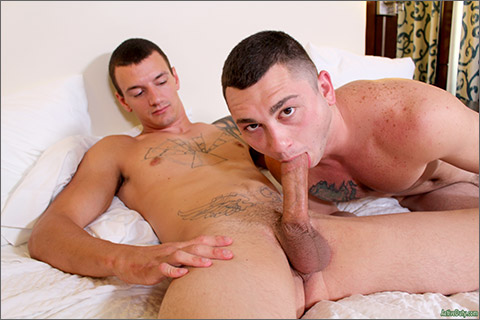 BRAD DAVIS FUCKS JOHNNY RILEY
I'm sure most everyone remembers Brad Davis, who, not long ago, graced our squadron with his unforgettable style, nicely chiseled body, and mouth-watering cock. Well just as I had hoped, Brad is back! And this time, he's jumping into action with a recruit who's become the most fun ball of energy among the whole outfit — Johnny!
   Once Claude gives them the green light, Brad and Johnny pull out their already very hard dicks and get right into some nice, tight-fisted stroking. Side-by-side, these fat erections are truly impressive. Both of these soldiers are working with some serious firepower! Johnny, being the dick-hungry, brand new cocksucker he's become, doesn't waste too much time before planting his two lips around Brad's throbbing dong. He's so eager to get all that erect meat into his mouth, he takes it a little too deep a few times.
   Brad started out slamming Johnny from behind, up against the side of the bed. Pretty much right from the get go, Brad was using those lean muscles to drill Johnny good. Claude captured some excellent shots from underneath, where we get to see Johnny's hole getting good 'n' stretched by Brad's forceful fucking.
   Then, Johnny climbs on top for a ride. He bounces hard on Brad, playing with his own rock-hard dick as he takes Brad's. Claude tells Johnny to let that beautiful cock bounce on its own for a while and boy do we get some great footage of Johnny here! I love seeing a stiff boner slapping on another soldier's chiseled stomach.
   The boys reposition into a wheelbarrow style, where Johnny really gets lit up by powerful Brad. Even Claude says, 'He's railing you now!' and all Johnny laughs as Brad delivers a serious pounding. Johnny lets his ass take a break for a few minutes so he can get another taste of Brad's cock, this time after it's been fucking his tight hole. Johnny's really expanding his field of experience lately, and I just love it.
   Before going back to the bed, Brad fuck Johnny on a chair, from behind. Here we see a continued drilling from Brad, who seems to be unstoppable at this point! Back on the bed, Johnny takes Brad's dick while on his back this time. We get to watch Brad pound the cum out of him and boy does Johnny have a good time working up to this epic eruption.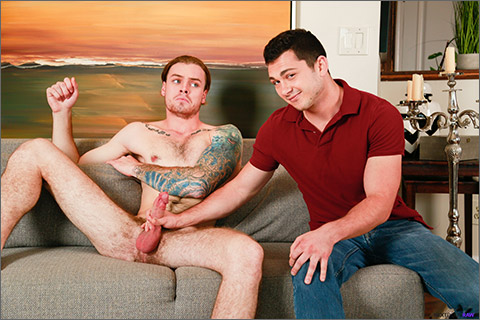 MY BOYFRIEND'S BROTHER
This is the tale of a cock-loving boy with a wandering eye, and his protective, jealous boyfriend's BROTHER. Yes, sometimes even the family of a significant other isn't off-limits…especially when there's a family member as hot as Zane Porter!
   When Johnny Riley meets his Zane for the first time, he tells his boyfriend, 'your brother is HOT!' And from that point, Johnny didn't stop imagining the ways he'd like to cheat with Zane. But his boyfriend would hit the ROOF if he found out! Oh well…accidents happen.
   It was an accident when Johnny and Zane ended up alone in the house at the same time. Johnny's bf was at work, but left Johnny the key to the backdoor. Zane was jerking his hard dick to a porno movie when Johnny came into the house and happened upon the nude and stroking Zane. Zane jumped when he saw Johnny. But Johnny used his killer instinct to stay cool and act quickly in order to take advantage of this incredible opportunity. He sat down next to Zane and smooth talked him into letting Johnny suck his fat cock. Zane acquiesced reticently, but once Johnny's wet lips were tightly wrapped around his throbbing erection, Zane was hardly protesting.
   The porn continued playing as Johnny enjoyed his boyfriend's brother's nice, stiff dick in his mouth. Zane lost himself in the moment, grabbed the back of Johnny's head, and began fervently thrusting his hard cock repeatedly upwards into Johnny's mouth, hitting the back of his throat. Johnny liked this a lot.
   Next, Zane bent Johnny over, doggystyle, and inserted his bare dick into Johnny's tight, waiting hole. Wow, Johnny had never been fucked so raw and mercilessly before…it felt amazing! He was beginning to realize he had bagged the wrong brother.
   After some good, hard pounding this way, Johnny and Zane moved to the couch in the family room so they'd have a little more room to stretch out. Johnny laid on his back and Zane fucked his sweet hole even more vigorously. After a while, Johnny climbed on top of Zane's pulsating cock and took it for a wild ride.
   Experience a forbidden, but ultra-sexy hookup between these two as passion becomes too strong to deny and the lines of appropriateness go out the window!
NEXT DOOR RAW
NEXT DOOR STUDIOS
DINK FLAMINGO'S ACTIVE DUTY
REKINDLING COCKS Johnny and JJ Knight were high school buddies. It's finally reunion time and JJ is late. As he's just about to enter the reception hall, Johnny is walking out. They're excited to see each...","image":{"@type":"ImageObject","url":"http:\/\/www.smutjunkies.com\/updates\/wp-content\/uploads\/2016\/02\/132944.jpg","width":200,"height":200},"aggregateRating":{"@type":"AggregateRating","ratingValue":3.29999999999999982236431605997495353221893310546875,"ratingCount":15,"bestRating":5,"worstRating":1},"brand":"","sku":"","":""}