Uncut American Gay Porn Star, Joey Moriarty
Known Aliases: Leo Serra (College Dudes)
Years Active: 2014 – 2015
CHAOS MEN INFO:
ChaosMen Start Age: 21
ChaosMen Debuted: October 6, 2014
Height: 6′
Weight: 175 lbs
Cock: 7.5″ Uncut
Joey has done video work before, and lives somewhat local, so it was easy for him to drive over to the studio. I am always looking for local guys, as my travel bills continue to climb. Plus having another local guy who can do some Serviced (or more!) videos on hand is always handy.
   Joey is gay, likes athletic guys, and seems very relaxed and eager to have sex. He sounds like he is fully versatile, though he admits he can take a 10 inch dildo in the brief interview!
   To make this solo interesting, I had him try a Fleshjack for the first time, and I wish I had a giant dildo on hand for him after he mentioned the giant dildo ability. But we stuck to the plan!
   Having briefly done some live cam work, he is a very polished performer. He tries out the Fleshjack and really puts it to maximum use. His cock is so dang fat, that it looks like it barely fits and the flesh material is squeezing out of the edges of the sleeve.
   Very sexy dude, with a thick creamy load!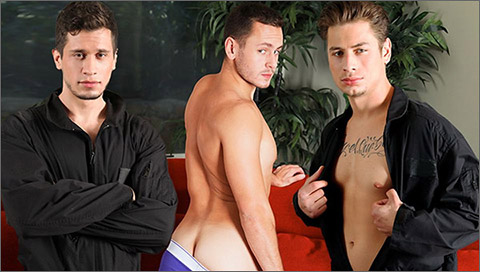 REPO MEN
Brenner Bolton's day is about to get a lot more complicated. As he unsuspectingly watches tv, Joey Moriarty & Julian Smiles are scoping all his stuff, well past arrears for missed payments. As collection agents, these guys are used to getting what they came for, but in Brenner's case, it appears they'll be cumming for more than just a microwave. Brenner implores Joey to give him more time to settle his debt, to which Joey replies that Brenner will have to give up something in return, and since it's pretty clear Brenner no longer owns anything but his sweet ass, it looks like that will have to do.
   Hip to the routine, Joey and Julian unzip their coveralls in unison and unfurl a pair of waiting cocks that Brenner alternates between, going down to shaft on Joey, then switching over and showing attention to Julian's balls, licking his head and taking him deep into his mouth, as Joey bends him over a recliner, entering from behind as Brenner continues to take care of Julian. Joey pounds away, placing his hands on Brenner's hips and pulling him closer with every thrust, as Julian throws his head back against the recliner and enjoys Brenner's hardworking mouth. They guys switch, and Brenner mounts Julian's cock, bouncing and grinding on top as Joey gags his mouth simultaneously, before finally just putting Brenner between them both and unleashing a shower of cum on their delinquent financier. Brenner, freshly covered has earned his momentary reprieve, and Joey and Julian warn him one more time to pay, threatening him to come back back the next day if he doesn't, which doesn't sound like the worst thing in the world to Brenner.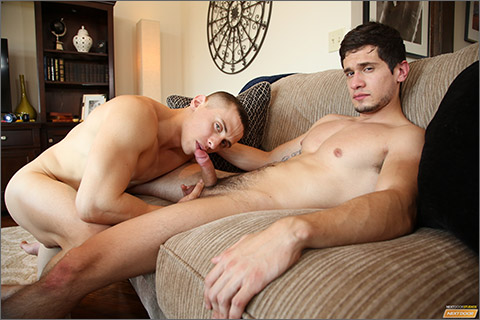 MY WIFE'S GAY BROTHER
As Joey Moriarty stumbles into his living room, he finds his wife's brother Dante doing some summer cleaning. Dante, never the shy one, dusts in his skivvies as he listens to his headphones, shaking his sexy tight ass as he goes along. Joey stops short when he sees Dante dancing on a table, and decides to watch his brother in law and see what he's got. To his surprise, Dante is actually quite the dancer, so when he turns around and catches Joey spying on him, Joey quickly shifts the conversation away from perving out on his family to Dante's prowess as a dancer, asking him for a few pointers or tips on the dance floor. Dante obliges, and guides Joey through some basic steps, grabbing his less coordinated hips and personally moving them himself. Dante's hard on brushes up against Joey's back, and as Joey notices, he seems a little taken aback but not necessarily all the way put off, so Dante uses the opportunity to explore Joey's intentions, and whether or not he'd be willing to learn a few more choice moves.
   Seconds later, Dante and Joey are locked in a kiss, shedding layers of clothing and making their way to the sofa, where Dante rips off Joey's shorts and begins to suck him off, his own underwear half pulled off him as he gags on Joey's straight hard dick. Joey pushes his head down further, choking Dante as spits all over the shaft, and with his cock sufficiently hard, Joey flips the tables on Dante- literally- laying him out on the coffee table as he lifts his legs and begins to eat him out. Joey tongues Dante's hole until its ready for Joey's meatstick, and when Dante can stand it no longer, Joey gives him the high hard one, pumping him deep in missionary on the table as Dante strokes his own cock.
   Joey shifts him onto the bed, hitting Dante's perfect bubble butt from behind as Dante takes every inch like a champ. Joey fucks Dante as hard as he can, much harder than his wife would ever allow, and Dante never flinches, pushing Joey back onto the coffee table and mounting him reverse, grinding against him, riding his cock as he strokes his own into orgasm, launching his load all over the room as Joey continues to pound away from behind. When it's Joey's turn, he pulls out and blasts his load all over Dante's waiting face, and as he opens his eyes from the release, he realizes Dante has not only unlocked his inner dancer, but perhaps something else as well.

SERVICED: GRIFFIN & JOEY MORIARTY
Now that Griffin has got some porn experience under his belt, I thought I would put him with Joey to see how he clicked with another 'veteran' gay guy.
   Sure enough, there was instant chemistry between them. This is just one of those videos where I pretty much gave them a broad overview of what needed to be done and then chased them around with the cameras.
   I think the most outstanding part of this video is the kissing. They are totally into each other, and have a major make-out session while stroking their own cocks. Throughout the video, they stop and kiss, tasting each other's cock on their lips.
   Griffin loves a fat dick, and Joey challenged Griffin's cock sucking skills with his thick uncut cock. Joey showed that he is no beginner when it comes to servicing a dude either!
   Joey busts his load into Griffin's mouth, which sends Griffin's cock spurting. Nice cummy kiss at the end too!
   There is a little OutTake at the end of them showering together. Doesn't happen too often when the guys connect and want to keep playing, so I got a chance to share this moment with you all!
   They just couldn't stop kissing!
NEXT DOOR STUDIOS
GUYS IN SWEATPANTS
CHAOS MEN
COLLEGE DUDES
MEN.COM
MAN ROYALE
GAY ROOM
GAY ROOM / GAY CASTINGS
CLICK HERE TO GO TO CHAOSMEN BIO PAGE ON THIS PERFORMER