American Gay Porn Star & Performer Model, Jet Kanashi / Sir Jet
Known Aliases / aka: Joel Evan Tye
Years Active: 2007 – 2018
TWITTER @iamsirjet1
MEN.COM INFO:
Hair Color: Blonde
Eye Color: Brown Dick Size: 6″ cut
Height: 5'10"
Weight: 175
Sexual Positions: Bottom
PARAGON STUDIOS INFO:
In the Paragon Spotlight this month, we feature singing sensation Joel Evan Tye aka Sir JET, on the eve of the release of his new dance track, "Feeling Dirty". I was lucky enough to interview Joel Evan, and if it isn't obvious enough, let me make it clear: I am in LOVE! He is, of course, stunningly beautiful. The drop-dead body, the wonderfully sexy face and Roman nose. But it's more than that; Sir JET is a sophisticated Renaissance Man, with a classically trained voice and serious acting credentials, as well as a growing reputation as a stand-up comedian. He also has a wonderful vulnerability, a tenderness, that makes him and his music even more irresistible. He sees himself (as did former Menudo Angelo Garcia in his Paragon Men coming-out interview a few months ago) as the Gay Lady Gaga. I, on the other hand, am simply gaga for Sir JET.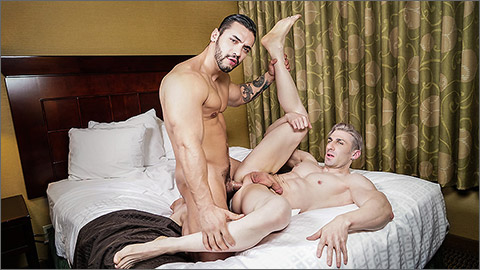 BEHIND THE CURTAINS
Arad Winwin has just checked into his room and doesn't know Sir Jet is hiding behind the curtains waiting for him to leave so he can sniff some underwear. Upon returning he finds his clothes thrown about and Sir Jet hiding. Well, the games are over and a new one is about to start!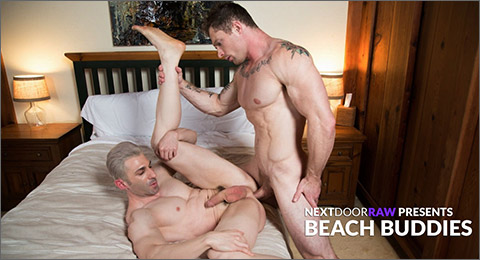 BEACH BUDDIES
As Sir Jet takes a run on the beach, he happens across old friend Markie More. Markie asks Jet what he's doing in town, and Jet tells him he's just bumming around. Markie tells him he's got space at his place if Jet wants to sleep on the sofa. Jet is agreeable to that arrangement, but once they get back to Markie's place, it becomes obvious that Markie has no intention of letting Jet sleep on the couch. Marvelling at how developed he's become, Markie runs his hands down Jet's arms and chest, and pulling him into the bedroom. He makes his way down Jet's body and finds Jet hard as a rock. Markie decides to take care of his old friend, sucking him off as Jet closes his eyes enjoys every second of it. He returns the favor and Markie's hard on is solid enough to cut diamonds, so Jet bends over and tells Markie to go to town. Markie plunges his cock deep inside Jet's familar hole, and proceeds to fuck him hard, just like in the old days. Jet takes Markie's cock willingly, stroking himself as Markie thrusts and lunges. Markie fucks the cum out of his old friend and then follows up by pulling out and blasting his load all over Jet's hole, as the two of them laugh and reminisce deep into the night.

NEXT DOOR STUDIOS
MEN.COM
PARAGON MEN
CLICK HERE TO GO TO HIS NEXT DOOR STUDIOS DETAILS
CLICK HERE TO GO TO HIS MEN.COM DETAILS