MormonBoyz, Elder Berry
Known Aliases: Landon
Years Active: 2014 – 2015
MORMON BOYZ INFO:
Age 18
Height 6′
Cock Large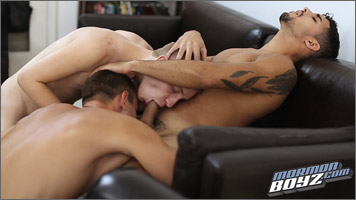 ELDER BERRY & ELDER STEWART
After sucking off their hot houseguest through the slats of their bunk bed, these elders have wondered when they'll get a second shot at his dick. They shouldn't have a stranger living with them, but they are hoping he has at least one more mouthful of cum for them. But they're not sure they can trust him not to tell anyone about their sexual adventures, so they've been reluctant to initiate sex with him a second time. Even though he secretly can't wait to get his hand on some Mormon cock.
   They come home from going door to door one day and find Angel lounging around in gym shorts and a tank top. The whole apartment smells like weed. Mormons follow a strict health code called the Word of Wisdom, and they are definitely not allowed to smoke marijuana. In fact, smoking weed would be the kind of infraction that could get a missionary sent home immediately. Dressed in their suits and ties, tired from working all day, the two missionaries are really annoyed with him and tell him he's not allowed to smoke weed. But their guest is feeling stoned and horny. He tells them to relax and take off their jackets.
   They sit down in their white shirts and ties and tell Angel it's time for him to leave. Much as they hate to see him go, they can't risk anyone finding out their secrets. Angel says they may have to tell him again later — he's so high that he won't remember any of this. The elders raise their eyebrows. It seems too good to be true. If he's not going to remember anything that happens, they might as well have some fun with him before he goes! Read more . . .
   "How about you pull out that big old dick of yours?" says Elder Berry with a grin. Angel pulls down his shorts and the elders grab hold of his fat cock. Then he pulls his shorts back up. They're just kids, really. He's going to have to show them what to do. He starts by undressing them. He undoes Elder Stewart's necktie and then unbuttons his shirt. Elder Berry starts to grope his companion's cock while Angel undoes his belt and opens his fly. Angel has seen the garments before, but they still give him a weird thrill, especially knowing what their hot young bodies look like underneath.
   Once Angel has Elder Stewart stripped to his garments, he moves on to Elder Berry. He starts with Elder Berry's pants, and Elder Stewart nervously plays with his dick. He pulls his companion's dick out through the fly, then puts it back in. Elder Berry loves being the center of all this attention. His tie comes off, and then his shirt. Now that the two boys are stripped to their garments, Angel lifts his tank top to show off his ripped body. The missionaries devour it with their eyes. They both lean forward and run their hands all over his body. Angel smiles and reassures the nervous boys — "That feels really good!" They both look up at him for instruction, and he tells Elder Berry to suck his nipple. Elder Stewart smiles and asks, "Can I suck it too?" In a flash, Angel has both missionaries on his nipples. It feels amazing.
   Then the missionaries want to take charge. They make Angel sit down on the couch and yank off his shorts. They pull off his underwear slowly and play with his dick. Angel looks back and forth between them. They're waiting for his command. "Go for it, boys." Both boys start to lick and suck his cock and balls. He gets hard right away — he has been fantasizing about this for days. He watches the missionaries switch between sucking his dick and kissing each other.
   Angel has Elder Stewart, the baby of the two, get on his feet. His boner is totally tenting his onesie garments. Angel takes his hand. "Are you the younger of you two?" Elder Stewart shyly nods. That turns Angel on. Elder Berry turns Elder Stewart around and shows Angel the garment's buttflap. They both look at Elder Stewart's smooth young ass, then flip him back around and unzip his onesie. He steps out of the garments and stands there, completely nude. Then Angel strips off Elder Berry's garments. Once they're all naked, the sex gets more serious. Elder Berry sticks his asshole in the air while he sucks Angel's cock. Then he lets his companion take a turn and loudly licks his nuts. Angel closes his eyes and lets the boys fight to see who can be the one to get him off. He fantasizes about watching the Mormon boys fuck, and then fucking them himself. And then he decides to make the dream reality. He opens his eyes and tells the elders he wants to see them fuck.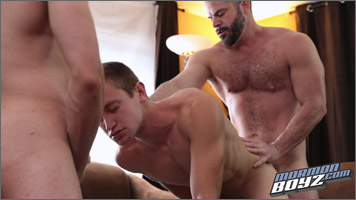 ELDERS BERRY, TITOV & BISHOP ANGUS
ELDER BERRY & BISHOP ANGUS
ELDERS BERRY, TITOV & BISHOP ANGUS
ELDER BERRY & ELDER TITOV
ELDER BERRY & ELDER TITOV
ELDER BERRY & ELDER TITOV
BONUS: ELDER BERRY & ELDER TITOV
ELDER BERRY & ELDER STEWART: THIRD DISCUSSION
ELDER BERRY & ELDER STEWART
ELDER BERRY & ELDER STEWART
EPISODE 121: ELDER BERRY & ELDER STEWART WAYFARING MAN
   MORMON BOYZ
   KENNETH BENJAMIN'S DREAM BOY BONDAGE
   KENNETH BENJAMIN'S ROPED STUDS
   CLICK HERE TO GO TO HIS MORMON BOYZ DETAILS