American Dream Boy Bondage Gay Porn Star, Landon
Known Aliases: Elder Berry
Years Active: 2015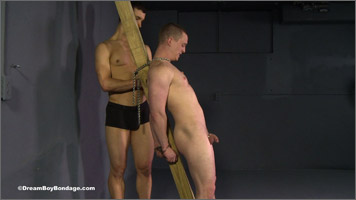 DREAMBOY BONDAGE LANDON THE HANDYMAN
All of us are surrounded by beautiful young men we'd like to capture and torture – that hot auto mechanic with the charming smile, that construction worker in a see-through vest, that college athlete jogging down the street. But we don't just fantasize; we do it! Our latest target is 22-year-old Landon, our handyman. We did our research: He's single, self-employed and brand new to town, with no immediate family. We love his natural, working-man muscle flexing under the thin, cotton T-shirts he favors, an inch or two of creamy, smooth stomach flashing whenever he lifts his arms. Today we make our move, knocking him out with a Diet Coke generously offered after a hard day's work. We strip off his jeans and put a hood over his head, then strap him down to the X-cross with Velcro. Now it's time to wake him up with a bucket of cold water. Next week: First-time cocksucker.
   KENNETH BENJAMIN'S DREAM BOY BONDAGE
   KENNETH BENJAMIN'S ROPED STUDS