Smooth Sexy American Gay Porn Star, Devin Adams
Known Aliases / aka:
Years Active: 2011 – 2017
PRIDE STUDIOS INFO:
Devin Adams
Height: 6.2 (188cm)
Weight: 185 (84 kg)
Age: 22
Nationality: American
Grade: Senior
Our Narrative: Devin stopped by a few weeks before his first shoot, and immediately we were taken with him. Devin has a grin that spreads from ear to ear, and he seems genuinely eager to put the right foot forward no matter what. Devin is definitely a college dude we want to see more of!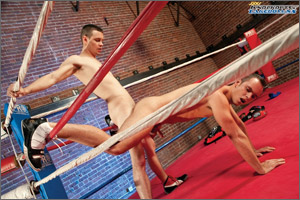 KNOCKOUTS & TAKEDOWNS: Michael Keys fucks Devin Adams
Hot boxers Michael Keys and Devin Adams are wrapping up a workout directed by Coach Tucker Phillman. As soon as the coach is out of sight, Michael and Devin get down to some intense pole sucking and ringside rim jobs. Michael's so turned on by the sparring that his wide cock is out quickly and he dick feeds Devin mercilessly. Devin's shorts are off soon and he dips his huge rod deep down Michael's mouth, guiding him with his hand firm against the back of Michael's head. After this swap of oral pleasure, Michael delivers a mouth-watering ass eating to a fully spread Devin, who then takes Michael's cock in his ass like a champion. Devin has his hands on the mat and his ankles resting on the ropes while Michael grinds at his gripping hole leaving Devin's prize-winning bubble butt bouncing back with every stroke. Devin turns around and holds onto the corner of the ring as Michael continues to relentlessly slam his cock deep into the accepting hole. The jocks complete this round with Michael holding Devin's head in place as he delivers a face full of jizz. Devin yanks on his chain and drains his package coating the center of the ring in cum.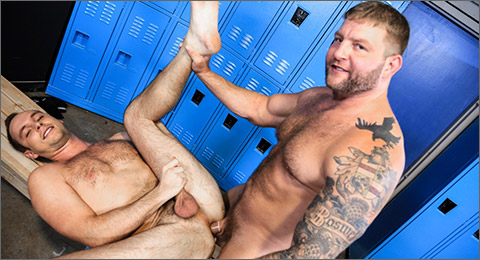 I WANT TO PLAY!
Colby and Devin are back in the locker room after their latest scrimmage match of their Adult League Rugby Team. Devin is upset because he is not getting to play and frustrated because after all, this is supposed to be a 'fun league for adults!' Colby assures him he will get time, he just has to pay his dues. He then plants a big wet kiss on Devin who does not resist. Soon both are fondling each other and then Devin drops to his knees and sucks Colby. Colby returns the favor and sucks Devin for a while before turning him around and fucking him up against the lockers. Colby fucks him slow at first, but the intensity builds as he moves Devin to the bench. Once Devin is on his back Colby fucks the cum out of him and then shoots his own load all over Devin.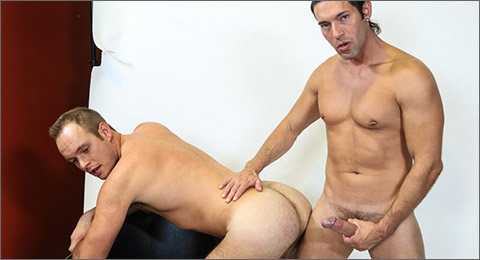 PHOTOGRAPH MY BIG COCK
Devin is in his photo studio getting ready for his model to arrive when Alexander knocks on the door. Once he is let in, Alexander immediately starts to take off his clothes which surprise Devin as he was not expecting the model to be so comfortable being naked. Once Alexander drops his pants though, Devin is shocked by the size of the cock he sees hanging between his legs. Noticing, Alexander asks him if he wants to touch it because it gets bigger, stating 'It's OK everyone touches it.' To which Devin steps closer and starts stroking his cock. As it grows Devin is even more amazed and then Alexander asks him if he wants to suck it. Devin sits in the chair and starts sucking Alexander's massive uncut cock. He does his best to take it all, but struggles. Alexander then has Devin undress and he begins rimming Devin's ass. He then starts rubbing his huge cock between Devin's ass cheeks and tells him he is going to fuck him. Nervously Devin agrees and Alexander starts out slowly at first but once he knows Devin can handle it he starts fucking him longer and deeper. He then sits in the chair and has Devin ride his big cock until Devin cannot hold back and he shoots his load all over the floor. Alexander pulls out and shoots all over Devin's chest and neck.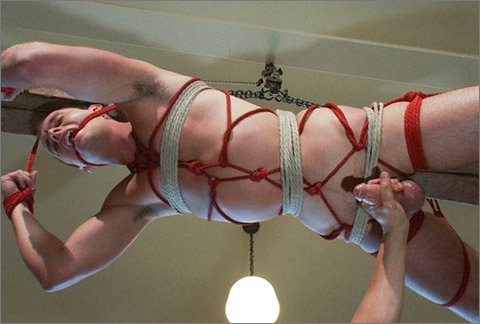 DEVIN ADAMS – BOY NEXT DOOR
Devin Adams is a hot young stud that you'd pass on the street just wishing to tie up. And for good reason since he looks so good in the ropes. He's had his arms tied to the bed post before but he's about to go much further than that. In a standing position we cut his clothes off and edge his cock, then feed him his own pre-cum. In room 309, Devin is tied to a wooden beam and he's edged over and over again while suspended in mid air. Bound to a chair Devin endures vibrators on his cock and up his ass nearly overstimulating him. We fuck his load out of him with a dildo and shove it in the boy's mouth. After the experience he still looks as innocent as ever.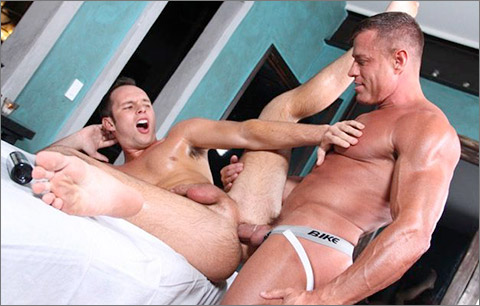 DEEP PENETRATION MASSAGE
Devin Adams was ready to get the full treatment. He wanted to make sure all his muscles got relaxed but when he saw me walk into the room I noticed his cock muscle started to work it's magic. That cock got hard fast so I knew I would have my way with ALL of his tight muscles.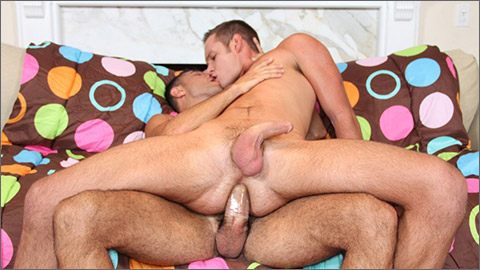 DEVIN'S ASS COCK STUFFING
I stuffed Devin's brown eye with my huge hard cock. I thought I felt the end of his rectum when I was in too deep. After, this sensational cock massage I blew my load all over him!…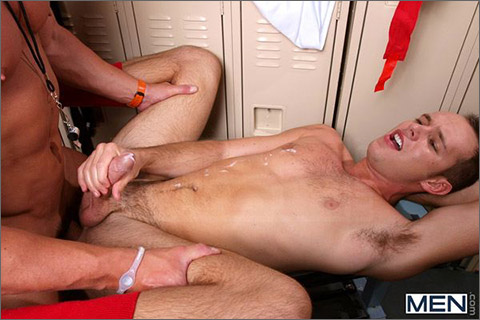 CONVINCING THE COACH
Devin is a hot head athlete, arguably one of the best at his school but he has anger issues. Devin has been kicked out of another game and his coach Matt Cole has had enough with losing his star player yet again. Matt confronts Devin in the locker-room about his attitude, but Devin isn't listening, he's only talking. Finally Matt explodes and pushes Devin into the lockers, Matt screams at Devin telling him that if he wants to be on this team he's going to have to convince him. Devin has a sweet sweet plan to convince his coach, his ass.
PRIDE STUDIOS
KINK MEN
GAY ROOM
MEN.COM
JAKE CRUISE'S COCK SURE MEN
COLLEGE DUDES
GIO CARUSO'S BAIT BUDDIES
LUCAS ENTERTAINMENT
TITAN MEDIA
FALCON STUDIOS
ALL WORLDS VIDEO
CLICK HERE TO GO TO HIS PRIDE STUDIOS DETAILS