Randy Blue Bearded Tattooed Gay Porn Star, Chris Bines
Years Active: 2009 – 2017
TWITTER @BinesXxx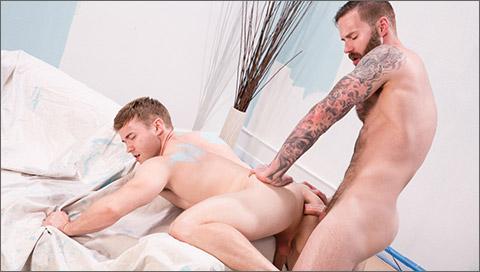 DIRTY WORK: Chris Bines fucks Gabriel Cross
Painting is a boring-as-hell job, so to make things more interesting, Chris Bines tags his boyfriend Gabriel Cross with the roller. Gabriel retaliates, and things escalate quickly. After a quick tussle, Chris grabs the back of Gabriel's head and gives him a deep kiss. A bulge shows in Gabriel's white shorts, and Chris heads straight for it, shoving Gabriel's cock down his throat. Gabriel plays with Chris' nipples and rubs his hands through Chris' hairy chest. Leaning against a couch, Chris feeds his cock to Gabriel's thirsty mouth. Gabriel sucks Chris' cock using plenty of spit, and the intense oral pleasure makes Chris shoot a huge load all over Gabriel's face. But Chris isn't done with Gabriel yet; bending him over the couch, Chris spreads Gabriel's ass and pushes his tongue into the tight pink center. With spit for lube, Chris uses his finger to feel inside Gabriel's sweet hole, and he can't resist putting his dick inside. With a hot body like Gabriel's in front of him, it's no surprise that Chris is already ready for round two. Gabriel flips over and puts a leg over Chris' shoulder, enjoying the sensation of Chris' big, hard cock pushing deep inside him. Sitting down on the couch, Chris invites Gabriel to sit on his cock, and Gabriel's uncut meat slices through the air as he rides Chris. Jerking his cock with Chris still inside him, Gabriel shoots a massive load, then massages Chris' hairy body while he jerks out a second huge cum shot.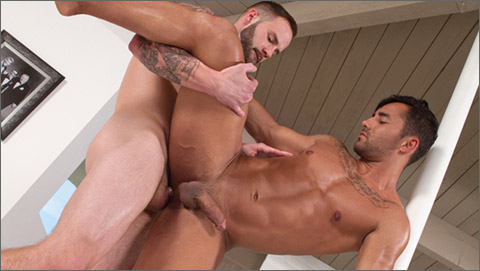 HEATED – PART ONE: Chris Bines fucks Bruno Bernal
After a quick cool-off in the pool, Chris Bines and Bruno Bernal are too 'Heated' to make it to the bedroom, so they ditch their clothes in the hall and make out on the spot. Wandering hands find lengthy cocks and nipples to tease. Bruno dedicates his lips and tongue to Chris' cock and nuts, eliciting groans, but he saves one hand to attend his own ferociously throbbing rod. Chris pulls Bruno to his feet and becomes the one to get on his knees. Grabbing Chris' head, Bruno face fucks him hard. Chris buries his face in Bruno's bubble-butt and jabs wetly with his tongue. Standing behind him, Chris hoists Bruno's leg high in and plunges his cock in. Bruno jacks his dick and squeezes Chris' pecs with each crippling thrust. Switching positions, pre-cum from Chris' swinging cock spatters Bruno's torso. Separating, they lie on the floor head-to-toe and jack out thick loads.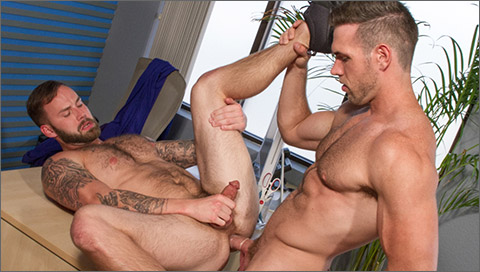 DEEP EXAMINATION: Alex Mecum fucks Chris Bines
Hot House Video Senior Medical Assistant, Chris Bines arrives to work, horned up over the new handsome staffer, Alex Mecum. Chris makes a point of seducing and fucking all the hot new guys at the office, so he brings Alex a cup of coffee to break the ice and butter him up. Little does Chris know that Alex is aware of his reputation for initiating the new guy. Alex is into Chris, but he decides turn the tables on Chris and make him the bottom. When Alex's humongous cock is out, Chris is quickly on his knees where he's met face-to-face with the monster. After a throat banging hummer, Alex bends over to expose his hairless ass for Chris to rim with abandon. When it's time for Chris' ass to get eaten, Alex makes his co-worker squirm and moan with pleasure. Taking things up a notch, Chris bends over to take Alex's hole-stretching rod. Fucking in multiple, prostate-pounding positions, Alex keeps thrusting until Chris unloads his spunk onto his furry abs. To finish, Alex bends Chris over and explodes a massive hot load across his entire backside.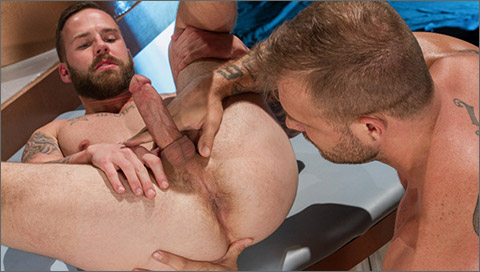 MONUMENTAL ASS: Austin Wolf fucks Chris Bines
Big, beefy, handsome top Austin Wolf swaps spit with inked-up Chris Bines. Austin reaches back to Chris' furry hole and sticks a finger in while Chris sucks Austin's fat cock. Probing him from both ends, Chris gags on Austin's girth and is ready for that cock fill him from every angle. Austin definitely wants more of this hot, hungry stud, and he puts Chris on his backside and switches between sucking his cock to rimming his eager hole. Chris shows off his flexibility when Austin pulls his legs up and eats his ass while Chris chokes on his meat. Primed, ready and wanting more, Chris is practically begging for Austin to fuck him hard. From missionary to doggie style, Austin pummels Chris' hole, using it as his tool to get off. As Austin keeps pumping, Chris moans 'I'm gonna cum' and shoots a load. Austin slowly slides out of Chris' stretched ass and covers his cheeks and hole with a hot, creamy load.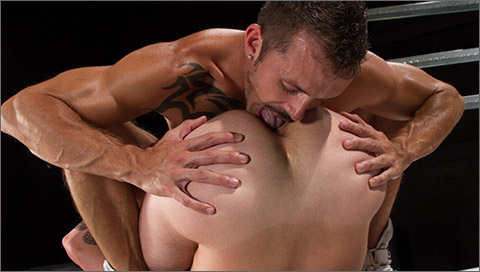 MONUMENTAL ASS: Chris Bines fucks Jimmie Slater
Whether it's Jimmie Slater's firm hairy chest, rock hard abs or mouthwatering cock, Chris Bines can't keep his hands off of him. Chris' focus is drawn to Jimmie's meat, giving him a warm and wet blowjob. While going downtown, Chris glides a few fingers across Jimmie's hole to add to the sexual excitement. As Chris lays on his back, Jimmie climbs on top of him in an acrobatic 69 ass eating session full of hairy holes and fingering. Things heat up when Jimmie gets on his back, and Chris' hides the length of his thick shaft inside of him. Switching positions, Jimmie is on top of Chris again riding him reverse cowboy. Chris pulls his reaming rod out of Jimmie's ass, bends him over and oozes his hot load onto his ass cheek. Jimmie shoots his cum onto his gleaming abs leaving them both spent and drained.
HOT HOUSE
RANDY BLUE
RANDY BLUE LIVE CHAT & PRIVATE SHOWS
CLICK HERE TO GO TO HIS HOT HOUSE DETAILS