Sexy Power Bottom American Gay Porn Star, Bryan Cole
Years Active: 2012 – 2016
TWITTER @bryancolexxx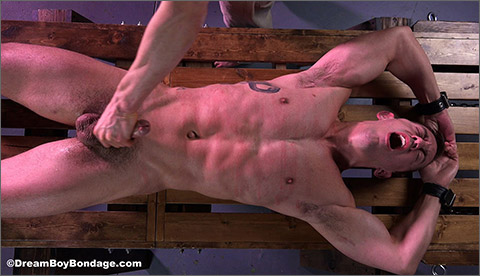 BRYAN COLE: FINAL CONSENT III – STRETCHED TO THE BREAKING POINT
Bryan has suffered unbelievable pain and humiliation, his powerful body tortured to its very limits. His back, abs, chest and ass have been sliced with the single tail and bruised with the flogger. His cock and balls have been fried with electricity. He's been forced to suck cock and repeatedly fucked with a massive dildo. He's been broken on the cross. Now his final torture begins: He will be stretched to his body's breaking point and left in extreme agony for eight hours. But first, supremely sadistic Jared wants a little fun. He masturbates the broken stud, who still manages to bust a load despite all the tortures. Then Jared beats Bryan's soles with the crop, sending him into spasms of pain even before he is stretched. Next week: Jared likes big cock.
ROPED STUD BRYAN COLE
Bryan is all man: big and muscular, bearded and tattooed, with a juicy ass and a huge cock. J.J., as we know, loves the boys, but he also loves a nice hunk of man meat. The stud is roped down, spread-eagled and blindfolded. He's still wearing his T-shirt, but all the squirming has moved in half way up his rock-hard stomach. J.J. rips the shirt open, revealing a great bod, big navel and two pierced nipples. With his muscles rippling and his cock bulging in his tight AussieBums, the stud is a sight to behold. The only thing that would make him even more beautiful is a dozen lash marks across his gleaming torso. And, damn, let's get a look at that cock.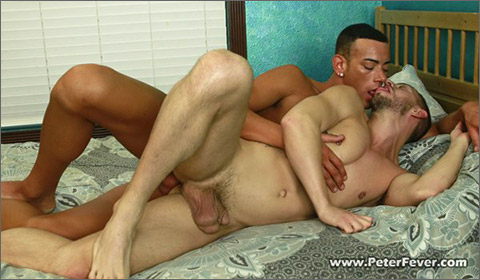 WORKING MAN – ESCORT
Austin decided to get into escorting and I was lucky enough to be his first client. A guy with Austin's devilish good looks should be happy with his life. After hearing his backstory, I laid him down, stripped his clothes off and started fucking.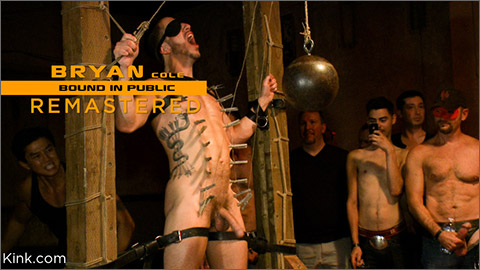 BRYAN COLE IS FUCKED IN FRONT OF 100 HORNY MEN
The Folsom Weekend party continues as Bryan Cole is zipped up in a body bag and brought out for the horny guests to enjoy. Thrown on top of some guys' laps they suck his cock and feed him their own. Sebastian throws him down and fucks his ass on the floor in the middle of the room. The guys then bring him up and tie him between two posts with a zipper connected to a bowling ball. Bryan is edged before the crowd and ends up dropping the ball giving himself the zipper. He's dragged around searching for cock to suck and then thrown in the fuck swing to be fucked by total strangers. In the middle of the room he's given a final fuck by Josh West's huge cock and guy after guy runs up to the bed to cum all over his body.
KENNETH BENJAMIN'S DREAM BOY BONDAGE
KENNETH BENJAMIN'S ROPED STUDS
HOT HOUSE
RAGING STALLION
LUCAS ENTERTAINMENT
PETER FEVER
GUYS IN SWEATPANTS
NEXT DOOR STUDIOS
PRIDE STUDIOS
GAY ROOM