Ripped Handsome American Gay Porn Star, Bruce Beckham
Years Active: 2005 – 2006, 2016 – 2018
TWITTER @BruceBeckhamXXX
LUCAS ENTERTAINMENT INFO:
BORN: November 1975; Ohio
Height: 5'11"
Weight: 190 lbs
Dick Size: 9″
BIO: Michael Lucas immediately signed Ohio native Bruce (who currently calls Los Angeles home) to an exclusive contract upon first meeting him in Manhattan. Charming, handsome, and absolutely mesmerizing to watch on-screen, Bruce made his debut in a pivotal role in the award-winning Michael Lucas' Dangerous Liaisons and hasn't stopped since. Most recently he was featured in a popular, way-hot Encounters scene with fellow Lucas Entertainment exclusive Wilson Vasquez, guest-directed by the legendary RuPaul.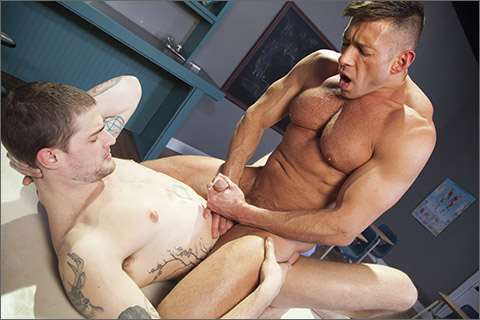 THE SLUTTY PROFESSOR: Justin Brody fucks Bruce Beckham
Fumbling Professor Kelp (Ace Era) is becoming increasingly unpopular with his students, except for equally nerdy Justin Brody. As the sexual tension between them builds, Professor Studly (Bruce Beckham) bursts into the classroom and Kelp is called to the Dean's office. Studly informs Justin that Kelp is in danger of losing his job but promises to put in a good word for him, if Justin cooperates. Studly undresses Justin and goes down on him like he's earning a PhD in cock sucking. He edges Justin with his hot wet mouth, but that's not the hole he wants filled. The hot professor bends over the desk and Justin shoves his dick inside, fucking him deep all over the class room. The sucking and fucking continues until both men are hot, sweaty, and covered in cum.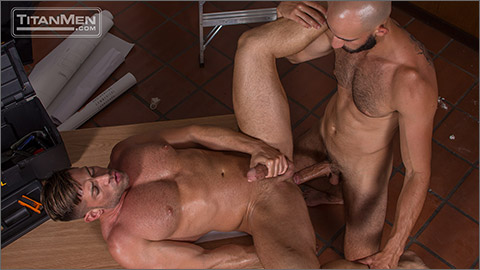 DEMOLITION: Eric Nero & Bruce Beckham flip-fuck
Eric Nero strokes his massive meat, but has to tuck it into his pants when the doorbell rings. Architect Bruce Beckham eyes it immediately: "Is that why they call you the Big D?" he asks. "Sure is," answers Eric. "Wanna see it?" Bruce is wide eyed on his knees as Eric's huge cock pops out. He devours it ("Choke on that dick!") before Eric sucks the muscle man's beast back, spit dripping from his beard to the floor—and his own bicep. Bruce sucks Eric again before fucking him. Eric slaps his boner on Bruce's abs as he gets plowed, then fucks him back—his balls banging Bruce's ass. Eric feeds Bruce's cum to him, then shoots on the bottom's fat cock.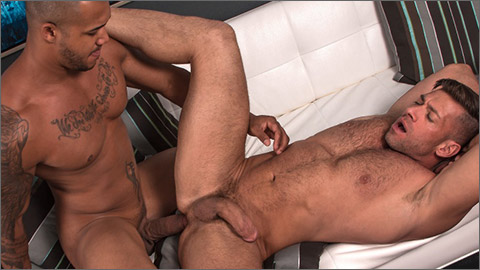 CAUKE FOR FREE: Lobbyist Bruce Beckham seduces Secret Service Agent Bo Hunter (Jason Vario)!!
Special agent Jason Vario eyes the action in the hotel suite during election night. He's approached from behind by lobbyist Bruce Beckham, who whispers into his ear: "You like watching?" He reaches around and rubs the tattooed stud's bulge, the two soon swallowing each other's big dicks to the root. Bruce mounts the top, his beast of a boner slamming against Jason's abs as he bounces.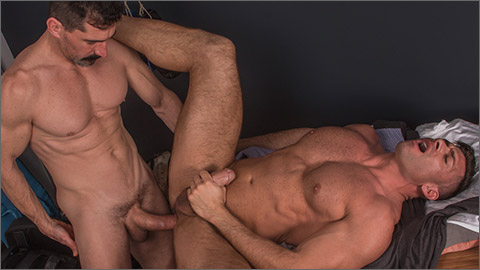 JOE GAGE'S STOPOVER IN BONDS CORNER: David Anthony fucks Bruce Beckham
David Anthony talks with parent Bruce Beckham, whose son (Luke Adams) is becoming sexually suggestive with his coach. "I think you're gonna have to show me," says Bruce, who is soon staring at David's massive dick. He whips out his own as they stare at each other, David's boner throbbing up and hitting Bruce's beast. The two worship each other's monsters, side shots capturing their deep throats on display—Bruce fingering a stand of spit stuck to David's mouth. David pounds Bruce's hole, their pecs shaking before he goes in deep and stays there—the two soon shooting.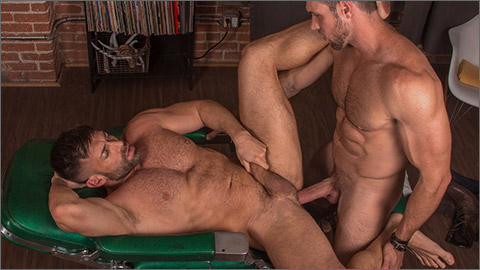 BEARDS: Bruce Beckham & Alex Mecum flip-fuck
A day at the barber becomes more than either man bargained for when muscle stud Bruce Beckham gets a shave from the handsome and ripped Alex Mecum. Unable to keep their hands off each other, the two men lose the trimmer, lose their pants and lose their inhibitions as they get into action right there on the barber's chair.
   Alex goes down first, engulfing Bruce's huge dick in his mouth, somehow managing a big smile as he chokes and and gasps for air. Bruce can't wait to get his hands on Alex's hole and before long his face, tongue and then dick are buried in his muscular ass.
   "Your Turn," Bruce says and the men switch positions, this time with Alex fucking Bruce as he reclines in the chair. Sliding in and out of Bruce's bubble butt, Alex keeps going down to kiss Bruce. The chemistry between these men is amazing and the action is off the chart. Getting fucked hard and steady, Bruce blows a big load, followed immediately by Alex and after a bit of cum swapping, the two men fall into a kiss and catch their breath.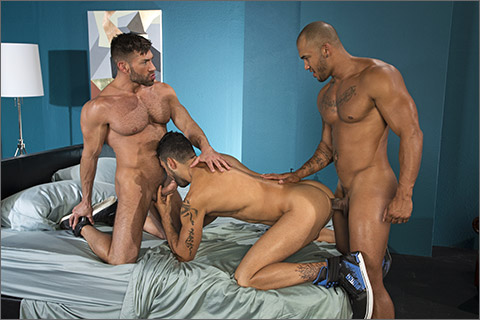 OBJECT OF DESIRE: Bruce Beckham & Jason Vario spit-roast Mick Stallone
With interview cameras pointing at them from every direction, three muscled men get intimate and talk about what they like sexually before they make out and grope each other's naked bodies. On the left, Bruce Beckham displays his massive chest. Scruffy stud Mick Stallone sits in the middle, and Jason Vario is on the right. Mick gets down on his knees to suck Jason's cock. Bruce stands up, and his massive cock swings through the air like a baseball bat. Bruce and Mick take turns deepthroating Jason's hard, uncut cock. Wet spit accumulates on Jason's shaft. Jason falls backwards on the bed, and Mick sits on his face. As Jason rims Mick's ass, Bruce uses his mouth to work Jason's dick. Spreading Bruce's ass apart, Mick blows spit right into the center of Bruce's pink asshole. Switching it up, Mick braces himself against the bed and takes Bruce's cock doggystyle. Jason moves behind Bruce and fucks him while standing. Bruce thrusts back and forth from the middle of the fuck-sandwich, turning up the heat. The three-way connection shared by these horny men amplifies the intensity of their deep, vigorous fucking. Mick is eager to have Jason's cock in his ass too. With Jason's cock stretching out Mick's ass, Bruce stuffs his cock down Mick's throat. Bruce's hand presses down on the back of Mick's neck, guiding his mouth down on the shaft of Bruce's cock. Switching sides again, Bruce pushes his huge dick into Mick's ass while Mick wraps his lips around Jason's cock. With Mick's ass stretched to the limit, he reclines in a chair and strokes his cock, watching as Bruce makes out with Jason. Jason beats out a thick, white load onto Bruce's muscular ass. Bruce unleashes his hot cum on Jason's chest. Mick lets loose with a gusher of cum across his hairy, washboard abs.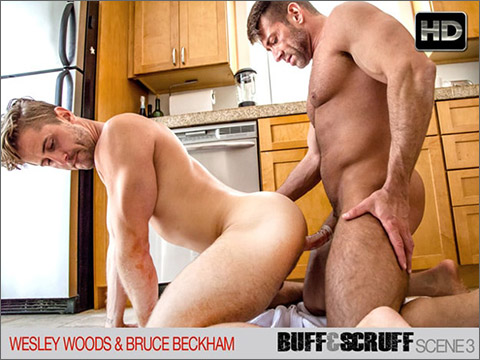 BUFF & SCRUFF: Bruce Beckham fucks Wesley Woods
Nothing beats morning sex after a nice cup of coffee. Bruce Beckham and Wesley Woods really heat things up!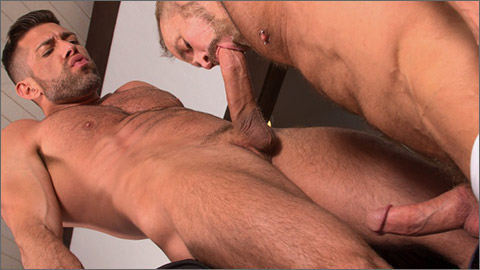 BLUEPRINT: Dallas Steele fucks Bruce Beckham
Architect Bruce Beckham arrives at a palatial estate with plans for the roofline. "I'm excited to show you what I've got," he says to Dallas Steele, who checks out his ass as he smiles back, "I'm excited to see it." Dallas squeezes the stud's shoulder, then moves in for a kiss as their stubbly chins connect. He squeezes Bruce's ass, shoulders and neck, then drops to his knees—a monster cock popping out in his face. Dallas sniffs and rubs his scruffy face against it before engulfing it, gasping for air ("Yeah, choke on it!"). Dallas's boner pokes Bruce's hairy leg as he sucks, the two kissing and stroking each other before Bruce sucks him back—his own beast bobbing up and down. Dallas eats Bruce's hole before fucking him from behind, the bottom then riding his dick, making it disappear ("Squeeze that cock!"). Bruce fucks him back—Dallas begging him to "keep going!" as they shoot, Bruce needing two hands to stroke his own load out.
NAKEDSWORD
RAGING STALLION
TITAN MEN
CHANNEL 1 / RASCAL
LUCAS ENTERTAINMENT
VIDEO ON-DEMAND: Bruce Beckham @ AEBN SMUTJUNKIES THEATER
DVDs & ON-DEMAND: Bruce Beckham @ TLA VIDEO
[Total: 165 Average: 3.8]