American Gay Porn Star, Bravo Delta
Years Active: 2012 – 2016
TWITTER @bravodelta9
RAGING STALLION INFO:
Hair Color: Dark brown
Eye Color: Blue
Body Type: Gymnast
Body Hair: Hairy
Height: 5'4″
Position: Top
Cock: 8.5″ cut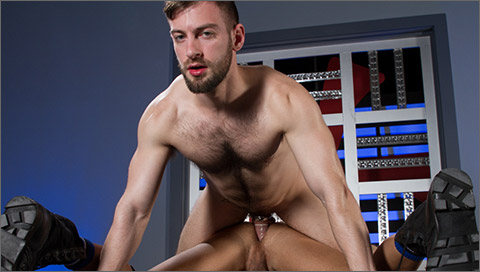 ASS FIENDS: Bravo Delta fucks Josh Conners
Hung stud Bravo Delta and sexy Josh Conners interlock tongues intensely, causing major bulges in their skin-tight jockstraps. They're way into each other, and their packed pouches show it. To further excite Bravo, Josh turns around and grabs his ankles. Bravo wastes no time sliding his massive, rock-hard cock up against Josh's bare hole. Moving to a bench, Josh hikes his leg up to give Bravo instant access to his eager ass. Bravo is an 'ASS FIEND', and he wants more. He maneuvers Josh face down and digs his tongue even deeper in a sopping wet 69. Bravo prepares Josh's ass for his fat cock by massaging his hole with a giant manrammer as he edges his own meat. Bravo quickly switches from the toy cock to his own, pinning Josh down and pounding him hard. They switch to multiple positions until Josh climaxes and shoots his load while Bravo is pumping him from underneath. Bravo finishes by spraying all over Josh's bubble butt.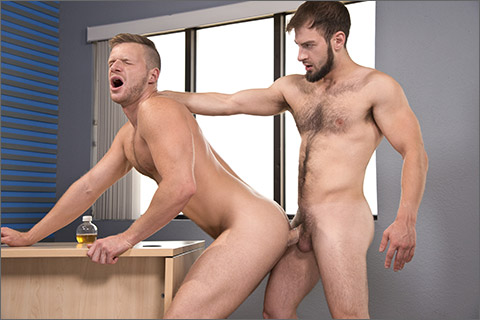 DICK MOVES: Bravo Delta fucks Brian Bonds
Bravo Delta plays a prank on his asshole boss, Brian Bonds, by sprinkling the seat of the office toilet with apple juice. Thinking he sat in piss, Brian is irate with Bravo and demands he be licked clean. Bravo is quick to obey, and his beard provides an extra tickle when his tongue probes the deep center of Brian's hole. Once Brian's ass is loosened, he offers Bravo his cock, getting a slurping blow job. Bravo sends Brian into vocal overdrive by running his tongue in long sweeps from the tip of Brian's cock to his crack. Bravo gets sucked in return, leaving his dick ready to fuck. He grabs Brian's shoulders and positions his cock. Entry is slow, to give Brian the maximum effect of being plowed by Bravo's fat dickhead. Then all the way out and back in, repeatedly, making Brian's eyes roll in ecstasy. A position change leaves Brian sitting on Bravo's cock, reverse cowboy. He pulls Bravo's cock out of him, cums all over it, then stuffs it back in and rides until Bravo slaps his big round ass as a signal he's about to cum — right in Brian's open mouth.
HOT HOUSE
RAGING STALLION
COCKYBOYS