Handsome Hung Spanish Gay Porn Performer, Antonio Miracle
Years Active: 2014 – 2017
TWITTER @AntonioMiracle
Antonio Miracle, adult model from Barcelona, Dj and Producer
KRISTEN BJORN INFO:
Nationality: Spain
Height: 5'10
Weight: 175 lbs
Dick: 8 (20.32 cms) uncut
Position: Versatile
Antonio is Mario Domenech's long time companion, and a pure bred Spaniard. He lives with his lover next to the waters of the Mediterranean Sea. Antonio is really handsome, the typical guy who would turn your head as you pass him on the street, and who you would have erotic fantasies about when you get home. He has an intense gaze, and soft, meaty lips. At sex, he is truly an athlete with a flexibility which make the impossible possible. His tattoos remind him of the most important people who have marked his life. He is responsible and thorough during the day, creative and generous at night. Antonio and Mario are also well known DJs, they mix fluids and music equally. Do you want to dance to their rhythm? They want to show you what they are made of…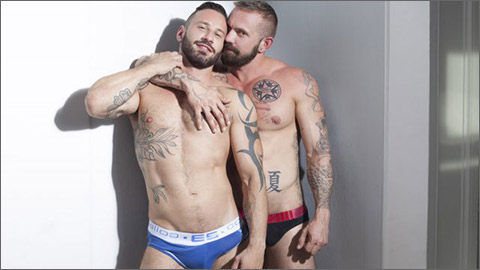 FUCKERPARTNERS SESSION – ANTONIO MIRACLE & STEPHAN RAW
Real-life boyfriends Antonio Miracle and Stephan Raw are in Barcelona for a short stay and they have just arrived at their room. Their journey from the Canarias Islands has been long and the boys are quite tired, but soon they awake from the slumber, as well as their lust and their wish for a great fucking session. The two muscled studs can't wait anymore and the hot passion between them burst like a spark. They can suck, rim and then fuck like animals, but the horny chemistry of this couple is always really impressive: both Antonio and Stephan give their best to satisfy each other!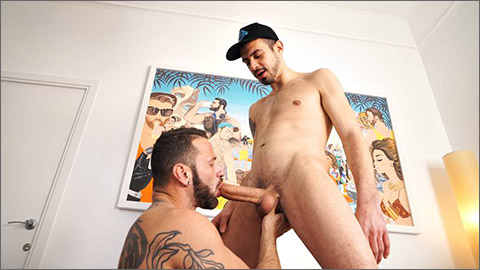 KOLDO GORAN BAREBACKS ANTONIO MIRACLE
A classic for you on this sunny Tuesday. Massive thick cock Koldo Goran raw fucks his old time friend Antonio Miracle. Lots of cock for Antonio's experienced hole. And don't miss a perfect cumshot from Koldo, deep in Antonio, bred to perfection!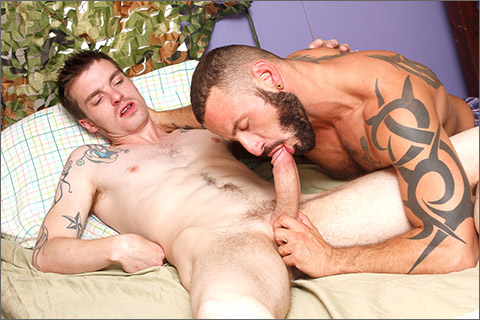 SPIT AND SWEAT: AJ ALEXANDER & ANTONIO MIRACLE FLIP-FUCK
Handsome Scottish soldier AJ may tell his girlfriend he loves her, but when he's actually eyeing up his bunkmate working up a sweat as he exercises, his mind is obviously on the growing bulge than on pussy! Dark haired muscle man Antonio Miracle clearly catches him spying on his buff, sweaty torso and decides to make the most of it, swallowing dick like a starving man, Antonio takes AJ's entire giant dick down to the balls, ready for his ass to take the entire length hard and raw. Still slick with spit, AJ's cock needs little lube as Antonio lays back to swallow it all once more, but this time from his hot hairy ass! AJ's slim pale torso flexing as the thick slab of meat pumps into the tanned muscle man, letting him feel each inch deeper and deep, stretching his hole wide around the uncovered shaft. Fucked hard, Antonio wants his own giant dick to get some of the action too, and flipping straight boy AJ over, gets his way and after a bit of spit, slams the whole load into him, his nicely upwardly curved dick gaining easy access into AJ, the sweat starting to drip of both horny fuckers, completely rock solid ad loving this versatile flip fuck. Feeding AJ his load, Antonio drips sweat and spurts spunk over his new found fuck-mate who laps every last drop off of the still hard shaft.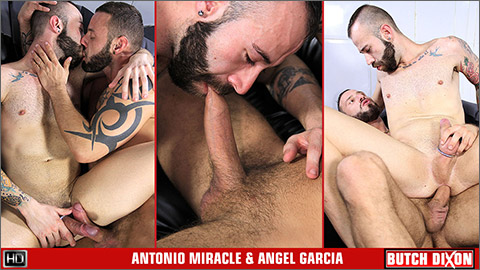 ANTONIO MIRACLE FUCKS ANGEL GARCIA
Yes Yes Yes! we've been luving these 2 sexy guapos. Hairy, hung and horny as hell, so we couldn't wait to get them together for a no-holes, barred, no condom, raw-raunch fuckathon and this ones a humdinger. But of course there's lots of good, wet cock sucking and the ever considerate Antonio makes sure that tight hole is good and ready with spit lube and tongue probing in advance – YUM! Angel Garcia is such a nasty, sexy bottom always pushing back for that extra inch and he's getting it here, Antonio is a 'big-boy' who slams in right up to the sagging, cum-laden bollocks, feel the weight of those big -boys slapping against Angel's hard butt cheeks. These studs fuck all over the place with Angel riding that pole like the cum-hungry piggy he is sliding right up and down the greasy, bareback girth, swallowing the whole, meaty tool as we get in so close you can smell the sweat and pre-cum. Ride him 'Puta'. You might not see them together again steamy and fucking sexy as this is but we're definitely having these two hunks back for more cummy fun.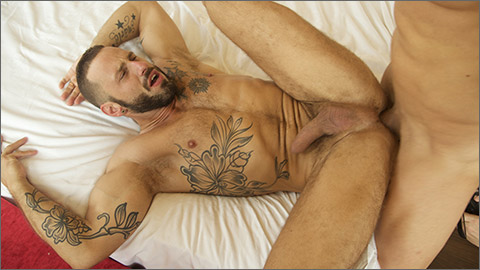 ANTONIO'S FIRST TIME
In a Dark Alley exclusive, watch as Eider Lujan destroy's Antonio Miracle's on-screen cherry in one of the most brutal fucks we've ever seen. We could have started him off easy but that's not the XT way, better to have his hole pulverized by Eider's gigantic tool!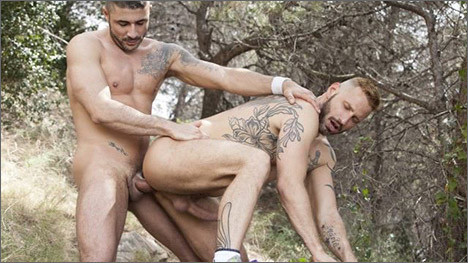 FREE CONDOM-FOREST: MAX TORO & ANTONIO MIRACLE
This week we bring you a hot bareback encounter with Antonio and Max. Is there anything hotter than seeing two big men naked in the middle of the forest?. Max gives a good hard fucking and Antonio simply enjoys every last inch inside. Rimming, hard fucking, two guys really going for it and giving you lots of cum in this outdoor adventure.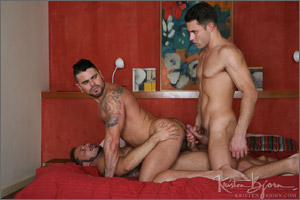 ON THE PROWL #15: JAMES CASTLE, ANTONIO MIRACLE & MARIO DOMENECH
Antonio and Mario notice James on the street and persuade him to join them at their place. James is more than eager to join the couple and they get horny and naked real fast. James takes Antonio's huge cock into his mouth as Mario sucks on James' hot cock. James and Mario move into a savage 69 as Antonio eats out James' pink hole. Mario moves into position over Antonio's throbbing raw cock and slides it deep into his ass. As soon as Mario takes all of his lover's cock in his ass, James rams his hard raw cock deep inside of Mario as well. Antonio and James pummel Mario's ass hard as Mario fights to control his breathing. Mario and Antonio move James into the middle as Antonio fucks James' ass and Mario fucks his mouth. The intensity of the fucking reaches a feverish pitch and the guy's testosterone levels rise causing their cocks to spasm with anticipation. Mario reaches nirvana first and feeds his creamy load into James' hungry mouth. With his mouth coated in cum and Antonio's ferocious cock pounding away at his raw hole James' cock explodes with a huge load of cum. Antonio has been teased and taunted with all the cum flying around that he blows his load all over James' balls and then shoves his cum slicked cock back into James' hole.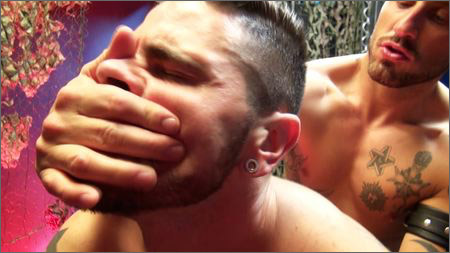 RAW SLEAZE
Antonio and Mario get down, dirty, and sleazy in this week's update. You can feel the couple's chemistry explode in their maddenly passionate, lustful fucking — this is not a scene to be missed.
THE CREATION
ANTONIO MIRACLE BAREBACKS MARIO DOMENECH
MEN IN THE CITY
MEN IN THE CITY 2
TIM TALES
BULLDOG PIT
BUTCH DIXON
KRISTEN BJORN
HARDKINKS
FUCKERMATE
JAKE CRUISE'S COCK SURE MEN
DARK ALLEY MEDIA
CLICK HERE TO GO TO HIS KRISTEN BJORN DETAILS