years active:
1977 - 1980
aka:
Tom Garrett, Rodger
stats / info:
Nationality: U.S.A.
Of Note:
Unfortunately died in an automobile accident on his way to Las Vegas to try and reconcile with a girlfriend who'd found out about his porn career.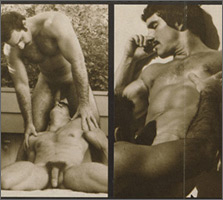 Bruno
claims he didn't have to do any pretending in Target's film Special Handling with Roger (according to Jon Target "It shows").
"I had a good time with Roger, even though he is not gay. He's married now. But he gets into the scene, and gets a hard on. For him, it's more acting than anything else. (Roger) just turned me on physically. I didn't care for him as a person. I mean, he's nice, but I don't really like to deal with straight people that much. He's nice enough that he understands the scene. At least he's not one of those macho types."
excerpt of Interview by Mark Zweigler, Mandate March 1979