Hung Handsome Next Door Studios Active Duty American Gay Porn Star, Spencer Laval
Known Aliases / aka:
Years Active: 2018 – 2019
NEXT DOOR STUDIOS INFO:
Cock: 8″ cut
Body Hair: Smooth
Height: 6'2″
Hair Color: Brown
Eye Color: Green
Position: Top
Body Type: Muscular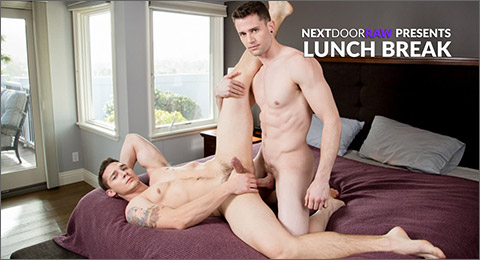 LUNCH BREAK
A slow day at the office means Quin Quire has time for an extended lunch, and luckily boy toy Spencer Laval is just waiting at home for his man to come home. Quin steals away from work for his rendezvous with Spencer, and the two of them proceed to lunch on each other, taking turns sucking each other off before Spencer flips Quin over and eats his ass. Quin may be the boss at the office, but in the bedroom, Spencer has his way with him, fucking him raw from behind before letting Quin have his turn. Quin flips Spencer over and fucks him dry, as Spencer spits his lunch load all over himself. Quin does the same, coating Spencer in the process, as Quin makes the executive decision to take the rest of the afternoon off.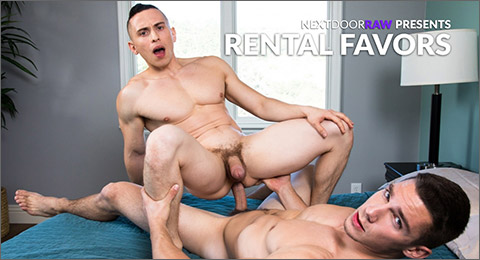 RENTAL FAVORS
Fresh off a break up, Spencer Laval is looking to rent a room in his house to cover the sudden spike in cost, and even though he's not too keen on having a stranger live with him, he needs the money more than he needs the privacy. Enter Dante Martin. After looking the property over, Dante is confident he can not only rent the place, but he thinks he can make Spencer some money throwing a few parties on the grounds. But Dante is only in if Spencer is part of the deal. Spencer seems tempted, but confused, until Dante moves closer and grabs him by the hand. He tells him to relax, and Spencer suddenly realizes Dante's intentions. By then, Dante has already worked Spencer's dick into a semi-chub inside his pants, and he's working him out of his jeans to suck him off. Spencer's dick hasn't had much attention since his break up, and now it is showing out at the chance, as Dante downs it to the base. Spencer suddenly sees what a fortuitous predicament he's in, and as Dante climbs aboard and mounts his cock, Spencer realizes Dante's stipulation is actually and added benefit. Going with it, he fucks Dante whole-heartedly, pounding him from beneath as Dante rides to his contentment. By the time Dante tells him to bend over, Spencer is all in, and takes Dante's cock willingly, moaning as Dante fucks the cum out of him, and sealing the deal when Dante pulls out and soaks him with the biggest load he's every seen. Covered in cum and hopeful for the new partnership, the two of them laugh to future endeavors.

THANKFUL STUFFING
The fall season has arrived and for Justin Matthews and Spencer Laval, that means yet another boring get together for the holidays. Tired of all the glad handing and catching up, the two of them sneak off to a private spot in the woods to share a little private time with each other, but what they don't realize is that Markie More has spied them and followed to get in on the action. As Markie watches from behind some trees, he sees Spencer and Justin trade blow jobs, and he strokes himself hard as he watches. When Spencer tells Justin to fuck him, Justin can't believe Spencer is ready to finally take a dick, but just as he slides it into Spencer's hole, Spencer notices Markie watching from the woods. Markie makes his way over and asks if he can join, and Spencer nods at the thought of taking two dicks his first time. Without hesitation, Markie slides Justin over and assumes the position behind Spencer, slowly sliding his bareback cock deep into Spencer's virgin hole. Spencer moans as it enters and Markie begins to pick up the pace. In no time, Spencer is taking the dick like a champ as Markie and Justin take turns fucking him hard and raw. Spencer takes turn mounting both of them, just as Justin is ready to cum. He launches his load all over Spencer's ass as Spencer switches over to Markie. Markie fucks Spencer so hard he cums immediately, spraying his load as Markie continues to pound him from behind. Almost immediately Markie pulls out and blasts Spencer with the final nut of this holiday season, and the three of them laugh at their secret, but hurriedly get dressed to make it back in time for dessert.

BANGIN' BIRTHDAY BUDDIES
It's Spencer Laval's big day and best bud Jeremy Spreadums has been waiting for this his whole life. After throwing him a party, Jeremy has one last birthday surprise for Spencer, now that everyone has gone home. With the place to themselves and Spencer in a festive mood, Jeremy makes his move to give Spencer his present. Spencer is unsure at first, but Jeremy assures him he'll enjoy every minute of it, unzipping Spencer's pants and working the tip of his dick with his tongue. Spencer gets hard inside Jeremy's mouth, and instantly relaxes, deciding to just go with it. Once he senses Spencer's comfort, Jeremy gets to work, sucking the shaft and working the balls as Spencer closes his eyes and moans with pleasure. After returning the favor, Spencer strokes his dick as Jeremy sits down on it, slowly inching Spencer's bareback cock into his hole, then giving his best buddy the ride of his life. Jeremy grinds his ass on Spencer's dick, slamming up and down on it harder and harder before Spencer throws him face first onto the sofa and proceeds to pound him from behind. Jeremy takes the thrusting like a champ as Spencer continues to pound away, flipping Jeremy over and continuing to go at it. Jeremy strokes his dick as Spencer gets closer to losing his nut. He fucks Jeremy harder and harder and Jeremy spits his load all over his stomach as Spencer pulls out and blasts him with his birthday batch. Smiling, he tells Spencer he wouldn't mind if this became an annual tradition.
CLICK HERE TO GO TO HIS NEXT DOOR STUDIOS DETAILS
VIDEO ON-DEMAND: Spencer Laval @ AEBN SMUTJUNKIES THEATER
DVDs & ON-DEMAND: Spencer Laval @ TLA VIDEO