American Military Active Duty Amateur, Quentin Gainz
Known Aliases: Quentin
Years Active: 2015 – 2018
NEXT DOOR STUDIOS INFO:
Rumored to have retired from the business in 2018.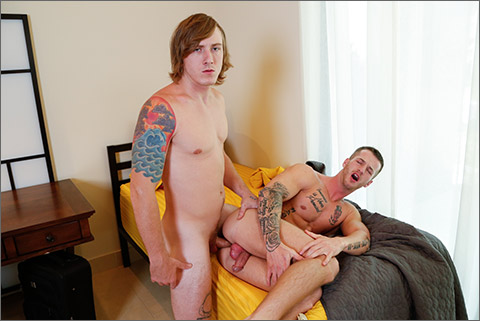 STR8 BAIT HOSTEL – MYSTERIOUS ENCOUNTER: Tom Faulk fucks Quentin Gainz
With very few rooms available at the hostel, travellers Quentin Gainz and Tom Faulk are forced to share a room, even though they are total strangers. Madam Hostel has already set them up to ensure that they get acquainted with a little trickery, and as the guys get settled into their room, the Madam's plan begins to take shape. Both guys find notes under their pillows. Tom's note reaffirms his suspicions that Quentin is interested in his cock, and to his credit, Quentin's note appears to be from Tom inviting him to do just that, so when Tom falls asleep, Quentin's curiosity gets the best of him and he takes a peek under the covers, spying on Tom's nice cock resting up against his leg. Quentin takes it in his hand and slowly massages it. Tom stirs but doesn't wake, and his cock swells up semi-hard. Quentin moves his head closer to have a taste just as Tom wakes up. Petrified, Quentin freezes, and Tom asks him what he's doing. Assessing the situation, Tom realizes what's happening and taunts Quentin, asking him if he wants this cock. Quentin nods in the affirmative and Tom tells him to get started. Quentin wastes no time getting to it, downing Tom's cock in one gulp, as Tom gags him. Sitting up, Tom gets into it as Quentin strokes himself while sucking on Tom's balls. Tom rocks Quentin back up against the wall propped up on a desk as he eats Quentin's ass before sliding his cock inside his stranger roomie. Quentin takes the dick like a pro, as Tom gives him every inch of his giant cock. Tom folds Quentin over onto his side as he continues to pound away, coming close to bursting as Quentin loses his nut all over himself, before Tom blasts him with his load. Smiling in the aftermath, the guys realize that they've been set up, though neither seems to really mind, after the fact.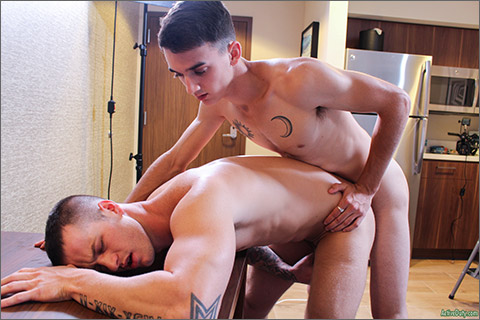 QUENTIN GAINZ & JASON
When we told Jason he'd be having his first experience with Quentin Gainz, Jason didn't put up any hesitation.
   Of course Quentin is always ready to go, being the laid-back, cool guy he is. Claude gives them the go ahead and the clothing comes off pretty quickly. Jason leans over and plants his lips around that big, thick piece of hard meat.
   After some good bobbing, Quentin gets hungry for stiff cock himself, so he has Jason lean back and allow him to reciprocate. Jason's cock is nice 'n' happy, just right for Quentin to work on, but it's not long before Jason is craving more for himself…what a cock fiend! Haha, I think we have some good times ahead with Jason, joining him as he tries plenty of new things here at AD.
   To even things out a bit, the boys get into a 69 position. Jason really seizes the opportunity and just goes to town on Quentin's lucky dick. And of course, Quentin gets down to business as usual.
   From there, Quentin stands up and really lets Jason indulge for a while. After getting mouthful after mouthful of Quentin's chubby cock, the guys switch again and Quentin services his new pal for a while.
   Once Quentin feels Jason is perfectly primed for the next step, he bends over a desk and lets Jason jam his erection deep into Quentin's ass. These boys are just beautiful together and the shots of Jason's hard dick penetrating Quentin's tender hole are just incredible.
   They move over to the bed and Jason continues enjoying Quentin's ass. Claude gets some great shots of Jason from behind so we see his lean-but-strong butt pumping that cock in and out of Quentin.
   Finally, Quentin goes to his back and takes the final round of Jason's pounding. This one turned out so incredibly hot (as I could've predicted with Quentin) and to be just such a feel-good experience all around.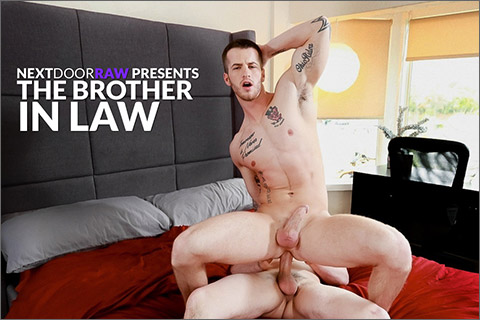 THE BROTHER-IN-LAW
Derrick Dime's married life keeps getting more and more complicated, as it seems everyone wants a piece. As his brother-in-law, Quentin Gainz, approaches the house to pick up a box of things, he notices Derrick on the porch with the air conditioner repair guy. It's obvious to Quentin that Derrick is interested in guys. But Quentin also has his sister to look out for, and it is in his interest to keep her happy, so Quentin makes a proposal to Derrick: he'll take care of his needs from now on, if Derrick agrees to cut out the other guys and cut down the risk to his marriage. Derrick agrees, picturing all the things Quentin has in mind. But he doesn't have to imagine it, because Quentin falls to his knees, immediately taking Derrick's huge cock between his lips as he sucks Derrick off. Derrick's cock grows hard in Quentin's mouth, but it's Quentin's sexy ass that Derrick is really interested in, so Quentin bends over the bed as Derrick plunges his raw meat stick deep into Quentin's hole. Quentin takes Derrick's cock whole as Derrick pounds him from behind, fucking doggy style as Quentin lay on his stomach before Quentin flips over and takes a ride on Derrick's dick. Bouncing up and down, Quentin gets his fill, but if he's going to replace all the men in Derrick's life, he realizes he'll have to give as well as he can take, so they switch positions and Quentin proceeds to give the Derrick the bare back fuck of his life, pounding him as Derrick strokes his rock hard cock before spitting his load all over himself, as Quentin pulls out and blasts Derrick's hole with his sticky jizz, proving that keeping it in the family is still an option if you can't keep it in your pants.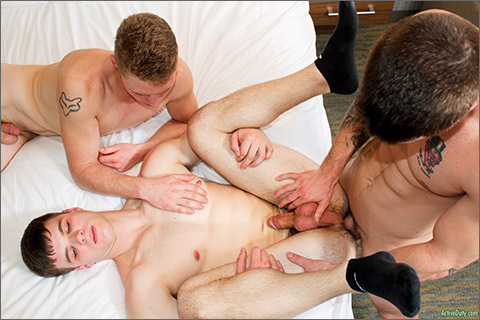 IVAN JAMES, QUENTIN GAINZ & LEVI
We have a special treat for you today. We have two Veterans, Ivan James & Quentin Gainz who are breaking in the new recruit Levi. If you haven't seen what these two hunks are capable of yet then go check their scene out. Levi has only done a solo with us and we didn't want to waste any time so we threw him on the front lines to see how well he could do for such a timid young man. Claude gives them the usual run down and sets all three men loose on each other. They all start out on the couch together stroking their cocks slowly building up the hardness. Levi has never been with a man let alone two of them at the same time and you can read it all over his face. He's a trooper for sure especially when he opens up his mouth to let his first cock inside. He does a great job going back and forth from Ivan and Quentin.The angles are extremely close up giving you the best shot possible as all three studs move around the room naked positioning themselves for their next encounter. Levi's first taste of a man's ass is a great one as he goes deep taking turns on Quentin and Ivan. Hard cocks all around plus smiles and moans that you only hear on the ActiveDuty battlefield. We like to mix it up here and give the realest experience possible.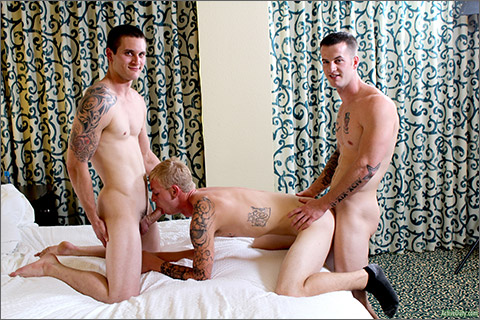 QUENTIN GAINZ & ALLEN LUCAS FUCK SHAWN
It doesn't get any hotter than this, boys! We have two newcummers matched up with an Active Duty soldier I think I can confidently call a veteran by now. It's Allen Lucas and Shawn getting a trial by fire, led by our stalwart and trustworthy Quentin Gainz!
   This time, we see even more of that as the chemistry here steadily builds to a point of complete eruption. Quentin, being the vet, jumps right into the sweet, sweet action by taking Allen's enormous, pulsating cock in his mouth and taking it deep. Shawn enters the water slowly, starting out by getting into some passionate kissing with Allen. Once the intensity really starts building, Shawn makes his way around to the other side of Quentin, where he goes in for a taste of his nice, tight hole.
   Eventually, Shawn moves upward and shares Allen's superb cock with Quentin for a while. Allen has both tongues licking up and down for a while, and he sure enjoys it thoroughly, before Quentin gets up on his knees so Allen can take some dick in his mouth. He gets a good taste of Quentin's hard cock, then turns him around to lick his ass. I'm sure he could taste Shawn's mouth too while rimming that sweet hole.
   As Allen takes his time tonguing Quentin's ass, Shawn moves to sucking Quentin's big dick. This gets Shawn good 'n' eager for his hole to get fucked. Quentin takes the reigns and has the rookie Shawn climb on top of Allen for a good ol' fashioned pole ride.
   Once everything is running smoothly, Quentin pops his dick into Shawn's mouth. Shawn, like a good newbie, eager to please, keeps right on riding Allen's cock while taking Quentin's too. Claude gets in tight and captures some wonderful views of Allen's truly large erection making its way in and out of Shawn's ass.
   They decide to switch things up so Quentin can bang Shawn. Allen gets in there on the other end, being sure Shawn has a good mouthful of his swollen dick. Claude really enjoyed seeing this great chemistry. He asks Shawn, 'you like having a big dick in your mouth and one railing your ass?' Shawn looks at him with a big smile and says, 'it feels great!' What a champ! Allen and Quentin use the opportunity to get into some very hot kissing over Shawn's back.
   Then it was the icing on the cake: Quentin lays on his back and wraps his lips around Shawn's dick while Allen gets back to licking Quentin's amazing ass. 'I feel like I'm being worshipped,' Quentin tells Claude as both guys treat his body like a wonderland. But it's not long before Claude calls for Shawn to take some more breaking in. 'I think it's time for you to put that big dick in his hole,' he says. Quentin has a dick in his mouth, but Allen answers with a hearty affirmative.
   Quentin steps into position and pounds Shawn again. It's not long after this point that Allen assumes the position and takes a solid banging from Quentin.
   Well this one is sure a doozy! It's a great time and one that'll sure go down in the books as a favorite three way among the whole platoon.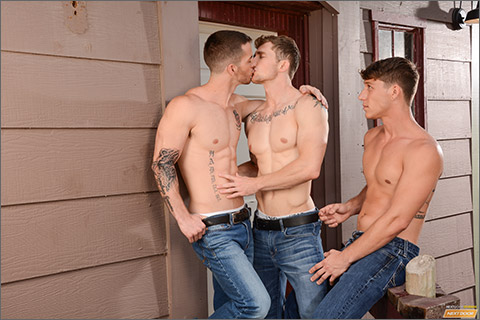 THE REUNION – EPISODE 1: PLAYFUL BOYFRIENDS
When Markie More and boyfriend Quentin return home for a reunion with their childhood mates, they do so with a big secret. Years removed from the group, Markie and Quentin have become exclusive, and it is Quentin's hope that this will be the weekend they tell the rest of the gang. They discuss this as they walk hidden paths and trails, which leads them to an old church. Quentin is all for exploring but Markie has reservations, so Quentin decides to loosen Markie up a bit with a little fun, and he presses Markie up against the building and they begin to make out.
   Fresh out of the shower after 3 days of driving, Paul Canon is ready to mingle, so he goes out after the guys in hopes of maybe catching up with them on their hike. Needless to say, when he stumbles upon them at the church, naked as jaybirds as Quentin sucks Markie off, Paul is surprised. Not only did he not know the guys were together… he didn't even know either one of them was gay. Paul hides around a corner and watches, getting hot and bothered in the process, so he takes out his wang and begins to stroke it.
   Unbeknownst to Paul, Markie and Quentin can hear him, and Markie catches him wacking it, so he takes Paul by the hand the three of them finish together, stroking, sucking each other off, and then running a train on each other as the rest of the guys begin to show up. Going to be one hell of a weekend, if this is how it starts.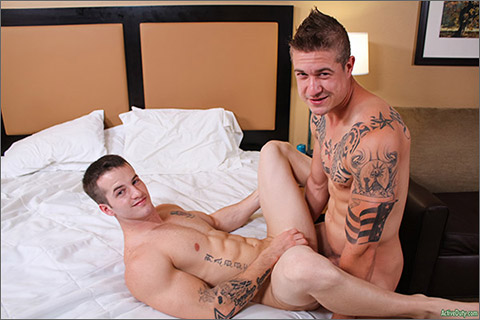 QUENTIN & MICHAEL
Boy, am I glad to be bringing you this gem of a match up. Two of my favorite recent recruits, Quentin and Michael, finally together, just as I had imagined, after I first saw Quentin's solo. For me, and I would wager most of you dedicated troops as well, Quentin is simply irresistible. From that first solo, I've been waiting with dick in hand to see him bottom for a take-charge type of recruit, exactly like Michael. I can tell Quentin is a fast learner and is eager to mix with fellow recruits. Claude did another bang-up job this time; I couldn't have squeezed better moments myself from this encounter. My impressions of Quentin really came from Claude's great interactions with him. 'You like that big cock in your ass?' we hear Claude ask Quentin while Michael is slow-thrusting in and out. This was an incredibly hot moment. He smiles that wickedly cute smile and tells the camera that he 'loves' getting fucked by Michael. Michael definitely loves to make full use of his lusciously large dick. His focus and intensity were two of the things that contributed to making this pairing so choice. I can tell that in a different situation, Quentin would easily adapt to being fucked by a more laid-back recruit, but I think getting slammed by someone like Michael for his first time was a great thing to see. It was a nice yin and yang blending that made it work so well. After seeing this, I think Quentin would do very well with someone like Gage. Gage is, by now of course, very comfortable and has become such a great member of our Active team. Gage is so full of great, fun energy that I think he would do a number on Quentin to bring out his natural, happy-go-lucky personality that I know is there. Hmmmm, perhaps the two of them sharing nice, stiff cock?? I think that would work!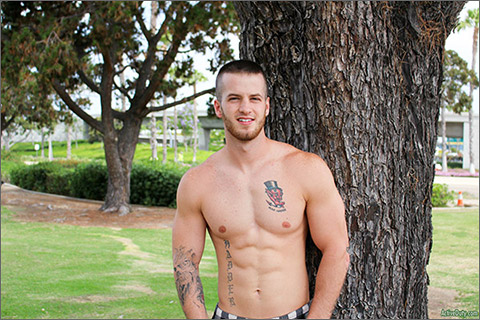 QUENTIN
My goodness, what a pleasure it is to introduce this young man! Quentin is the REAL deal, an incredibly sexy soldier who's only been on leave for about a week now. Claude wrangled this fine recruit and chats briefly with him here on camera. Quentin seems very at ease talking to Claude, and in fact, looked pretty comfortable stroking his meaty cock for the camera. We're gonna get to see Quentin again, which is something I know you'll be looking forward to. This boy is just too delicious to have only one serving! Once the pants come off, we get to see Quentin's hard, juicy dick. He's very well groomed and his cock is exquisitely shaped. He has a wonderful style of pleasuring himself. He goes at a steady, medium pace, and most of the time lets his hand run all the way over the top of his erect dick, and all the way back down through the base. I can't wait to see him employ this technique on a partner! When Quentin turns around and bends over, we get to see his bubbly, shapely ass up close. He continues stroking, pushing his cock back through his legs, up toward his nice, tight-looking hole. He knows what we wanna see, and in Quentin's case, he smacked the nail on the head, that's for sure. Quentin goes back into some nice, deep stroking, then gets to some pillow fucking. Even when he's humping a pillow, that passion and intensity comes through. It's also an opportunity to admire a very strong portion of Quentin's physique. This is a strong solo from a very hot, very passionate guy. My hopes are particularly high for Quentin. I think you and Claude would agree that this young recruit has amazing, bright star potential.
CLICK HERE TO GO TO HIS ACTIVE DUTY DETAILS
VIDEO ON-DEMAND: Quentin Gainz @ AEBN SMUTJUNKIES THEATER
DVDs & ON-DEMAND: Quentin Gainz @ TLA VIDEO
Hot or Not? Let us know.
[Total:

110

Average:

4.4

]