Bentley Race Aussie Mate Gay Porn Guy, Jet Wellington
Known Aliases:
Years Active: 2014 – 2016
BENTLEY RACE COMMENTS / INFO:
When I first met 22 year old Jet Wellington a few months ago I had no idea that this seemingly shy Sydney boy would turn out to be such a popular star on the site. All of my mates want to get in to scenes with my handsome and very well hung mate. Even though Jet is one of our straight mates he has also recently appeared in a few scenes with some of my gay mates. I love a straight guy who is "flexible". Of course all my mates are more than willing to help Jet get off at the end of each scene. This is actually Jets very first shoot with me. It happened in a bathroom in Sydney. And you could imagine my surprise when that big dick fell out of his Aussiebums. Suddenly I was taking many more photos than I usually would. Apart from his good looks and oversized dick, Jet is actually a lot of fun to hang out with. If he wasn't straight he'd make a perfect boyfriend for one of mates. Hell… even I wouldn't kick him out of bed!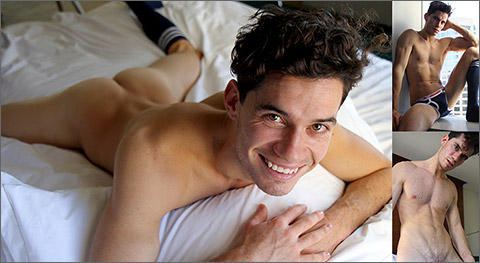 JET WELLINGTON'S FIRST VIDEO SCENE
I'm pretty excited today to introduce you to one of my new mates. I met 22 year old Jet Wellington during my visit to Sydney earlier this month. After seeing the pics he had emailed me I jumped at the chance to meet this tall lean Sydney boy. One thing that Jet didn't mention to me though is that he has a huge dick. When he pulled it out of his jocks I didn't notice that first. Then I had to take a second look at what I was seeing through my camera. Jet is sporting one of the longest fattest cocks I've seen. And like many of my mates, he doesn't mind working it hard for the camera. I really like the shots where he gets totally naked and hard in the window, and where he lays back on the bed with his cock fully erect. I took a tonne of photos of Jet as he stripped and got in to a lot of different positions in my hotel room. I could have spent the whole day shooting with my gorgeous new mate. I will post his video later this week. In the meantime you can enjoy these photos of our sexy new mate.