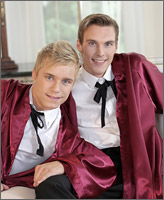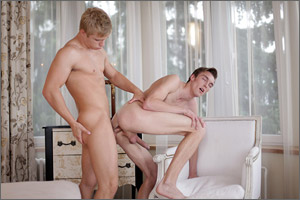 Who would've ever guessed that singing in a church choir could leave guys feeling as hot and horny as these two fellows? Then again, who would've ever thought that a church choir would include a pair of unmistakable beauties such as Mike James and Carl Ross? Indeed, we've a sneaking suspicion that if every such group had gorgeous dudes like this in their ranks then choir membership numbers would rise almost as quickly as the two meaty, uncut dicks in question here!
   For there's simply no denying that both these boys are soft on the eye and hard on the crotch; and chances are you'll be jerking merrily away long before the last stitch of clothing has been removed from each of their divinely toned bodies! Ross, in particular, is top-class boyfriend material, with his blond hair, blue eyes and (as soon becomes apparent) his distinct versatility in the bedroom department. A versatility that sees both boys 69-ing like a couple of over-sexed sluts on heat, before they each take it in turn to surrender their hungry little ass-holes for the pleasure of the other.
   No doubt about it, if you can watch this angelic little episode without reaching for the Kleenex then we really do seriously recommend that you find yourself a hobby other than porn! In fairness, neither lad probably does themselves true justice when it comes to the point of no return; but we've a sneaking suspicion that you dirty fuckers won't give a toss. Or – to rephrase more accurately – maybe giving a toss is exactly what you'll be doing! All in all, an unforgettable five-star performance!