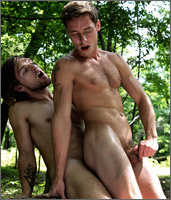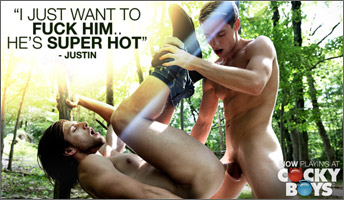 Both Tayte and Justin identify as mostly top, however Tayte did mention in another CockyBoys scene that he would love to do a scene with boy-next-door Justin Matthews. "I know he's a top," Tayte said in the interview. "But we'll figure it out!"
   And figure it out they did, because three months later the guys met in New York for the first time and hit it off immediately. Neither Tayte nor Justin has ever bottomed on camera before, so they thought it appropriate to break each other in with an equal-opportunity flip-fuck. Justin was feeling nervous since Tayte is known for his huge dick, but Tayte on the other hand was all smiles, excited to finally get pounded on screen, even commenting that Justin has the "perfect boyfriend penis."
   The guys first bonded over their love of the outdoors, fishing and hanging out, jogging, and of course getting naked in public. With the sparks flying, Tayte began to suck Justin off deep in the woods which naturally led Justin to return the favor. Then in a surprising twist, it was Tayte who became the main aggressor with Justin moaning almost nonstop as soon as he first sat on Tayte's cock. Who knew Justin would be such a vocal bottom?
   Justin wouldn't let Tayte off that easy, though. Pretty soon it was Tayte's turn to get fucked, so Justin positioned him over a log and began reaming him doggy-style. But what really tipped Tayte over the edge was getting the same treatment in missionary. The guys literally shot their loads seconds apart! This scene is proof that two talented tops can definitely enjoy a nice flip-fuck!