Slim Blond American Gay Porn Star, Zach Kessler
Years Active: 2015 ?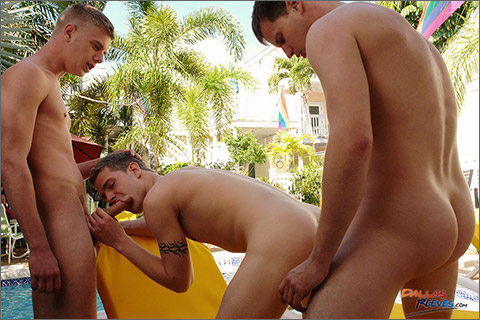 DALLAS REEVES & COLE HARVEY & ZACH KESSLER 3WAY
Dallas Reeves and Cole Harvey are having a hot time making out at Key West poolside. Both are horned up as they touch each other's cock while kissing. Their scene catches Zach Kessler's attention so he goes towards them curiously and wants to join them for a three way. Well, only if he's as horny as the two, can he join them. Zach, ready as he is, brings with him his toys and that gets the nod of the two to let him join in. Zach kisses Cole while grabbing Dallas' hard cock, then shifts on the latter. When Zach lays in, spreading off his legs, Dallas plugs one of Zach's toys in Zach's tight ass and drills it slowly while he and Cole gets busy smooching. Dallas eats up Zach's sweet ass then fucks it while Zach gobbles on Cole's big dick. They stand up and as Zach bends over, Dallas thrusts his tight hole hard while he savor sucking Cole's tasty cock. Cole then gets his turn to rail Zach's hole and Dallas finds Cole's man pussy so hot to fuck on so he plugs his dick and starts his thing as well. Cole lays down with Dallas drilling his hole with a toy until he bursts his thick load off his chiseled abs. Dallas then puts his attention on Zach's hard cock and sucks his balls. Zach unloads his massive jizz and when Dallas is about to cum, he goes towards Cole and gives him a nasty blast off his neck. The three take a plunge at the pool to clean up, kiss each other before leaving the pool. Hot three way!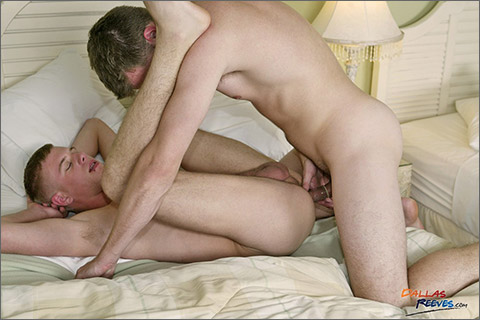 DALLAS REEVES FUCKS ZACH KESSLER
Zach Kessler is laying in his bed when Dallas Reeves comes over and greets him with a kiss. Dallas is horned up that he strips off Zach's clothes and starts to lick his ass. After eating it up, Dallas gets naked and checks how tight Zach's hole is, sliding his finger and feeling the warmth inside. Dallas kisses Zach as the latter flips over and they make out, with Dallas rubbing off Zach's cock. Dallas goes on kissing Zach through his body going down to his cock and stuffs it in the mouth. As Zach getting a full erection, Dallas enjoys sucking on Zach's massive sized dick. Dallas then licks Zach's foot then goes on licking his balls. Zach goes up and bends over which Dallas capitalizes and inserts his stiff hard cock inside Zach's tight hole. He starts to thrust him slowly then goes on a bit faster. Zach gets a nice fuck and he wants it more. Dallas lays down and Zach hops on top and plugs in Dallas' shaft. Zach fucks it really good and the hot sensation gets Dallas hitting him harder. Zach flips over and there Dallas rails him rapidly until Zach reaches his climax and cums over his body. Dallas cums in next and he blasts his thick gooey load off Zach's body also for this one hot fuck session.