Tattooed Spanish Gay Porn Star, Xavi Duran
Known Aliases: Xavi
Years Active: 2014 – 2016
FUCKERMATE INFO:
Age: 27
Cock size: 9″
Position: top
This sweet, handsome muscled guy has a beautiful smile and the most seductive eyes. He is always horny and very keen to please. Xavi is a welcome addition to Fuckermate.com.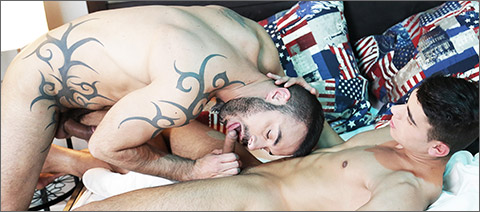 USE ME!: YOUNG PIZZA BOY GETS A DEEP-PAN STUFFING FROM A HORNY STUD
Let's be honest here, if young Pyotr Tomek came delivering pizza to the door of your hotel room wouldn't you be tempted to make some kind of pass at the fellow? Especially if – as is the case here – he was wearing a baseball cap with a distinctly provocative maxim daubed all over it. Certainly Xavi Duran doesn't seem to have any reticence in taking full advantage of the situation, but that shouldn't come as any surprise given his unmistakably cocksure approach.
   Indeed, he brushes aside Tomek's initial rebuttal, and has the cute twink down on the bed in no time at all – by which point the horny little pup is already putty in the stud's hands! Why, the boy doesn't stand a chance as Duran strips him of his jeans and promptly engages in a head-on encounter with Tomek's dick; before pushing the lad's ass into the air and rimming his hot little fuck-hole like you won't believe. Needless to say it's all more than enough to get Tomek into the mood for action, and what doubts he may have initially had about being this stud's latest notch on the bedpost are promptly forgotten as he first gives head and then finally allows Duran to finger and fuck his ass!
   What follows is a superb masterclass in man-on-boy action, with Tomek banged for all he's worth doggy-style; before the lad positions himself over Duran's handsome fuck-pole and quite literally lands himself down on every inch that the dude has to offer. Little wonder that the boy is soon squirting for all he's worth; but it's arguably the sight of Tomek's winsome little face getting jizzed that'll prove the highlight!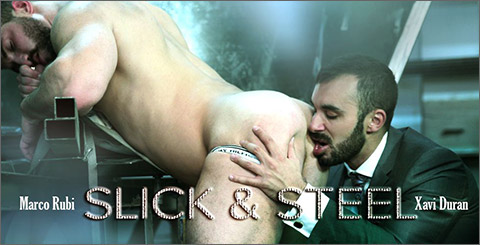 SLICK & STEEL
Marco Rubi made a big impact as one the hungriest (and fittest) bottoms in the industry a couple of years ago… but now he's back! Except this time round Marco is all grown up, looking even hotter than ever and ready to take anything we throw his way. And here at MENATPLAY we already have our big guns lined up for that amazing ass of his – but lets not get ahead of ourselves. This week we celebrate Marco's return to MENATPLAY as the buffed up steel worker who catches the eye of customer and local entrepreneur Xavi Duran. But its not just his attention that Marco raises. Xavi has a major hard-on for him and Marco knows it, so he plays the business man until he has him just where he wants him – on his knees and drooling for a taste of that amazing ass! Xavi gets more than a taste as Marco gives him full access to his ass. Young Marco may be the one taking it here, but he's in full control and pulling all the strings. Don't miss Marco's red hot comeback only on MENATPLAY.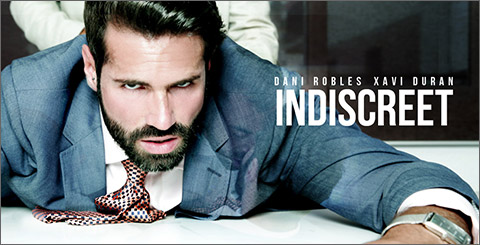 INDISCREET
Menatplay favourite Dani Robles is having trouble with juniour colleague Xavi, who doesn't seem to care about workplace etiquette, and keeps coming onto Dani while he's frying to prepare for a presentation. But Xavi is that kind of guy, if he wants some one he wont take no for an answer and today he wants a piece of Dani's sweet ass. And even though Dani tries to remain professional, his resolve disappears as soon as he feels his trouser hard-on, and Xavi gets the deep, slow blow-job that he wanted so badly. Xavi then Gets Dani on to the boardroom table and gets to work on his ass, eating his smooth hole before giving him some serious dick action.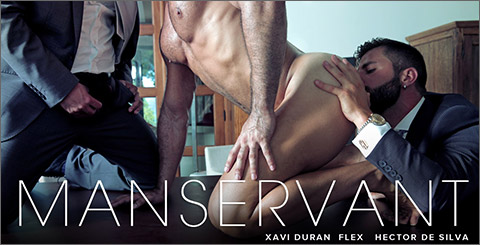 MANSERVANT
What a beautiful piece of beef to put between a suited sandwich! The ever stunning Flex gets played like a rich playboy's toy, as the obliging servant of Hector de Silva, in this weeks "MANSERVANT". Handsome Spaniard Hector returns as the wealthy business man who likes to show off and conduct meetings in his hillside villa. When sexy young associate Xavi Duran notices the stunning new butler, half naked after having a relax in the pool on his day off, the two tycoons decide to have a little fun. The subservient Flex knows his place and is happy to go down on his Masters house guest. Hector is so turned on by the show he finds he needs servicing too. Before long both Flex and Hector are doing all they can to give Xavi a welcome he won't forget simultaneously sucking on his thick hard dick. With both businessmen primed and ready for some carnal action, they take turns to fuck, rim, and get sucked off by Flex as his stacked body kneels doggy style on the table just asking to be used. What follows is pure Tag-Team Spit-Roast Heaven!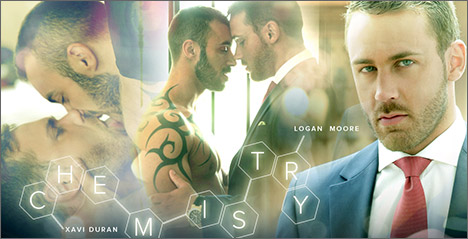 CHEMISTRY
The chemistry was so good between these two we decided to call it just that – "CHEMISTRY" MENATPLAY's Number 1 Man Logan Moore searches out a bit of private space where he can relieve the pressures of the working day. Finding himself in the courtyard of a seemingly deserted mansion Logan gets aroused by the danger of being caught and that growing throb inside his suit trousers needs taking care of right there and then. Letting his cock hang out his flies in full public view, standing there in his suit and red power tie, this is exactly what turns him on. But where's the thrill of the risk if no one is around to witness it? Luckily for Logan the rundown house is actually being renovated and he's soon spotted by a tattooed, fit builder working inside. The builder Xavi, watches Logan, enjoying the sight as he takes out his meaty, uncut dick stroking it slowly in time with Logan's long strokes. The horned-up strangers make eye contact, and Xavi who is gagging to get his dick sucked signals Logan to come in. From the first time they make contact, the abandoned house heats up from the chemistry between the two men. Logan and Xavi passionately gorge on each other, kissing, sucking and licking the sweat from their bodies until Logan gives up his ass to Xavi so he can finger, rim and push his thick meat deep and hard in to Logan's hole. A natural attraction and chemical reaction between to stranger is rarely so palpable!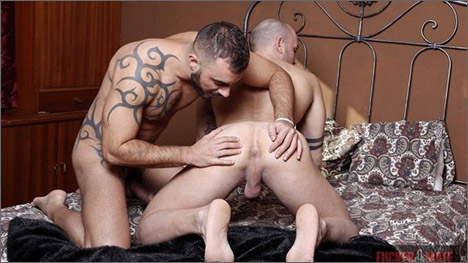 THE DURANES: XAVI DURAN & MAX DURAN
This week Fuckermate brings you a hot and horny encounter between two guys called Duran. Maybe it's something in the name but Xavi and Max are both sexy and a horny match. Xavi uses and penetrates Max in every position possible. This encounter has everything, hot passion, sucking, fucking, rimming and a cum facial. This is Fuckermate sexual ecstasy.
CHEMISTRY
INDISCREET
MANSERVANT
COCK-MAD JOHNY CRUZ ENJOYS AN UNBELIEVABLE TRIPLE PENETRATION!
WEDDING GIFT: ANTONIO MIRACLE, MARIO DOMENECH & XAVI DURAN
THE DURANES: XAVI DURAN & MAX DURAN
BLUE REACTION: XAVI DURAN & HUGO ARIAS
STAG HOMME
STAXUS
FUCKERMATE
MEN AT PLAY