Nasty American Gay Porn Star, Vinnie Stefano
Years Active: 2015 – 2017
TWITTER @VinnieStefano
TWITTER INFO:
Barber and Porn Actor. Kuts and Fucks.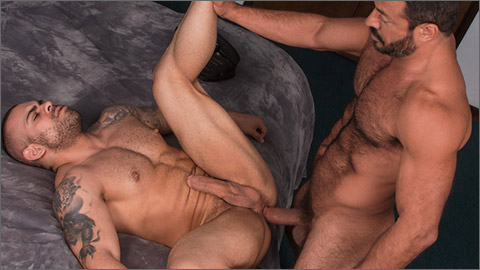 RENT: Daddy Vinnie Stefano pounds his boy Lorenzo Flexx while Dallas Steele watches
TitanMen exclusives Lorenzo Flexx and Dallas Steele with Vinnie Stefano Dallas welcomes muscle lovers Vinnie Stefano and Lorenzo Flexx to the home. He eyes Lorenzo, who shows off his ass while sunbathing. Hairy Vinnie brings his sub inside: "You really like teasing that big muscle daddy, don't you? Let's really give him something to watch!" Vinnie drops his towel, his steel shaft soon buried inside Lorenzo's mouth. "Choke on it! Atta boy!" yells Vinnie, eager to whip his dick on Lorenzo. "Stick your tongue out!" Vinnie buries his bearded face inside Lorenzo's hole, then slaps his ass as he slams it from behind. The top's big, full balls hang low as he grips Lorenzo's G-string and pounds him. "Fucking take my dick!" he yells ("I'll do whatever you want…fuck me as hard as you can, daddy!"). Dallas watches from outside, soon releasing and stroking his beast. The moaning Lorenzo turns over for more, his dick rock hard as he gets handled ("You're so deep in there!"). The bottom shoots a thick wad, Dallas then squirting into his own hand and licking it off. Vinnie finishes off the verbal frenzy by unloading on the bottom.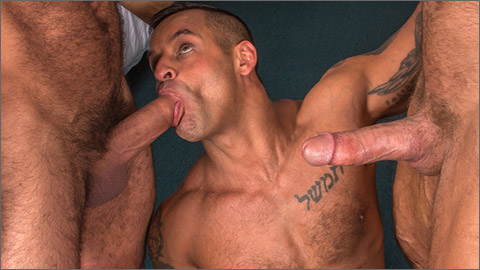 SILVERLAKE: David Benjamin gets spit-roasted by muscle daddies Dallas Steele and Vinnie Stefano
The last time we saw campaign manager Mark Rollins, he was on his knees begging a reporter to not release a secret sex tape of Senator Mike Cauke. We catch up with the newly-unemployed Mark a few months later as he leaves Washington D.C. and heads back to his hometown of Los Angeles and the laid back neighborhood of Silverlake. Stopping for a night in Palm Springs before arriving at his final destination, Mark runs into former colleague Steve Roman who's now with his new boyfriend Vince. The three men take the opportunity to strip down in the hot desert sun and explore their tanned, muscular bodies. Mark drops down to his knees to suck the big, thick Italian cock on Vinnie. Looking up at the two lovers, sucking one and then the other, Mark feels the uptight beltway sexual repression fall away and he finally allows himself to enjoy man-on-man-on-man sex. Moving inside to the master bedroom, the three men take turns sucking and fucking each other. The knowing looks between Steve and Vinnie while they spit-roast Mark sets the stage for Steve to climb into the middle and get fucked by Vinnie while Mark face fucks him. The sexual explosion finally happens when Steve blows his load while Vinnie pounds his ass, Mark lets his own load loose in Steve's face and Vinnie finishes up with a gusher of a cumshot on Steve's abs. One final hug goodbye and Mark heads off to Los Angeles and his new life… to be continued …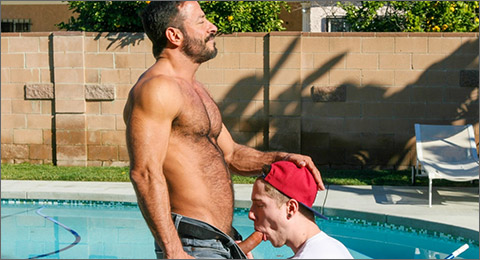 POOL DADDY
Vinnie was hired by Luca's Dad to clean the pool thoroughly each and every day. He always does a great job cleaning it but today Lucas has been spying on Vinnie in the hot sun cleaning. He began rubbing his crotch once Vinnie took is shirt off in the scorching hot sun. Vinnie could tell he was watching so he was showing off his body some. Lucas decided to confront Vinnie on his cleaning skills which Vinnie thought he was going to receive praise but nope Lucas berated him instead. Vinnie isn't taking this shit from some snobby rich kid and he tells Lucas just that. Once he speaks his mind he grabs Lucas and pulls him close to start kissing him and Lucas is shocked but really not because he's been wanting that dick for a long time. Vinnie pushes Lucas down to his knees and tells him to suck his dick. Lucas is eager and takes his dick into his wet mouth. Vinnie has a thick cock which fills Lucas's mouth full. They take the action inside the house where Vinnie gets a taste of that big dick. They pleasure each other's balls and dicks until Vinnie is ready to lube up that ass with his tongue. Lucas has one of the best asses Vinnie has seen and he dives right in tasting the sweet nectar of this young stud. Vinnie is now ready to shove his fat cock into this tight white ass. Lucas takes it deep as Vinnie fucks him hard in multiple positions. Lucas has soft moans of delight as Vinnie pumps back and forth pushing the cum out of Lucas. His load shoots all over the place covering his whole chest. Vinnie loves what he just saw and wants to cum hi his mouth. Lucas stands up and starts to suck off Vinnie until his hot load seeps out of his mouth and drips off the side of his chin.
TITAN MEN
PRIDE STUDIOS
KINK MEN
KINK.COM / BOUND GODS
BAREBACK THAT HOLE
DYLAN LUCAS
CLICK HERE TO GO TO HIS TITAN MEN DETAILS
VIDEO ON-DEMAND: Vinnie Stefano @ AEBN SMUTJUNKIES THEATER
DVDs & ON-DEMAND: Vinnie Stefano @ TLA VIDEO