Italian Staxus Gay Porn Star Euro Twink, Victor Diamond
Years Active: 2015
STAXUS INFO:
Raised in a strict Catholic family, Victor is the youngest of six children. His father worked as a secretary for the Italian ambassador so he moved around a lot as a kid!
Date of birth: 31st July 1993
Height: 5'10" / 178 cm
Cock size: 8″ / 24 cm
Ethnicity: Italian
Role: Versatile
Interesting Fact:
An Italian citizen, Victor has also lived in London, Paris, Berlin & Vienna.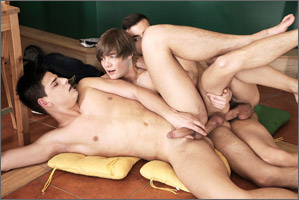 BIG DICKED THREE-WAY PILE UP GIVES NOAH MATOUS A CUMMY ARSE!
There may be snow on the ground outside, but inside the bar it's nice and warm – and getting hotter by the minute given that Shane Hirch is serving drinks and Noah Matous and Victor Diamond are his customers. In fact, this is definitely one watering-hole that pretty much all of us would love to frequent on a regular basis, especially when the lads begin to get down to business and start feasting on all the hard, uncut cock that's on offer. Little wonder that young Matous – who's always been a real sucker for dick! – is like a kid in a sweet-shop when presented with his buddies' big fat shafts to gorge on; though that's not to say that either Hirch or Diamond appear in any way less animated by the thick, juicy, uncut offerings.
   Nevertheless, it's Matous who's arguably the centrepiece of proceedings here – a position he only consolidates once his two mates have turned their eye to his ever-hungry little pucker. Indeed, having rimmed the hole in preparation, Hirch is soon pounding away for all that he's worth – a performance that is quickly mirrored by Diamond, who thrusts that monster Italian salami right up to the balls without so much as a care or leave! Indeed, it's perhaps seeing Matous skewered cowboy-style on Diamond's love-pole that inspires Hirch to indulge his own ass, plonking himself down on the cute twink's todger to instigate a three-way pile-up! As a result, Diamond's fucking Matous who's fucking Hirch; and it's only natural that the whole trio are soon on the brink, with Diamond and Hirch creaming their pal's ass before Matous jerks off!
BIG DICKED THREE-WAY PILE UP GIVES NOAH MATOUS A CUMMY ARSE!
BLOND BRIT TAKES ON A SPIT-ROASTING, DAISY-CHAIN FUCK FANTASY!
VICTOR DIAMOND GOES BLACK & GETS AN ARSE-LOAD OF CREAMY JIZZ!
   CLICK HERE TO GO TO HIS STAXUS BIO PAGE