Titan Men American Gay Porn Star, Tyler Boots
Years Active: 2004 – 2005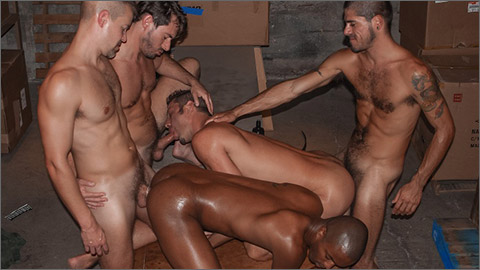 PACKERS: 5-way fuck-fest in the meat packing loading dock with Erik Campbell, Joey Russo, Nick Costes, Troy Banner, Tyler Boots
Packers has been dialogue free until now, when suddenly there are five brilliant spoken words: "All right…work's over. Let's fuck!" The five horny dudes in the loading dock tear into a cockwallowing, pud pounding orgy that's filmed ManPlay style capturing their spontaneous, fullimpact lust. Tyler's thick wonder-cock conquers Joey's smooth white ass, while next to them, Erik's hefty dark meat gives Troy's ass the balling of his life. Tyler blasts his heavy load against Joey's beard, and everybody lets the day's pent up joy-juice fly. Then all five men start swappin' holes and cocks in a circle of side-by-side salaciousness. The bottoms jump the tops, and Troy gives Tyler's ass a heavy duty workout, while next to them, Nick churns Erik's chocolate ass. It's not long before the five hard-bodied hunks are showering their buddies in volleys of high-flying spunk.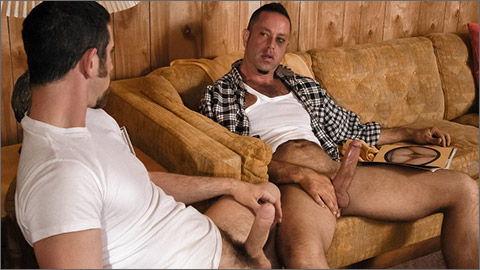 BACK TO BARSTOW: Fyerfli, Tyler Boots
We check in on Troy's friend, Fyerfli. He's been bunking at his sister's house, where he isn't any too secret about his lust for her boyfriend, Tyler Boots, who comes around when she's out. Fyerfli doesn't want him to go away unsatisfied. What kind of a buddy would he be if he didn't offer a helping hand. Or mouth. Or ass. But first he's gotta talk this "straight" dude around his way. It's a classic Joe Gage scene: "Take it out. You know you want to. Stroke it," Fyerfli whispers. He kneels before Boots' thick rod, worships the shaft, slowly draws near enough to lick the tip and, with Boots looking down in horny permission, swallows his throbbing man meat. Boots shoots a mean load, but he won't be so easily satisfied. He throws the happily surprised Fyerfli over and probes his furry, yawning ass crack with several fingers. Then he shoves his tongue deep into Fli's quivering love-tunnel! Soon, both men are fucking each other ragged Fyerfli sprays his steaming love-juice all over his buddy's hairy chest, and Boots throttles his aching cock to let loose his own gargantuan gush.
CLICK HERE TO GO TO HIS TITAN MEN DETAILS
DRILL: TO THE POINT
REDNECKS: THE BEST OF JOE GAGE

MEN MAGAZINE PRESENTS: TITAN MEN