American Gay Porn Star, Trevor Long / Damien West
Known Aliases:
Years Active: 2013 – 2016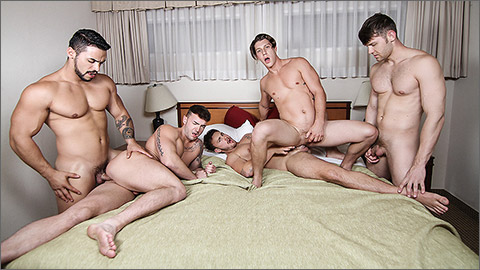 ON THE RUN – PART 3
Paul Canon and Arad Winwin are hot on the tail of the three outlawed hunks… but it could do them better to know what the guys on the run actually look like. Arad is tricked by Jacob Peterson, who gets down on his knees and sucks his beautiful cock. Paul Canon enters the scene and the seduction of the officers continues. The men worship each other's bodies, and it only gets hotter when the clueless cops invite the rest of the thieves to join them in a jizz orgy.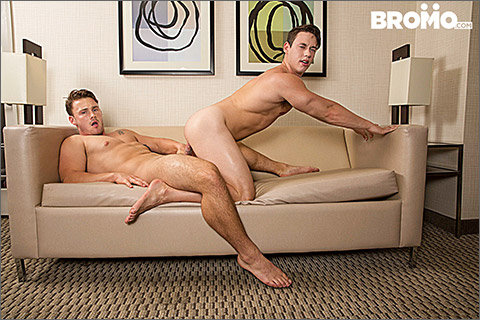 BRO IN THE STREET, HO IN THE SHEETS: Trevor Long fucks Tobias
Tobias is a loud-mouthed construction worker who loves to catcall people on the street. However, behind closed doors he loves to deep-throat Trevor Long's massive cock, and ride it bareback until they're both covered in jizz.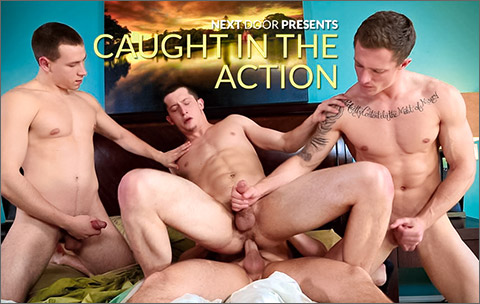 CAUGHT IN THE ACTION
You may remember this classic Next Door Buddies scene from a while back! This was one of Markie's first scenes and one that made us first take notice of his star power. We hope members will appreciate the extra focus we're putting on this classic clip!
   Markie More is caught between a rock and his hard on. In his bed, Drake Tyler's naked ass lays exposed, begging for the high hard one, but at the door, his knuckle-head friends are here to watch the big game. Markie has to save face, but would much rather lose his nut.
   It's true, Damien West and David Stone came over to watch the game, but now that they have arrived, they can sense that some kind of game is already at hand, judging by the guilty looks on Markie and Drake's faces.
   After some light ribbing and investigation, Markie and Drake's secret is exposed, but rather than persecute the two for it, Damien and David decide to exploit the situation, and milk it for everything it's worth.
   And speaking of milking: Markie and Drake immediately start sucking off the two hockey fans, Drake deep throating Damien and Markie going down on David. Moving to the bed, Drake becomes the centerpiece as the other three guys take turns face fucking him, smacking his supple ass, and generally having their way with him, until Markie moves around back and enters Drake from behind, slipping his throbbing head into Drake's hole as Drake continues to service the other two guys. Rotating positions, the guys run a train on Drake with no regard, raw-dogging Drake's hole until they are all satisfied, then busting their nuts all over his sweaty chest, as he lay beneath them like the cum dumpster that he is.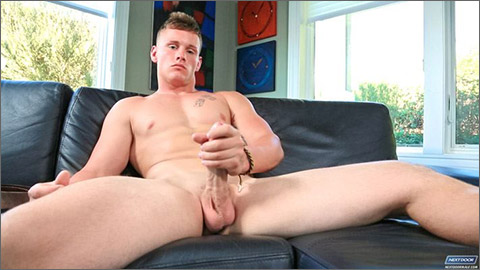 DAMIEN WEST SOLO
Let Damien West awaken your curiosity and arouse your senses, as this buff Miami stud starts his day the right way. We find him in bed and asleep on his stomach, his ass in the air and his arms outstretched. Slowly he wipes away the sleep from his eyes and heads outside, where he walks the grounds and finds the pool. It's inviting waters beckon him and the cool waters wake him up. Heading back inside, he feels a morning urge and decides to stretch out on the sofa before beginning his day in earnest. His cock already stiff and eager, Damien unzips his pants and pulls off his underwear, gripping his dick with both hands and showing it off. Lightly, he brushes his fingers across the shimmering head before grabbing at the base and beginning to work it back and forth. Flipping over from his back to his knees, he pushes his cock back between his legs and continues to flog, before flipping back over and spreading his legs extra wide to finish himself off, before cleaning up and seeing what the day has in store.