Handsome Hunk American Gay Porn Star, Trent Reed
Years Active: 1993 – 1995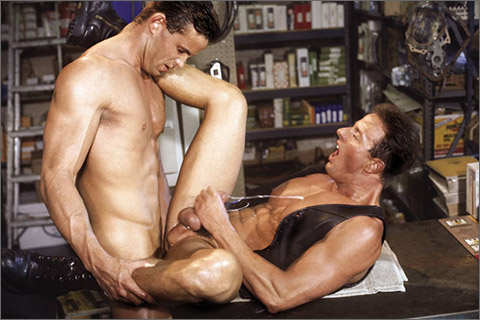 THE RENEGADE: Ken Ryker fucks Trent Reed
Hunky mechanic Trent Reed has been servicing Ken's bike, but after sniffing the sweaty leather vest Ken's left behind, servicing Ken sounds hotter. Pulling his cockmeat out of his tight jeans, Trent starts stroking his thick cut meat until blast after blast shoots all over his smooth muscled torso… Ken walks in and fucks the muscular mechanic's mouth relentlessly uintil he shoots his load all over Trent's chest. The feel of Ken's load drives Trent over the edge and he shoots his second load. Then Ken bends Trent over the workbench and pounds his tight ass slow and hard. When the blindingly powerful orgasm finally hits trent, it is as if a bolt of loigtning went coursing up his spine from the base of his balls to explode in a wave of pleasure. As Trent collapses after his third ball-draining orgasm, Ken slowly drags his massive fuckpole out of the mechanic's ravaged ass.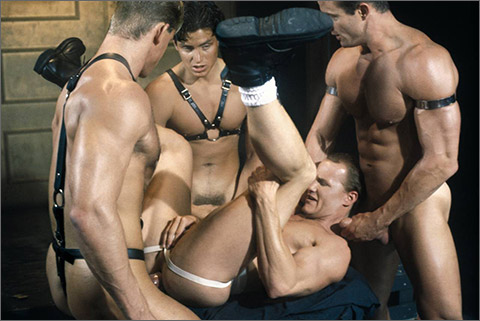 BACKROOM – IN THE BACKROOM: Trent Reed, Jeff Austin, Casey Jordan, Ken Ryker, Mac Reynolds
In the backroom, Trent Reed fucks Jeff Austin while Mac Reynolds gets oral service from Jeff Austin. Ken Ryker and Casey Jordan join the backroom just as Mac is about to take his turn putting his pole up Jeff's butt. Trent and Mac next take turns working Casey over.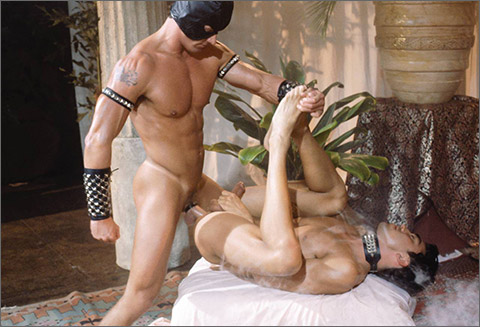 THE ABDUCTION – REDEMPTION: Trent Reed fucks Max Taylor
Max Taylor greedily nurses at the leather-masked stud's truncheon, milking his big boner like the dog he is while the sexual fantasy man (Trent Reed) plays with Max's big, gaping hole. The hooded hunk jams Max's beefy buns in three positions, forcing the cum out of Max before shooting his own on Max's eager face.

THE OTHER SIDE OF ASPEN 4 (FVP-100): THE 13 STUD ORGY
It's off to the races as 13 studs give yet another orgy for the record books. From the huge meat of Ken Ryker to the chiseled body of Jackson Phillips to all stars like Max Grand, Carl Erik and Kevin Dean, this one has it all, including dildo play and a double penetration with the masked Bryce Colby taking both Dean and Phillips. Colby also takes a line of studs in a hot gang bang.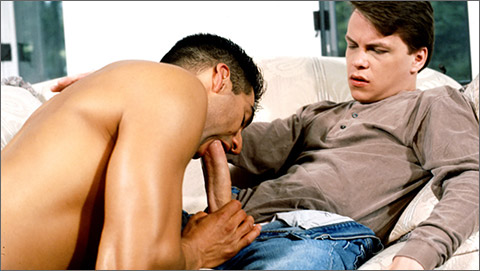 THE OTHER SIDE OF ASPEN 4 (FVP-100): Kevin Dean & Trent Reed fuck Max Grand
Max Grand, in one of his earliest roles—shows his deep throating skills as he works on the huge slab of Kevin Dean. The two are soon spotted by Trent Reed, who joins in and takes charge. Grand gets filled from both ends, his muffled moans filling the scene.
FALCON STUDIOS
HOT HOUSE ENTERTAINMENT
CHANNEL 1 / RASCAL