American Military Active Duty Amateur, Trammel
Years Active: 2015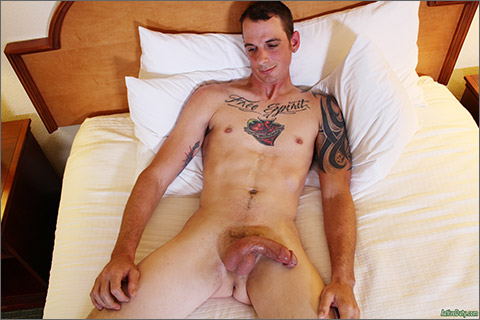 TRAMMEL
What a special show this time! I haven't seen a hunky, tall drink like this soldier in a while. Trammel 6'2′ and dripping with Southern charm. He has a personality that draws you in, and you can tell he's comfortable as a gander in the nest…a gander with a huge cock, that is!
   His dick should truly be immortalized in statue, or perhaps oil portrait. He tells Claude in the interview that he's about nine-and-a-half inches, ten-and-a-half is he's extra turned on. Claude and I have each heard boys a million times estimate around this length and most often, it's a sore overestimate. But in Trammel's case, I'm not sure he ain't underguessing! Trammel has a truly well-proportioned, beautiful cock. And he knows how to stroke the big ol' thing. Claude even remarks that he can tell Trammel plays with it often. Who could resist enjoying that natural blessing all the time??
   He sure does know how to stroke it and show it off. It's always clear to me when a new recruit is a bit nervous about his first time tugging meat on camera. And I'm not saying it's a bad thing, but Trammel's confidence was wonderfully refreshing. I enjoyed seeing his face during this solo. He's comfortable in his skin and especially comfortable handling that big, juicy hard on. It was those little smiles and genuine looks of ecstasy on his face that made this jerk off performance one I'll never forget.