American Gay Porn Star, Topher DiMaggio
Known Aliases: Romeo at Chaos Men
Years Active: 2007 – 2016
TWITTER @TopherDiMaggio
CHAOS MEN INFO:
Age: 21
Topher is a confident and together guy. At 21 he's already got a solid career and he seems like he knows himself pretty well. His video is airing alongside Silas, another half Irish, half Italian mix. It's amazing to watch genetics playout in completely different looks.
The shoot was something Topher thought about for a long while, in fact I think I first had contact with him about 6 months ago before gracing my studio.
He plays on our team, and I think he has a bit of Top guy attitude. And with his amazingly perfect cock, who wouldn't want to sit on it?
He's one of the few guys I know (gay or straight) who doesn't really watch a lot of porn. He says he is more of a "hands on" type of guy or uses his imagination.
So when we shot the video, he just got lost in the moment. But during the cumshot sequence, you can probably tell that he is focusing on uh…me. I'm normally focusing my camera right on their crotch, so I seldom get to see their facial expression, but I realized he was checking me out instead of the porn. I realized this and I think my hands started shaking!
I think he's smokin hot, and hope he comes back to do more!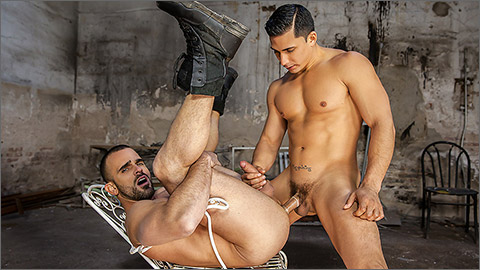 PART 1: Damien Crosse, Topher Di Maggio
Reporter Clark Kent believes Batman is a vigilante who is not doing the city any favors. Clark believes that Superman's superpowers make him the city's true protector. Of course, he is probably biased being that he is the one and only man of steel. Watch Topher Di Maggio rescue Damien Crosse by fending off his attackers and then drill his hole with his fat Superman cock.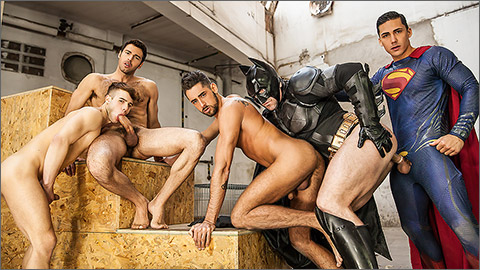 PART 3: Allen King, Dario Beck, Massimo Piano, Topher Di Maggio, Trenton Ducati
The series finale has Superman and Batman joining forces to rescue three cock hungry studs. Watch as Superman and Batman cum together with Dario Beck, Massimo Piano, and Allen King, in this extraordinary orgy finale.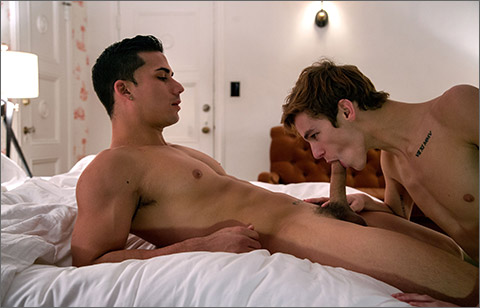 TOPHER DIMAGGIO FUCKS KODY STEWART
Topher DiMaggio told Kody Stewart to meet him at Muscle Beach in California for a workout in the sun. The thought of Topher's muscular body shirtless at the beach gets Kody all excited so of course he shows up early and patiently waits for Topher to arrive so he can show him some tricks at the slings. The chemistry between them turns into a playful bromance that turns into an undeniable tension and need for explore further so after some fun in the water the guys decide to go back to Kody's place and really let loose. As soon as they walk in, Topher wastes no time. He drops his shorts and asks Kody ìIs this what you were waiting for?î Kody just looks down at Topher's massive dick and with a grin on his face admits that it's all he really wants and then gets down on his knees to suck it.
   After some deepthroat action in the bathroom it's time for Topher to return the favor so he starts sucking on Kody's rock hard dick while also fingering his hole to get it ready and opened for his big dick. Topher's dick nearly splits Kody in half as he starts to fuck Kody's tight hole. The sensation is overwhelming and almost too much for Kody so he begs Topher to let him get on his back which of course he's more than happy to do. Clearly Topher's dick hits Kody's spot immediately because it's not long before Kody can't help himself but to shoot his load while still getting fucked. As Kody shoots his load Topher pulls out and shoots his massive load right into Kody's face covering him entirely with cum. You can tell by the grin on Kody's face that he got what he was waiting for all day and he couldn't be happier about it!
COCKYBOYS
MEN.COM
CHAOS MEN
DOMINIC FORD
MEN.COM
JAKE CRUISE'S COCK SURE MEN
FALCON STUDIOS
RAGING STALLION
HOT HOUSE
TITAN MEDIA