European Cazzo Film Berlin Gay Porn Star, Tony Milan
Known Aliases: Tony Milano
Years Active: 2014 – 2015
TWITTER @TonyMilanXXX
COCKYBOYS INFO:
Meet Tony Milan, a Brazilian import who is well traveled and knows a lot about the way guys act all over the world. This also means he has an incredibly sexy accent, so that combined with his muscular physique and perfect amount of body hair equals a guy who's everyone's type. Adding to that is the fact that he likes all types of sex — he's bottomed for married men but loves hanging out with fellow 20-somethings and completely dominating them. He's got a few tattoos that really accentuate his features (not that he needed that though), and an uncut cock that spews big loads. We're excited to see more of his versatile skills in action!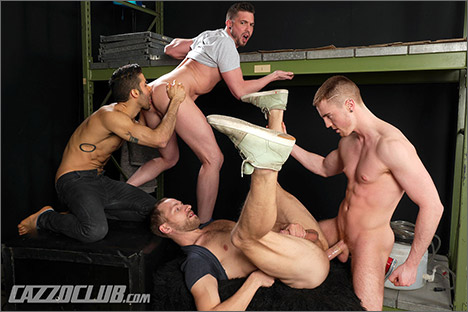 MISHA DANTE, JP DUBOIS, SAM BARCLAY & TONY MILANO
It's been a long time since Misha Dante has worked for Cazzo. He was here in Berlin and visited the old studios. In the place of his past sexual exploits, he gives in to his fantasies and masturbates his cock. Out of nowhere suddenly appears the blonde JP Dubois and his friend Sam Barclay licking Dante's cock until the first juice runs. Dante is now on his knees and sucks the two young cocks until drool runs from the corners of his mouth. Unnoticed Italian stud Tony arrives watching the horny scene.
   Under the greedy eye of Tony, JP licks plump ass until his friend is fuck-willing … Tony wants to not only watch but have Dante's ass on his face. The pussy must be licked soft! Sam now has enough of the foreplay and will guide JP circumcised Dick into his steaming hole. Dante also brings his hairy ass in the game. JP pulls his cock out of his friend's ass and takes the ass cheeks of Dante and pounding him deep in the wide-open ass. After an animalistic fuck, the trio squirts on Dante until his entire upper body is covered with sperm. And then they disappear and Dante is all alone in the Studio. Was it all just a dream?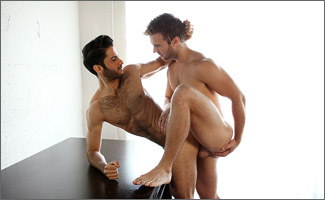 GABRIEL CLARK POUNDS TONY MILAN
Brazilian stud Tony Milan is a workin' man, and he really needed a break from sitting at his desk all day. Luckily, Gabriel Clark is a master of distractions with his charming smile and gorgeous body, and there's nothing more he wanted to do than pound Tony right then and there.
   Tony couldn't resist directing his gaze from his computer screen to Gabriel's crotch, and he engulfed his whole cock in one fell swoop. Then the shirts came off and it was Tony's turn — from the look on Tony's face, you can tell Gabriel really relieved some stress with those lips!
   Finally, Tony shut his laptop completely and let Gabriel "go to work" on him instead. And not only did Gabriel drill Tony on his desk, but also in the chair he was sitting! That's a real "job well done," boys.
MISHA DANTE, JP DUBOIS, SAM BARCLAY & TONY MILANO
DAVE CIRCUS & TONY MILANO
JAKE BASS FUCKS TONY MILAN
GABRIEL CLARK POUNDS TONY MILAN
TONY MILAN DOMINATES ARNAUD CHAGALL
TONY MILAN OPENS UP AND UNLOADS!
FORBIDDEN – PART 3
FORBIDDEN – PART 2
   CAZZO FILM BERLIN
   COCKYBOYS
   MEN.COM
   TIM TALES
   CLICK HERE TO GO TO HIS CAZZO FILM BERLIN DETAILS
   CLICK HERE TO GO TO HIS COCKYBOYS DETAILS