American Gay Porn Star, Tony Bravo
Known Aliases / aka: Tony Bello, Tony Bellos
Years Active: 1985
FALCON STUDIOS INFO:
Hair: Dark Brown
Eyes: Brown
Height: 5'8″
Position: Versatile
Build: Body Builder
Body Hair: Smooth
Endowment: 8
Circumcision: Cut
Fred Bisonnes Comments:
"As huggable as the little panda bear tattooed on his groin, Puerto Rico-born Tony (real name, Michael) was a genuine delight to work with: first alone for A-MEN (getting the cover); the second time with his real-life partner, Christopher Benson, again for A-MEN (racking up another cover, consequently); then recreating the Bravo-Benson magazine spread for the premier 'A-MEN Live!'; and finally with me privately (post LPI) in S.F., for my never-finished book and video projects. I last ran into Michael on Castro Street in the very early '90s, with his hair then shoulder-length. A year or so later, I learned from Ben (C.B.'s real name) that dear, sweet, gentle Michael was yet another AIDS statistic. Damn it all!"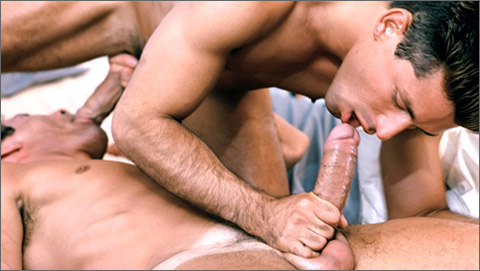 THE OTHER SIDE OF ASPEN 2 (FVP-047): Giorgio Canali fucks Tony Bravo with Kurt Marshall
European ski instructor Giorgio Canali gives a rubdown to Kurt Marshall, and soon starts fingering him. When Tony Bravo joins in, the two share sucking duties on Canali before Marshall sucks both. Marshall then leaves and Canali gives Bravo a fuck to remember.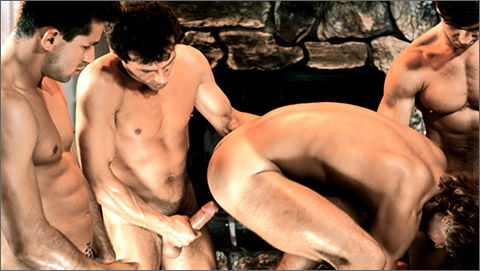 THE OTHER SIDE OF ASPEN 2 (FVP-047): The Orgy
Kurt Marshall introduces the mystery skier to his five friends, and soon Scott O'Hara ("The Man with the Biggest Dick in San Francisco") strips down and the orgy action begins. O'Hara's cock gets plenty of action, with Giorgio Canali, Jeff Converse, Chris Lange and Tony Bravo joining the fun in this legendary orgy where Kurt Marshall gets a hard foot-fucking (DC Edit Only).