BelAmi Freshmen Czech Twink Gay Porn Star, Tommy Poulain / Karel Polak
Known Aliases / aka:
Years Active: 2015 – 2018
WILLIAM HIGGINS INFO:
Model Name: Karel Polak
Age: 18
Home Town: Frantiskovy Lazne
Height: 165cm/5'4″
Weight: 65kg/143lb
Foot Size: EU38/US7.7/UK7.2
Penis Size: 15cm/5.91″
Profession/Student of: High School
Hobbies: Sport
Favorite Sports: Athletics
Active Sports: Soccer
Movie/Music/Sport Stars: Lady Gaga
Visited Countries: Denmark
Want to Visit Countries: France
Dream of My Life: I don't know.
Zodiac Sign: Scorpio (October 23 – November 21)

WANK PARTY #90
In Wank Party #90 we have 4 horny str8 guys, Tom Vojak, Tomas Berger, Filp Onalek and Karel Polak. Part one sees Karel and Tomas relaxing as they wait for the other to arrive. Then Tom and Filip come in and join them and they discuss what to do, and it doesn't take long to decide as Tom starts to kiss Tomas and Filip does the same with karel. They quickly all are bare-chested as they continue to kiss and fondle each other. Filip opens Karel's jeans as Tom pulls out his own massive cock, removing his pants in the process. That cock is rock hard and Tomas is quickly suicking it as Karel takes off his jeans. Filip goes down on Karel's cock as Tomas keeps sucking Tom. Karel fucks his cock into Filip's mouth as the lips are wrapped tight around it. Tomas works hard on Tom's big cock, taking time out to kiss him too. Then Karel takes a turn on Tom's dick as Filip moves up to kiss him. Tomas takes his cock out too and starts to wank it as he returns to sucking Tom. Filip sucks Karel some more and Karel takes turns with Tomas on Tom's cock. Filip and Tomas get fully naked so that their dicks can get some mouth action. Karel sucks Filip as Tom goes down on Tomas. Karel licks up and down Filip's dick and wanks himself as he sucks. Tom's mouth wraps tight around Tomas' dick sucking it hard. Tomas moves over and sucks Filip's cock before making way for Tom to do the same. They all keep changing to suck each other Tom and Karel both licking at Filips throbbing cock. Then Filip moves onto his knees and Karel laps at his tight hole. Tom wanks Filip and kisses him while his own dick is being sucked by Tomas. Karel soon shoves his finger into Filip's hot hole and then goes back to rimming it, getting it ready for more action.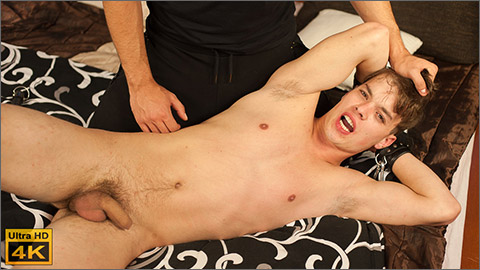 SPANKING: KAREL POLAK
Karel Polak is shackled and gagged as he lays, face down, on the bed. This hot straight guy is pulling against his cuffs as his tormentor arrives. The tormentor quickly rips open Karel's underwear exposing his hot ass. Karel moans as he feels the whip on his back. He feels the heavy hand as it spanks on his sexy ass. Then both hands spank on that hot ass. His cheeks are pulled apart to show his tight hole too. The hole is spat on too and then a finger is shoved in, making Karel really squirm. He keeps moaning as the hands really spank on that ass. After that ass is nice and red Karel's feet get the treatment from the whip and then are tickled and slapped too. He is turned over, onto his back to have nipple clamps applied and pulled. The clamps are attached to his cock and balls as well so they can be stretched. Then Karel lays on the bed and wanks himself as the hands spank on his chect. He keeps wanking hard and fast until he cumss after a very good session.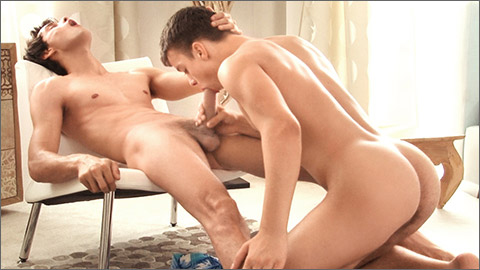 FRESHMEN ISSUE 6: Tommy Poulain & Andre Boleyn
We decided to release this scene with Tommy Poulain and Andre Boleyn as George is still undecided if to keep Tommy exclusive or not or to simply let him go. Letting him go certainly does not mean no more scenes from Tommy as we already have 12 more filmed, and some of them, like his scene with Adam Archuleta are really first class. Still, there is something that we feel is missing in the mix so we would be interested in your opinions.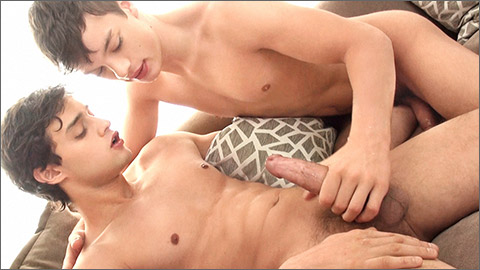 FRESHMEN ISSUE 2
Altogether we have 3 scenes with Tommy and Andre together. You have already seen their blowjob in the last KinkyAngels, today we will present their Jerk Off scene and in 2 weeks you will see the full sex training scene. In all cases we are eager for your feedback on Tommy (we already know what you think about Andre). He has filmed 12 scenes already but we are not sure about keeping him longer or not.
WILLIAM HIGGINS
STR8HELL
BEL AMI FRESHMEN
CLICK HERE TO GO TO HIS WILLIAM HIGGINS BIO PAGE
CLICK HERE TO GO TO HIS STR8HELL BIO PAGE