Hung Handsome Gay Porn Star, Tommy Defendi
Years Active: 2008 – 2016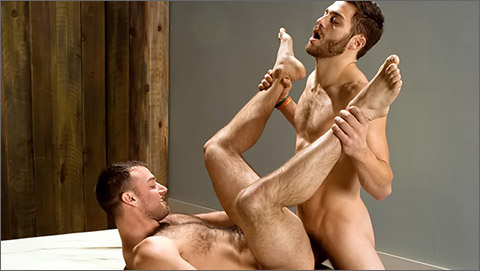 GET ME OFF: Tommy Defendi fucks Heath Jordan
Tommy Defendi has Heath Jordan locked in his arms, holding his muscled, hairy torso close and tight against him. The two men kiss passionately as they rub and stroke each other, letting their hands glide up and down the other's finely muscled body. Tommy runs his tongue and lips down Heath's furry chest, biting and tongueing his nipples gently, before traveling down along his belly until he reaches his crotch. He pulls Heath's snug briefs down and immediately gets busy swallowing down his big cock. Tommy's lips are clamped tight around his partner's hefty tool, sliding back and forth over the entire length and all around the mushroom tip. Heath coos and sighs as he surrenders to the thrilling sensations of having his stiff staff stuffed down Tommy's throat. Now it's time to pay the piper and Heath takes his turn to get his friend off. He opens wide to envelop Tommy's tantalizing tool, grabbing onto the fuzzy nutsac as his head bobs up and down the length of the dickshaft. With the two of them worked up into a lather and anxious for more, Heath climbs aboard Tommy and skewers himself down onto his dick. His pinched asshole stretches wide to consume the hefty salami. Tommy's balls bounce as Heath bucks up and down from above, his dick swinging all around. Both men moan as Tommy continues plowing Heath's backside; the nonstop slapping of flesh against flesh reddens his buttcheeks. Then with the hirsute fireplug of a stud now flat on his back, Tommy fucks him even harder. Heath jerks himself off, pumping his cock until his load blasts out in thick spurts. Tommy is quick to answer with his own smattering of cum, matting Heath's chest hair even more.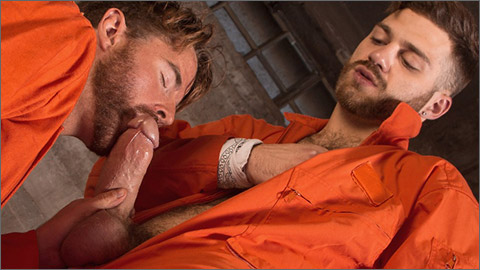 JAILBREAK: Escaped convicts Tommy Defendi and Brendan Patrick hide out
During the chaos of the prison break, Brendan Patrick finds a hideout—soon joined by fellow escapee Tommy Defendi. Brendan stares at the stud: "Sorry, man," he says as he moves closer, "it's been too long." Tommy pulls him in for a kiss, the two unzipping their jumpsuits. Brendan gets on his knees and opens wide to take in Tommy's massive meat. Tommy grips the sucker's hair and fucks his face, Brendan choking as he comes up for air—spitting on Tommy's dick before diving down again. Tommy pisses in a bucket—and all over Brendan, who sucks him again as a huge gob of spit falls to the floor. The two beat Tommy's cock on the sub's face, Tommy resting his monster on Brendan's head (covering the entire face!) as his balls get licked. Tommy sucks Brendan back before eating him, then fucks him from behind. He turns him over: "Gonna fuck that cum right outta you!" he yells, dousing the bottom with a multi-gush squirt.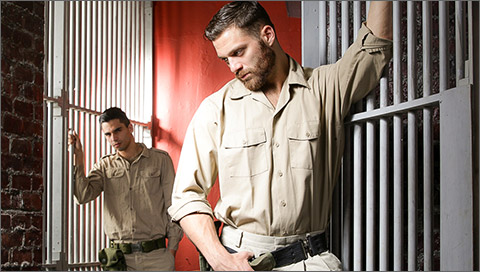 PRISONER OF WAR: Tommy Defendi fucks Ludo Sander
Two American soldiers, Private Tommy Defendi and Private Ludo Sander, find themselves as prisoners of war in a German infantry camp. Defendi has already been held captive for a long time and is starting to lose his senses, but Sander wants to reassure him that they're all on the same side. Defendi throws sander on the cot and jumps on top of him, telling him that he needs to get off right then and there. Sander, unable to move, lets the bigger solder rip off his pants and thrust his already-hard dick inside his ass. Defendi pounds him harder and harder into the cot until both are screaming out in pain and pleasure. Defendi then takes his own discarded shirt and uses it to tie up Sander's hands behind his back, pinning him and fucking him more. He then commands the other Private to turn over so that he can have his way with him in other positions. Sander finishes by shooting onto his stomach and Defendi does the same with an even bigger load, and lights a satisfied cigarette.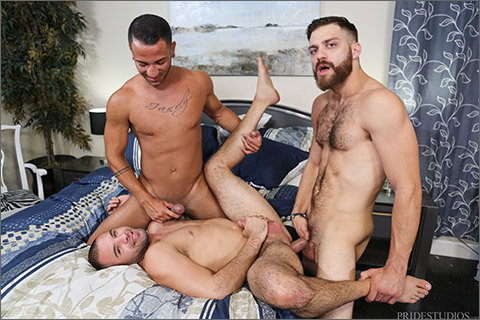 TOP AFFAIR – PART 3
Mario and Tommy have both realized that they fucked the same guy in the same week. They agree to set Braxton up with a text message from Tommy saying he'll come over but Braxton won't know about Mario coming along until it's too late. Tommy sends the text out and they head over to Braxton's. Braxton answers the door and immediately sees both of them and tries to shut the door but Tommy pushes it open and they both charge in and pull their cocks out and Braxton goes down on his knees to suck both of the massive cocks staring at him in the face. Braxton goes from cock to cock and even puts both of them in his mouth but not far long as Tommy pulls him up onto the bed spreads his legs and watches Braxton twerk his big round ass. Tommy gets first dibs on breaking in that tight hole. Braxton has Mario's thick uncut dick in his mouth as Tommy pushes deep inside that ass. Mario is standing above them watching his cock get slobbered on as Tommy pounds away. Not wanting to hog all the fun Mario gets a turn at that rumptious ass as Tommy plays with his nipples and Braxton enjoys his cock going in and out of his mouth. They fuck Braxton is a couple positions and finish off by covering his chest in cum as it slowly drips down and they all plan another hot three-way.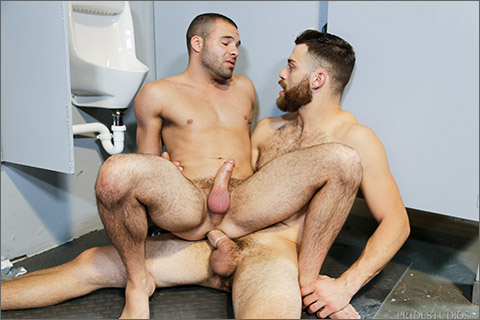 TOP AFFAIR – PART 1
Tommy is hanging out with his buddy Mario talking about this guy he met at the park whom he ended up fucking in the bathroom stalls. Tommy begins his story with how he was at the park waiting for a friend when this guy Braxton walks by and starts checking Tommy out. Tommy is sitting on a bench and Braxton is staring at him when he turns around and shows his ass off to Tommy. Braxton gives Tommy the head nod and he follows him into the bathroom where Tommy face fucks him and bends him over the bathroom trash can to fuck that tight ass. Tommy is hypnotized by the seductive moments of Braxton's ass cheeks as he can bounce them up and down separately. Tommy fucks him good and hard with his fat thick cock that he can barely handle but Tommy pounds him deeply until he cums all over him. The two exchange numbers and hope to meet up again soon.
PRIDE STUDIOS
TITAN MEN
ICONMALE
PRIDE STUDIOS
FALCON STUDIOS
RAGING STALLION
CHANNEL 1 / RASCAL
LUCAS ENTERTAINMENT
MEN.COM
JAKE CRUISE'S COCK SURE MEN
COCKYBOYS
KINK MEN
KINK.COM / BOUND GODS