Colt Studio Model Gay Porn Star, Tom Harnett
Known Aliases: Glenn Brown (Playgirl)
Years Active: 1991 – 1995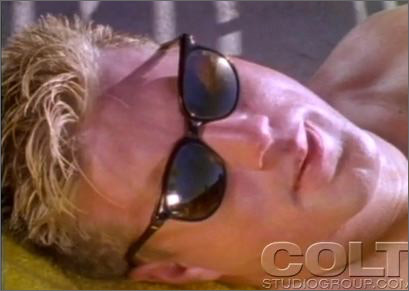 COMING APART
Back from vacation, sexy Jarrod is ready for a lusty workout with his trainer Tom. Even though Tom has a gig as a male stripper and can't make their appointment, both men still have each other on their minds.
   This sets off an explosive crosscurrent of sex dreams guaranteed to overload your circuits. Hot, sweaty solo action finally cools these rip-snorting bulls off. Man, it's a double-gusher.

ALL THE RIGHT MOVES
Raunchy carpenter Tom puts down the hammer and comes up with a show you won't forget. Stripping to a macho beat all his own, this master driller works up a four star sweat showing you all his private pleasure zones – not to mention a diehard tool that's as stiff as a board! Here's solo action at it's best: hot and hunky. Harnett is one pile-driving stud you'd be glad to have around the house.
CLICK HERE TO GO TO HIS COLT STUDIO DETAILS
COLT ANNIVERSARY ALBUM #3: MACHO IMAGE
COLT CALENDAR MEN #7
COLT MEN 31
COLT MEN CALENDAR 1992
COLT MEN CALENDAR 1999
COLOR PRINTS: CP-256
COLOR PRINTS: CP-257
B&W PRINTS: R 46
SLIDE SET: S 310

PLAYGIRL  November 1991
ADVOCATE MEN  November 1991