Super Hung and Handsome American Gay Porn Star, Tom Chase
Known Aliases / aka: horsehungmusclebutt, breedpony
Years Active: 1996 – 2010
BIG MUSCLE INFO (2002):
Year Born: 1965 his age Dec 31 2006: 41
Height: 5′ 10"
Weight: 200
Waist: 32
Chest: 48.0
Arms: 17.0
Forearm: 10.0
high: 27.0
Calf: 17.0
Body Fat: 11.0%
exclusive contract with Falcon Studios, but on loan to Colt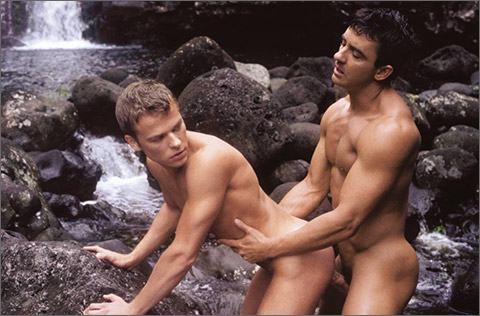 HIGH TIDE: Tom Chase fucks Matthew Anders
Seven years later, Matthew Anders is back where he belongs-with Tom Chase, the true love of his life. Time has not diminished their ardor, rather it has only strengthened their bond. Rediscovering themselves, the lovers frolic in the surf, playing in the sand, walking hand in hand. They seal their love with a kiss in the surf, while in the background a cathedral of waterfall and rocks reflects their passion. Matthew devotedly sucks Tom's huge cock drawing every rock-hard inch deep into his throat. The two transmit their undiminished love to each other with long looks; their passion steamy and sensuous. Tom lovingly takes Matthew's cock into his mouth, then meanders to his hole, massaging and priming it for a full session of fucking. They make up for lost time as Tom pumps Matthew full with his huge dick, each stroke throbbing with pleasure and passion. They stroke off and finally explode, releasing their essence. Still basking in the afterglow, they sit alone on the beach, as the waves serenade them.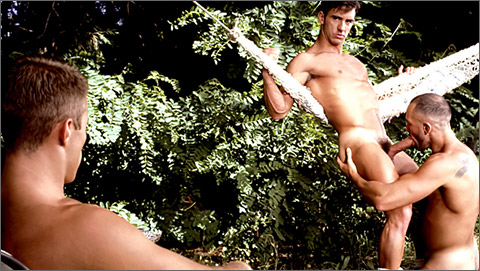 HEATWAVE: Tom Chase fucks Adriano Marquez with Logan Reed
Logan Reed is led blindfolded into the back yard, where Tom Chase and Adriano Marquez are already hard in action. Like predatory stags, daring and sizing each other up, trying to figure out who should master whom, the two men prod each other into heavy foreplay. Adriano hungrily sucks Tom's huge cock, swallowing the engorged tool in its entirety. The men tease each other, slapping, spitting, pounding, creating a tension too hot to ignore. First on the hammock, then holding a tree. Adriano gets the fucking of his life by Tom who slams and shimmies his fat dick up Adriano's hole. Looking directly into his eyes, Tom sends Adriano into a delirious state of bliss, controlling the rhythm of his breathing, the rhythm of the sex play, until neither man can stand it. They both explode spurting jets of cum as Logan enjoys the show, jacking his fat cock.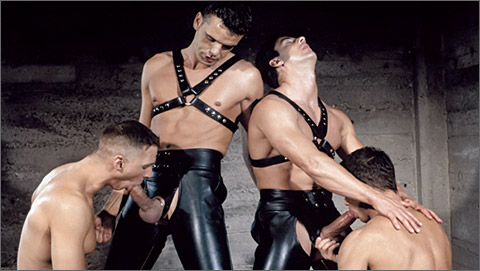 THE CHOSEN (FVP-111)
Tom Chase and Buck Meadows fuck, dildo-fuck & fist Steve Pierce and Christopher Scott
Top leather men Tom Chase and Buck Meadows work-over bottom boys Steve Pierce and Christopher Scott. The demanding tops stretch their boys' holes with an assortment of dildos…larger and larger until finally Steve and Christopher are fully relaxed and open. Then Tom and Buck lube up their fists and slide them in…working their hungry bottom boys until everyones' needs have been entirely fulfilled.