Colt Studio Classic Man, Toby
Known Aliases: Mark Griffin
Years Active: 1971 – 1975
MOUSEART INFO:
Born: 10 October 1944, Evasham, England
Died: 19 February 1993, Los Angeles
He retired from the porn industry in 1980. He was the owner of BELGRAVIA, an antique shop on Melrose, in Los Angeles, for a decade. He and his lover, Bill were together for 22 years. — Tod Keller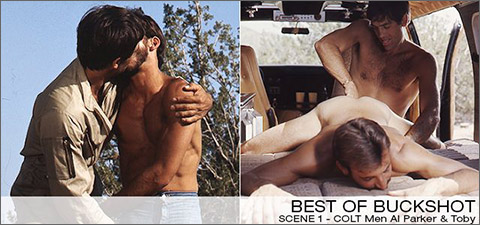 CHUTE
A drive through the desert wilderness, Al Parker comes across an alarming site. An unconscious man (Toby) is up in a tree with a spent prachute caught in the tree branches. Getting out of his van All climbs the tree to help. As Toby comes around he realizes that his rescuer is a handsome and shirtless man, and feeling his senses return he reaches out and grabs the man part he wants most, Al's thick bulge. Being a red blooded man, Al can't help but be aroused by this sudden and unexpected show of physical affection. Stripping out of their clothes they get busy right there in the tree before they climb down for some more serious action on the ground. Naked and carefree these men make their way to the van where their huge cocks, horny asses and a few bottles of beer lead the way to one of the hottest and most unexpected Man-On-Man encounters either of them will ever experience.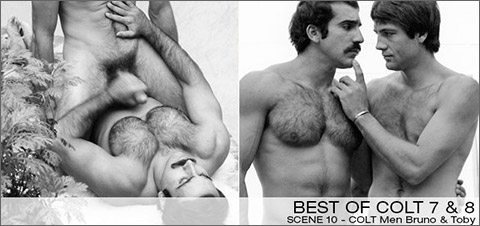 BRUNO'S WORLD (MV-30)
TOBY stops in an adult bookstore and immediately finds soemthing that grabs his attention; a magazine dedicated to COLT Man Legend Bruno. As Toby flips the pages with one hand, other hand stroking his big cock, Bruno comes to life in his mind. Before long TOBY sees himself, on-on-one with the object of his fantasies. Locked in an intimate nude embrace with his fantay man, TOBY gets lost in the fantasy, lost in another world – Bruno's World.
CLICK HERE TO GO TO HIS COLT STUDIO DETAILS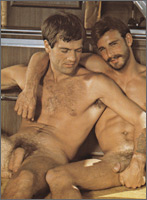 RIP COLT'S SEX RATED HOME MOVIES
RIP COLT'S SEX RATED HOME MOVIES: PART 3
CHUTE
MARK AND TOBY (MV-29)
BRUNO'S WORLD (MV-30)
COLT LOOPS
BVC-101
THE BEST OF BUCKSHOT (BC-122)
THE ORIGINAL, GOOD HOT STUFF
THE BEST OF COLT FILMS – PART 8
THE BEST OF COLT FILMS – PART 11
THE BEST OF COLT FILMS – PARTS 7 & 8
HONCHO  August 1978
HONCHO  October 1978
BLUEBOY  Jan/Feb 1976 (Vol. 4)
NUMBERS  February 1980
PLAYGIRL  April 1974
HIM  #028
COLT ANNIVERSARY ALBUM #1
THE BEST COLT MEN #1
COLT MEN 1
COLT MEN 2
GALLERY SERIES #15b
COLT: AL PARKER ALBUM
COLT SPURS 1
COLT SPURS 15: WHOPPERS #1 – MEN WHO ARE HUNG
COLT SPURS 18: BUTT BEAUTIFUL
COLT CALENDAR 1976
COLT CALENDAR 1977
COLOR PRINTS: SERIES 1
B&W PRINTS: U 22
B&W PRINTS: L 34
SLIDE SET: S 85
SLIDE SET: S 155
CLASSIC COLOR PRINTS: CPS 85 C
CLASSIC COLOR PRINTS: CSC 9
JIM FRENCH: THE ART OF THE MALE NUDE