Handsome Hung German Cazzo Film Berlin Gay Porn SuperStar, Thom Barron
Known Aliases:
Years Active: 1997 – 2010
CAZZO FILM BERLIN INFO:
Charming smile, well-trained body, big cock – Thom Barron. Since his first CAZZO appearance in PRALLE LEDERHOSEN in 1997 he's been playing a starring role in many a fans' wet dreams. His charm, always giving his all and his versatility get them every time. Whether plunging into Berlin's nightlife in BERLIN TECHNO SEX, rolling around in the mud in AUTHENTIC ADVENTURES or if the man giving him a blowjob is being delivered on a forklift as in SEX PIGS, Thom is and remains one of the sexiest men alive. He loves just about everything that men can do with one another.
   You can get a good overview of his versatility in the first release of CAZZO STAR EDITION, a collection of 14 of his best scenes from nine films.
   Thom took part in his first porno shoot in 1995. He was 23 at the time and had already known for quite some time that when it comes to sex he enjoys being an exhibitionist. "When I was having sex in a darkroom I always loved to go to the best-lighted corner. It was a turn-on to be observed," he says. Getting started in the business proved difficult. He didn't think he was muscular enough for American porn, and so he decided to write to Cadinot – the only European production company that he knew of. He never received an answer, despite writing his application in the best French he could remember from his school days.
   So he earned his "riding spurs" in some low-budget films from even more low-budget companies. He was never pleased with the results. "They were films with titles like 'Boys Boys Boys #16'…which says quite a lot about the quality of the productions," he says with a grin.
   After shoots with TITAN and CAZZO, though, Thom's international career took off. And in FUCK FICTION, Thom's most recent work, he again shows what damage he can do with his ever-ready and rock-hard cock. But Thom has never let the success go to his head. He is, and remains a star you can relate to.
GAY ROMEO INFO:
Height: 6′ 1″ (185 cm)
Body Type: Muscled
Ethnic Origins: Caucasian
Hair: Blond
Eyes: Blue
General Attire: Sports Kit
Out: Yes
Dick Size: Large
Cut/Uncut: Uncut
Body Hair: None/Little
Orientation: Gay
Role: Active/Versatile
Safer Sex: Always
Smoke: No
Drink: No
Drugs: Socially

ZAK ATTACK: Zak Spears fucks, fists and dildo-fucks Thom Barron
Experience an intense session of sucking, fucking, and ass-play featuring Zak Spears and returning Falcon man Thom Barron. These two talented players get down to some serious sexual play and Zak knows just what it takes to satisfy Thom's hungry and eager desire.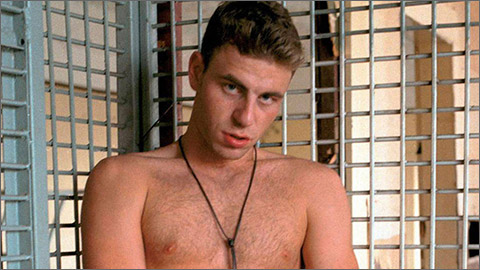 AUTHENTIC ADVENTURES: JENS HAMMER, THOM BARRON & HENNING PINK
Jens Hammer suffers in abandoned barracks. His master Henning van Pink drills him to serve his perverse needs. Young Thom Barron releases Jens from his pain using his magic wand.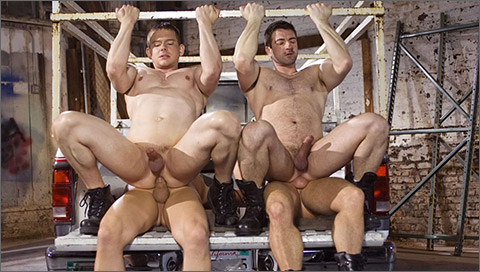 BUTCH ALLEY: Nick Piston & Thom Barron fuck Braeden Casey & Enzo Grimaldi
Hot House Exclusives Nick Piston and Enzo Grimaldi converge on well-hung Hot House favorite Thom Barron and throw him down on the flatbed of his truck. Grimaldi deep throat's Barron's gigantic rod while Piston slobbers on Barron's balls and ass. The men get rock hard immediately and fall into a three-way fuck, Piston plowing Barron who fucks Grimaldi. Middle-man Barron does most of the work with each thrust of his hips massaging Piston's fat cock and filling Grimaldi's deep hole. Piston wants a piece of Grimaldi too, so he fucks his ass and sucks Barron's cock at the same time. Braeden Casey stumbles upon the action and jumps butt-first onto Barron's world-class cock. Casey and Grimaldi prove to be dedicated bottoms when they straddle their tops and bounce up and down on their fat cocks using the roll-bar of the truck for leverage. The athletic feat works and all four cocks are rock hard and close to exploding. Piston, Barron and Grimaldi stand jacking off over Casey. All three blow hot white spunk all over Casey's chest as Casey shoots his load, leaving him drenched in cum.
CAZZO FILM BERLIN
HOT HOUSE
HOT HOUSE CLUB INFERNO
FALCON STUDIOS
TITAN MEDIA
CATALINA VIDEO
PROJEX VIDEO / CLOSE-UP
FORUM STUDIOS
STUDIO 2000
CLICK HERE TO GO TO HIS CAZZO FILM BERLIN DETAILS
CLICK HERE TO GO TO HIS HOT HOUSE DETAILS
VIDEO ON-DEMAND: AEBN SMUTJUNKIES THEATER
VIDEO ON-DEMAND: MALEFLIXXX
DVD / DOWNLOAD / VOD: GAY DVD EMPIRE