ChaosMen Amateur Gay Porn Guy, Theon
Known Aliases:
Years Active: 2013
BRIAN OCKERT / CHAOS MEN INFO:
Start Age: 21
Debuted: March 11, 2013
Height: 5'8″
Weight: 165 lbs
Cock: 7.5″ Cut
Go Greek!
   Theon is a hot Greek guy with a tight little bod and a huge cock on him. He is a smart and friendly guy, who has just the right amount of confidence and amiability that allows him to be immediately likable.
   He is into sporty girls, and loves to fuck them in the ass and make them eat his load. Theon has had a few drunken "goofing around" moments with dudes, so he is not too worried about messing with another guy, though he is uncertain how he will be while sober.
   Stroking his dick clearly gives him a lot of pleasure, and his solo and photos both show just how fat and long that cock is on his 5'8″ frame. His ass is equally as amazing, and he wasn't shy about pushing it out and up in the air for us to take a gander at.
   His load is pretty amazing, and he just about hits himself in the face, thought to be fair, his cock reaches a bit beyond his belly button to start with!
   Theon will be back next week for a Serviced video and my guess is he will be back to do even more in the future!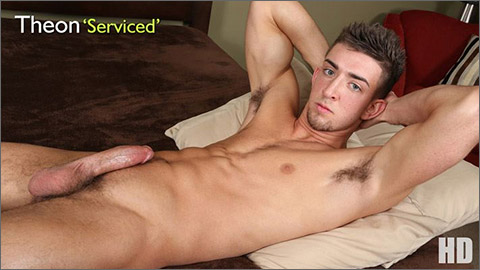 SERVICED: THEON
I know this video is about Theon getting Serviced, but Kristopher really steals the show. The boy really knows what he is doing! He may not have all the skills to pull the cum out of a dude's cock, but he has dirty talking and sexual energy that just makes the guys get hard and totally into the blow job.
   Theon has messed around with guys on a few drunken occasions, so he wasn't going to be too nervous about getting his dick sucked. Still, he was just wanting to see how well he could do without alcohol involved.
   Kristopher winds him up real good, relishing every minute of toying with his cock..and his hole. Theon pushes back into Kristopher's face like he is ready to have his hole penetrated. I just love watching Kristopher pull back Theon's super stiff cock while playing with his hole!
   We did try having Kristopher make Theon bust, and while we got close, we opted to have Theon cum on Kristopher's face. I do love seeing the guys be made to cum, but the advantage of doing a full on facial is the cum in the mouth action we get to watch instead.
   I seriously need to keep Kristopher in more Serviced videos. He is a pro. Meanwhile, I believe Theon was pleased with his own performance, and says he is willing to do more in the future!
CLICK HERE TO GO TO HIS CHAOSMEN BIO PAGE