Canadian Hairy Hunk Gay Porn Star, Teddy Torres
Known Aliases:
Years Active: 2017
TWITTER @teddytorresxxx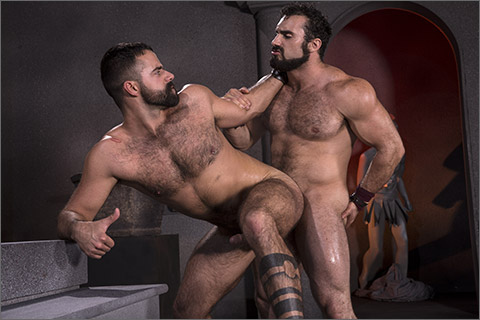 ERECTUS: Jaxton Wheeler fucks Teddy Torres
Wearing nothing but threadbare rags tied around their waists, Jaxton Wheeler and Teddy Torres face off in a Roman gladiatorial wrestling match. After several sweaty rounds of combat, Jaxton succeeds in putting Teddy in a headlock and rips off his the rag encircling Teddy's waist, revealing Teddy's hairy bubble butt. Jaxton claims his prize by burying his bearded face deep into Teddy's furry crack. Knowing his place, Teddy kneels down on the floor to orally service Jaxson's massive cock. Jaxton's huge legs bulge as he thrusts his hips, face fucking Teddy's endless throat. With his cock hard as a rock, Jaxton bends Teddy over and starts giving him a rough, doggy style fuck. As Jaxton rams his meat into Teddy's hairy ass, Ace Era peeps on them from just outside the door to the chamber, enhancing the excitement of voyeurism by stroking his cock. Moving on from doggy style, Teddy lies on his back and lifts his leg over Jaxton's shoulder. Jaxton delivers deep, powerful thrusts, pulling his cock all the way out and shoving it all the way in each time. The thick, dark fur covering Teddy's body is slick with sweat, spit, and lube. From across the room, Ace continues watching the action while working his thick shaft. Teddy punches Jaxton in the chest, urging him to fuck even faster and harder. The scorching hot action makes Ace shoot his wad, ejaculating a giant rope of white cum across his thigh. As Jaxton buries his tool inside Teddy, Teddy jerks his cock and shoots a huge jet of cum onto his hairy stomach. Jaxton pulls on and strokes out his hot, white load, which lands right on Teddy's hairy taint.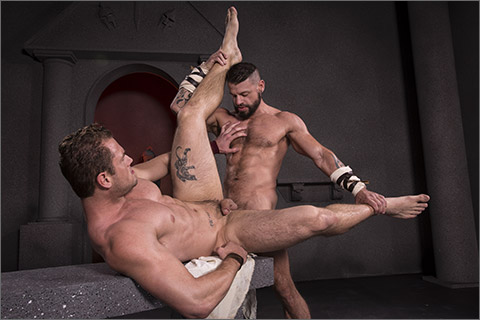 ERECTUS: Tex Davidson fucks Ace Era with Teddy Torres
In the dark hall of the ancient Roman baths lust knows know bounds, dirty-blond stud Ace Era stands between Tex Davidson and Teddy Torres. Sinking to his knees, Teddy wraps his lips around Tex's massive cock. Tex thrusts his hips, driving his meat deep down Teddy's throat and showing off his ripped torso. Ace takes Teddy's place on his knees in front of Tex's dick. As Tex and Teddy make out, Ace alternates between sucking each of their cocks. After fulfilling his oral obligations, Ace turns around and spreads his ass apart, and Teddy and Tex take turns eating Ace's hole. With Ace's ass ready for pounding, Tex steps up and rams his meat deep inside. Crouched in doggy style post, Ace moans and grunts as Tex gives him the ride of his life. Turning on his back, Ace jerks his cock as Tex pounds heavily against Ace's prostate. Reaching the climax, Tex shoots his load across Ace's dick and balls, and Ace simultaneously splatters his cum across his rippling torso.
RAGING STALLION
MEN.COM
MEN OF MONTREAL
CLICK HERE TO GO TO HIS RAGING STALLION DETAILS