Broke Straight Boys American Gay Porn Star Amateur, Tanner Valentino
Years Active: 2015
BROKE STRAIGHT BOYS INFO:
Age: 20
Height: 6.1 (185cm)
Weight:
: 12 US (46 EU)
Cock: 8.0 (20cm) Cut
Help us welcome our newest straight stud to the studio: Tanner Valentino! This 20-year-old has come all the way from New York to show us what he's got, and so far judging by looks alone, we're not disappointed! Tanner comes from a big boisterous Italian family and had a relatively easy life growing up, but he's hit some hard times and is in need of extra cash, and that's where we come in! While Tanner seems pretty relaxed about the experience, he hasn't told his family about it and hopes they don't find out, but we'll see how long that lasts! Tanner likes to have fun and is an honest guy, smart and attractive too, and although he's unsure what to expect doing gay porn, he's got a great attitude to get started!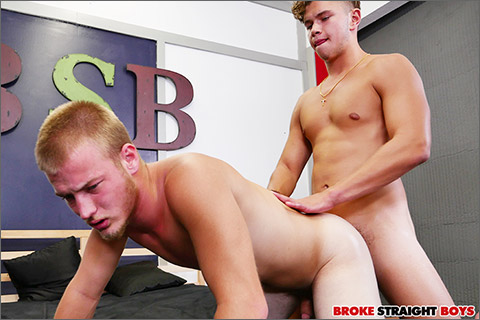 TANNER VALENTINO FUCKS JASON STERLING
Tanner Valentino, one of the newbies around the BSB studio, is a little nervous about how well he'll perform in his scene with Jason Sterling. But Jason knows what it's like to be the new guy and he's ready to take it up the ass in order to give Tanner some more experience. When we set them loose, they immediately lock lips, kissing each other as their shirts and shorts come off and Jason gets between Tanner's legs, bending down to suck that cock!
   Tanner gets into Jason's amazing oral, pushing Jason's mouth farther onto his cock as Jason takes a break to suck on Tanner's big balls. When Tanner is rock hard, he switches places with Jason and gives Jason head, sucking on that big dick then getting more oral from Jason before he bends over and offers his ass up to Tanner!
   Jason's ass is spread wide for Tanner, who enters him slowly from behind and lets Jason warm up to having a cock inside of him. But when Tanner wants more, he starts fucking Jason harder and deeper, pounding that ass from different positions while Jason yanks on his own dick until he shoots his load all over himself! The sight of all that cum makes Tanner lose it and he pulls out and finishes with a fabulous cumshot to finish off this hot scene!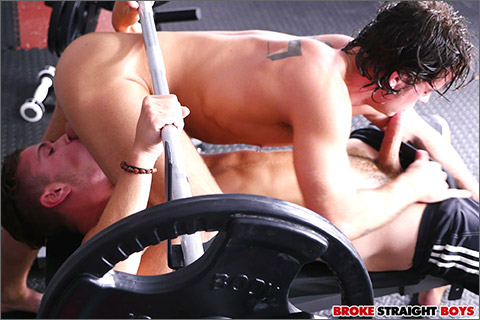 TANNER VALENTINO FUCKS ZENO KOSTAS
Zeno Kostas and Tanner Valentino are spotting each other during their weight lifting session and all that testosterone has got them horny and in need of some release. But soon, this innocent work out takes a sexy turn as Zeno hikes up his shorts and dangles his cock in front of Tanner's face, getting some head as Tanner sucks Zeno's cock on the bench, making him deepthroat it! Zeno drops his shorts completely and climbs on top of Tanner, sucking Tanner's fat dick and drooling all over that juicy cock as they 69, each guy getting a face full of cock!
   Zeno breaks out the lube and plays with their dick before bending over and letting Tanner slide his member inside of him, nice and easy as Zeno's ass stretches around that thick prick! Tanner's bareback cock is a lot to take since Zeno's ass doesn't get fucked too often, but Zeno takes it like a pro, switching positions to ride Tanner's dick and going hard as he bounces up and down on it.
   These guys use the weights to their advantage as they leverage themselves against the bar and get it on, fucking raw and hard then getting in a different position, Zeno's legs spread and ass wide open for Tanner as he takes that hard cock! As Tanner buries his dick deeper and deeper inside of Zeno, Zeno strokes his own hard cock until his cum is covering his chest! The sight of all that jizz makes Tanner shoot his load right between Zeno's ass cheeks, finishing a hot scene with a damn good creampie!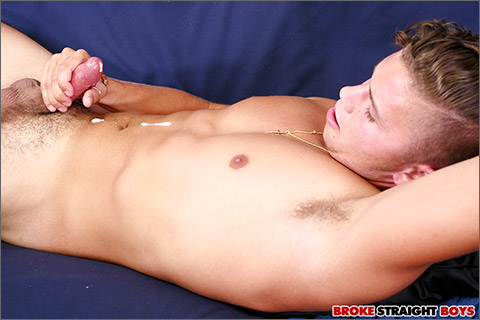 TANNER VALENTINO SOLO
Tanner Valentino is here from New York and he's in desperate need of some cash so he can get out of debt, and that led him here to us! While he's got a lot of emotions going on right now, from nervous to excited, he keeps a cool head as we ask him to undress for us, turning around to show off his toned and tattoo-free body and perfect ass! When we tell him to get started, his confidence really shines through as he gests comfortable on the couch and grabs his cock, making sexy eye contact with the camera as he touches himself all over.
   His coy smile stays on his face as he jerks his fat cock, standing up to give us a better view of everything, even turning around to let us drink in all angles of his delicious body. As he gets harder, he uses two hands on that massive prick, stroking it up and down then focusing more on the tip as he gets closer to release. He lies back down on the couch, eye closed and hand around his dick as he masturbates until he shoots a nice thick load all over his tanned abs! That solo scene left us thirsty for more of Tanner Valentino, so we'll see what he's got when we put him with another dude!
CLICK HERE TO GO TO HIS BROKE STRAIGHT BOYS DETAILS