American Ginger Gay Porn Star, Steven Ponce
Known Aliases / aka: Steve Ponce
Years Active: 2005 – 2017
TWITTER @Stevenponcexxx
LUCAS ENTERTAINMENT INFO:
Born: July 1980; Ft. Lauderdale, FL
Height: 5'6″
Weight: 147 lbs
Dick Size: 7″
BIO: Red-haired bottom exclusive Steven came to us from the Sunshine State and warmed us up pretty quickly! He loves 80's & 90's music, watching cartoons, and anything sci-fi and "Star Wars." And even though he looks all-American, Steven actually grew up in Puerto Rico, so he's got a little Latin flavor too!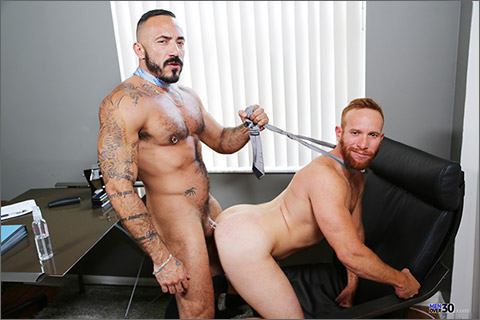 A SEXY BEAST
Steven may not have the skills for this job but he has come up with a sneaky way to get what he wants. First he shows up late to the interview and Alessio wants to know why he has come for a job interview without the right qualifications. The only answer he can give Alessio is that he will and can do anything for this great opportunity. Alessio takes him to task and grabs his tie to pull him real close and forces him down on his knees so he can see just how hard he needs to try for this job. Face fucked hard and fast Alessio is making use of this opportunity and he's dominating Steven to the fullest extent. Steven wants it all and Alessio is being so rough with his tight ass that he's using the tie around Steven as a choke chain. In Stevens mind the interview is going great and he loves the cock in all his holes but Alessio is not even close to being done with this interview.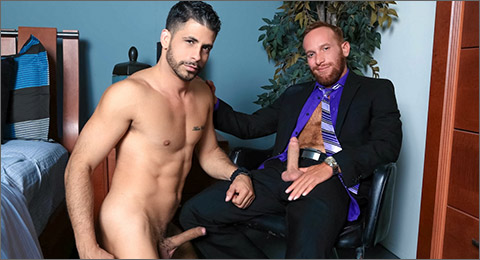 SOCIAL MEDIA HOOKUP
High Performance Men presents Ray Han & Steven Ponce in MISTER SOCIAL MEDIA HOOKUP. Steven is in his office when he gets a message on his MISTER AP from Ray Han. They chat back and forth, share naked photos and discuss what they are into. Discovering they are both versatile, they begin to make plans for a hookup when Steven gets out of work. Ray lets Steven know he is not into Bareback and to Steven's delight, he is also into safe play only and the two move forward with their plans. Steven shows up, still wearing his full suit, and Ray cannot keep his hands off him as they embrace, kiss and Ray started undressing Steven. With Steven's cock out of his suit pants, Steven asks Ray to undress for him while he strokes his own cock. Ray, very seductively, takes off his clothes for Steven and as he bends down to take off his pants, Steven cannot help himself as he gives Ray's ass a lick. Ray then goes down on Steven's hard cock and takes it to the hilt. He then lies back on his bed and asks Steven to undress for him while he strokes his big 8.5′ uncut cock. Once undressed, Steven then blows Ray and takes his massive cock all the way down his throat. He then pulls Ray up on the bed as he buries his tongue deep inside Ray's eager hole. After getting the hole loosened up, Steven grabs a condom, puts it on and fucks Ray doggie style while Ray moans in pleasure. After being fucked for a while Steven tells Ray he wants him to fuck him. Without much hesitation, he grabs a condom and soon has Steven on all fours as he drives his big cock deep inside Steven's eager ass. He fucks Steven long and hard and then flips him onto his back where he pounds him so deep that Steven cannot hold back and he shoots a nice creamy load of cum all over his hairy stomach and chest. Ray pulls out and shoots a nice load onto Stevens cock and balls. Exhausted, the two embrace in a deep kiss.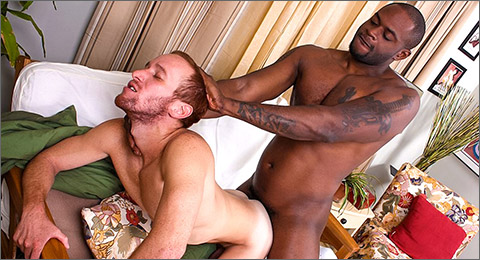 THE WASHINGTON MAUL
This Valentine's Day will bring "loads" of excitement to many and bring the hope of new loves and even hotter adventures, too. We have a special surprise planned as we welcome back one of our fan favorites, Steven Ponce. Steven, the hot Caribbean fire-crotch, will be taking a trip to Washington. As excited as Steven may be he'll be even more excited when he finds out that the "Washington" we're referring to is none other than Diesel Washington. Diesel needs no introduction and, unless you've been living under a rock of sorts, his massive 10″ cock and reputation more than precede him. Luckily Steven never backs down from a challenge; so we're sure we have the right man for the job. We asked these two had they more time what they would do with it. Steven would wanna travel more and have more time to do nothing. Diesel on the other hand wished he had a special someone to spend that time with taking long walks with; share special evenings at home and drag to the occasional Comic Con. Awww. Diesel is definitely nothing like his on-cam aggressive persona. We here at MenOver30 know he's more of a romantic cuddle bug, sensitive, and loves warm fuzzy feelings. So, we know of no one better suited to spend Valentine's Day with. So sit down, hang back and relax and watch as Steven tries to relax as he sits down on it and does his best to hang on!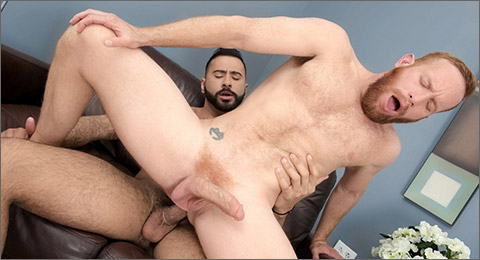 EASING THE STRAIN
Today these lovely men are easing the pain with a small rub down and the lucky man is Steven who pulled his shoulder last week. Rikk has been practicing massage therapy in his spare time so he thought he could help out and ohhhh did he help out all right. The hairy red head of a man loves to gobble up the cock from this sexy dark stud. He can't get enough from deep throating Rikk's cock so he opens his tight red haired ass for a nice pounding. Rikk doesn't even think twice and goes hard and deep while Steven rides it like the Wild West. Cum check this sexy ginger blow a hot load all over his chest and then make out with Rikk for an epic closing.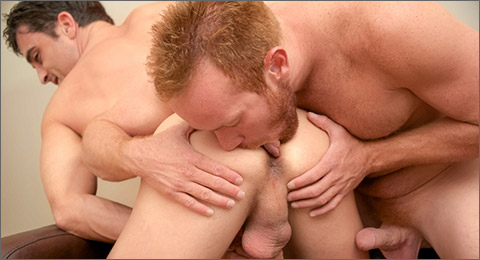 TRICKS OF THE TRADE
We all know how important it is to have stellar credit especially when you're out car shopping cause sooner or later it all matters. In Steven's case he is in big trouble and Lance won't budge on his crappy credit score which is way below average. Steven's low credit won't stop him from persuading Lance to offer him a special discount of sorts, wink wink. Eventually Steven gets his way and is down on his knees servicing Lance in all ways possible. He really needs a car and this power bottom definitely takes cocks deep inside. Steven cleans Lance's ass for good measure making sure the deal is closed. Well if you've ever fantasized about fucking your car dealer when $$ is not enough this should do the trick for you.
PRIDE STUDIOS
GIO CARUSO'S BAIT BUDDIES
DOMINIC FORD
BADPUPPY
BIG DADDY
BANG BROTHERS / BAIT BUS
FALCON STUDIOS
RAGING STALLION
LUCAS ENTERTAINMENT
TITAN MEDIA
CLICK HERE TO GO TO HIS PRIDE STUDIOS DETAILS